ACG Chapters Accelerate Industry-Focused Events
Across the country, ACG chapters are introducing niche programming to help serve the needs of diverse member segments.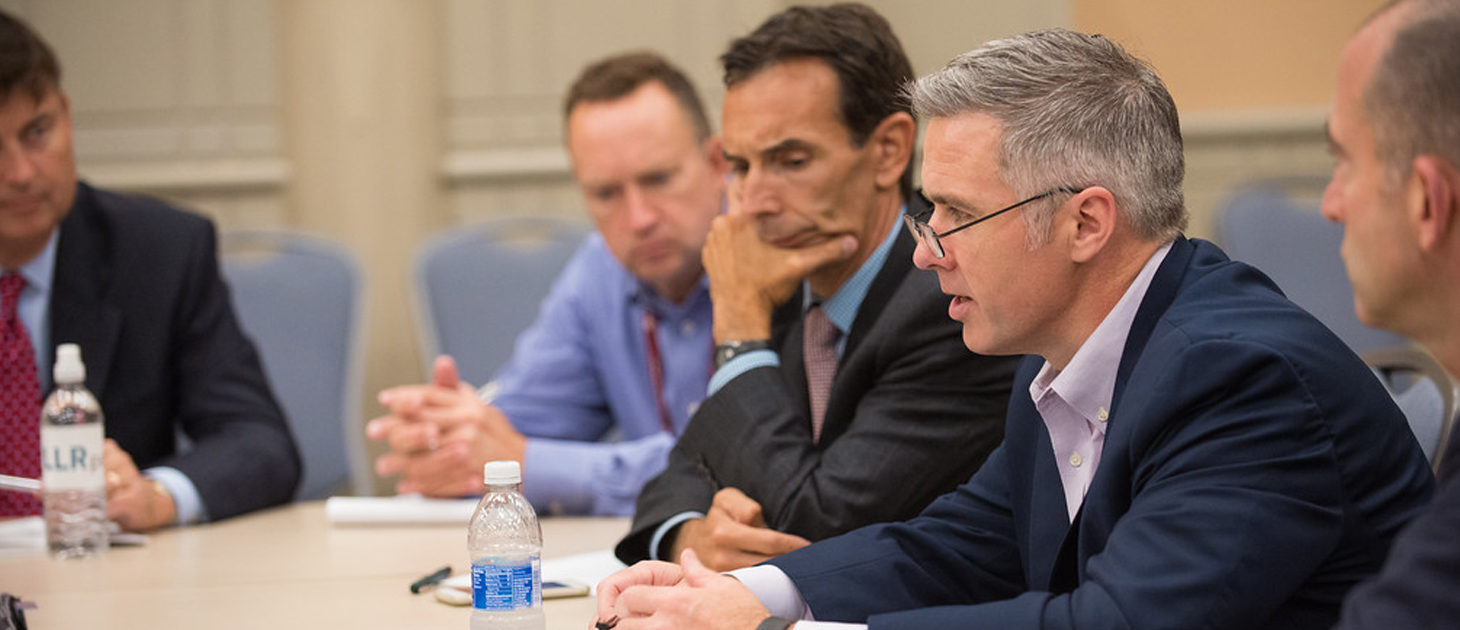 Several ACG chapters are responding to a shift in the way private equity firms structure their investments by offering more industry-specific programs to members.
ACG Philadelphia is a pioneer in this area. Feedback from the chapter's members and event attendees is driving it to continue to expand industry vertical programming.
"As the amount of capital chasing deals increases, private equity funds are moving away from the old-school model of generalist investing toward one that is aligned around select industry verticals," says ACG Philadelphia Executive Director Stephanie McAlaine. As such, private equity funds can differentiate themselves as subject matter experts and source deals in a more efficient, structured manner within their verticals, McAlaine adds.
This evolution in the private equity model led Philadelphia to test interest and engagement around industry vertical programming at its hallmark conference, M&A East, three years ago. It planned and organized five interactive industry roundtable discussions, seeded with dealmakers with deep industry experience, including investment bankers, private equity investors, strategic acquirers and operators. Industries highlighted were education, third-party logistics, packaging, outpatient care, and food and beverage.
"The format, while intensive to organize, was a huge success and allowed dealmakers who were interested in a specific industry segment to easily connect with one another, share experiences, gain insights and new perspectives, and hopefully source a deal in the process," McAlaine says.
Their Only Regret: Choosing Just One
ACG Philadelphia now hosts roundtable discussions at each of its conferences and will nearly double the number of roundtables it hosts at M&A East on Oct. 3-4. Because of the format's popularity, Philadelphia converted its monthly breakfast in April to an industry roundtable format, hosting three concurrent, smaller programs on the topics of consumer and retail, health care and manufacturing.
"It was very well-attended and the feedback was among the best we've had for our breakfasts," McAlaine recalls. "We were told that the smaller groups make the gatherings more intimate and effective. One individual said their only regret is that they had to choose just one (roundtable)."
"We were told that the smaller groups make the gatherings more intimate and effective. One individual said their only regret is that they had to choose just one (roundtable)."
Stephanie McAlaine, Executive Director, ACG Philadelphia
When Philadelphia began using the industry vertical format for its monthly meetings, it experienced a marked increase in the representation of corporate attendees—strategic acquirers or CEOs and CFOs of private equity-backed companies. They now make up a quarter of attendees, up from just 10 percent before the chapter adopted the new meeting format. At a recent monthly chapter meeting, nearly half of corporate attendees said they came because of the industry-focused topics.
Technology-focused events hosted by ACG San Francisco are having a similar effect. The number of C-level executives from tech companies in attendance is inching upward, says Christina Bui, vice president of enterprise solutions at Robert Half and the leader of the chapter's Tech Exchange programming. Although she expects it could take another three years before there are concrete examples of deal flow between ACG members and up-and-coming technology companies, she sees value in seeding those relationships now.
"More tech companies are now planted in San Francisco than Silicon Valley, so our community needs to reach out in the early stage of growth to assure engagement in the M&A transaction stages," Bui wrote in an email. "Startups are very loyal to their original partners."
ACG Charlotte began offering industry-specific gatherings in 2013, diversifying and expanding its program lineup by introducing the Annual Deal Crawl Conference and a series of topical sessions called Affinity Seminars.
Since then, the chapter has hosted more than 20 Affinity Seminar programs covering topics such as health care M&A, investment in craft beer, and trends in textiles, among others.
"While monthly meetings of the full membership remain popular, there was broad interest in targeted gatherings and events that serve specific niches and subgroups within our membership," says Emily Tindel, executive director of ACG Charlotte. "These programs are typically limited in size but have been some of our most popular events in recent years."
The private equity community isn't the only group specializing in specific industry verticals, Tindel says. "We see other membership categories doing the same, such as investment banks, family offices and advisers."
Targeted Appeal
ACG Houston also hosts targeted events, but it focuses on job function rather than specific industries.
Because of its location, the chapter's content is largely focused on energy, so broadening to other industries isn't a goal. But expanding the chapter's membership among key segments is.
"We are looking to make a shift and grow our membership in corporate development, private equity-backed companies and M&A professionals," says Morgan Stone, executive director of ACG Houston.
Taking a cue from the Philadelphia and Atlanta chapters, ACG Houston formed a subgroup exclusive to corporate development officers and corporate transaction executives. The gatherings are invitation-only to ensure corporate executives have the opportunity to network and compare strategies with their peers to help improve acquisition success.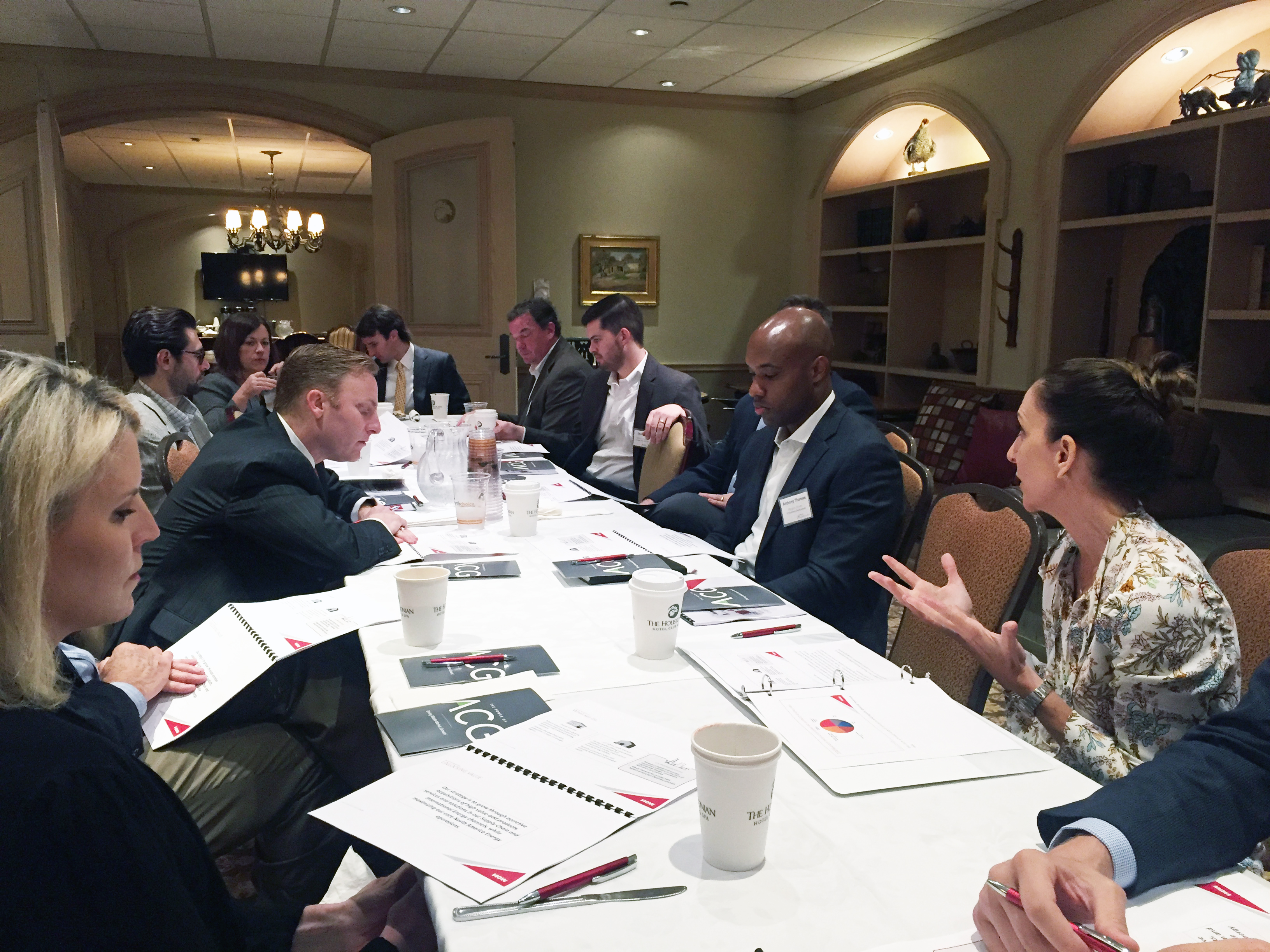 ACG Houston hosted its inaugural Corporate Development Peer Group Breakfast Series in May, exploring acquisition strategy and shareholder value. The event included a roundtable discussion, during which participants reflected on their experiences and shared best practices. From the discussion, common issues arose, including post-acquisition integration, which will serve as the topic for the next presentation.
ACG Minnesota Executive Director Nicki Vincent says her chapter hosts up to 50 events each year to address the many verticals represented in its membership. Events span from award ceremonies to private equity gatherings, corporate roundtable sessions for C-suite executives, women-in-leadership seminars, young professional outings and more.
Vincent hopes to create additional corporate-focused events during the next year, either in place of existing conferences and events or as part of them.
The chapter has found success partnering with other organizations, like the Chamber of Commerce, the Turnaround Management Association and the Exit Planning Institute, to host events.
"We see these partnerships and collaborations as raising our profile and providing members with more exposure and more focus, drawing more industry professionals because we're focusing on their business," Vincent says.
Some smaller chapters acknowledge the trend of specializing in sectors rather than serving as generalists, but because of their size and resources, they are not executing many industry-focused events.
"We did a technology panel to broaden out to the venture capital community, and we have done some conference panels by industry—such as retail and food—to try to attract entrepreneurs," says Robert Napoli, president of ACG British Columbia's board of directors. "But by and large, we have been general, owing to the nature of our smaller market."

Heather Swink, M.A., CAE, is a freelance writer and editor in the Chicago area serving associations.