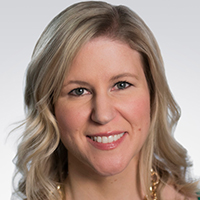 Angela MacPhee
Chairman, ACG Global Board of Directors
Partner, Baker Tilly
The start of a new year is a great time for setting goals. Many of us have embarked on New Year's resolutions—to get more sleep, improve our diets or pick up a new hobby. Likewise, ACG Global has defined its priorities for 2019, one of which is to expand its membership among young professionals. The association has long served as a place for middle-market deal-makers to come together for networking and education, and the ACG Global board of directors wants to ensure its offerings are relevant for the next generation of professionals.
Keep an eye out for more under-40 networking events, career-related programming and mentorship initiatives. And if those don't apply to you, please help spread the word to your younger colleagues.
Like ACG, organizations across the world are exploring how to appeal to millennials and Generation Z. The growth of Triangle Rock Club, a chain of indoor climbing gyms and the subject of the cover story in the January/February issue of Middle Market Growth, has benefited from the preference among 20- and 30-somethings to pay for experiences over tangible products. Unlike fitness centers where customers plug in their earbuds and work out solo, climbers at Triangle Rock Club see themselves as part of a community. They talk to other patrons, offer advice and discuss climbing techniques. Orangetheory, Flywheel and the cross-fit movement are other examples of a growing trend: To thrive, gyms need to offer more than just exercise.
The latest edition of MMG explores sports and recreation, an industry with significant ACG member activity. A managing partner of Triangle Rock Club, Joel Graybeal, is a member of ACG Raleigh Durham. The issue also looks at Nielsen-Kellerman, a maker of components for rowing, and Hed Cycling, a manufacturer of cycling parts. Both companies are led by active ACG members.
It's no coincidence that these thriving businesses are connected with ACG. Whatever your professional function within the middle market, there's a spot for you on the ACG team. The members of this association support each other to build great companies and create jobs. Those connections happen at ACG events, both on the local chapter level and at ACG Global's events. Our annual conference, InterGrowth—the association's own Super Bowl—will be held on May 6-8 in Orlando, Florida. I look forward to seeing you there!
This letter originally appeared in the January/February 2019 issue of Middle Market Growth.