Triangle Rock Club Expands Its Reach
Once considered extreme, climbing is entering the mainstream as a fitness alternative with social appeal, propelled by gyms like Triangle Rock Club.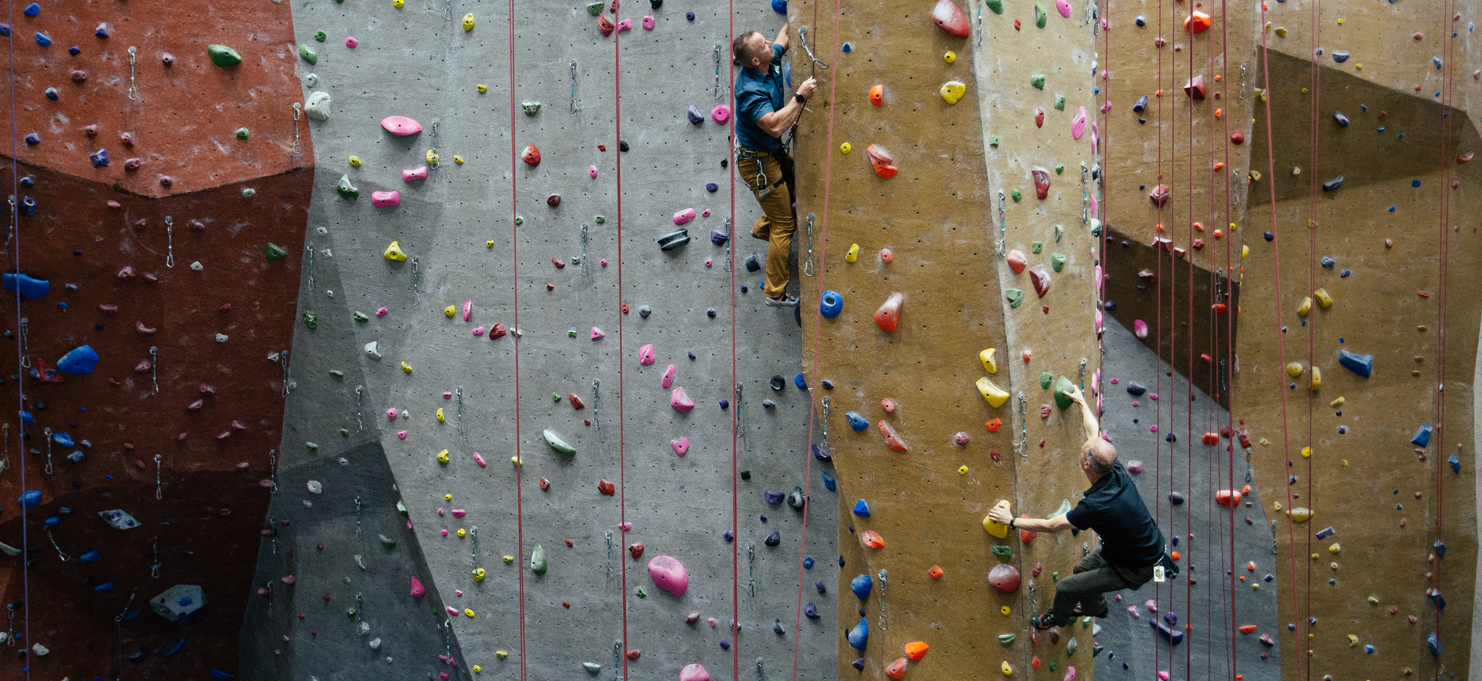 Most people's "happy place" involves comfort and security, perhaps a tropical beach. For Andrew Kratz, it's an environment rife with uncertainty. He served in the Marines for six years in the Force Reconnaissance unit, which regularly operates behind enemy lines. For four years, he worked on security detail for the crown prince of Morocco. It's not surprising, then, that hanging from a rope, suspended 2,900 feet above the ground, is Kratz's idea of a good time.
Kratz taught himself to rock climb from a book—not an approach he recommends to anyone else—and he loved it immediately. For the past 11 years, he's helped instill that joy of climbing in others, at Triangle Rock Club, the chain of climbing gyms he co-founded. When TRC opened its first location a decade ago, it was among the early gyms to add amenities and social activities to appeal to a customer base beyond outdoor climbers. With four locations and a fifth under construction, TRC's revenue has grown an average of 36 percent annually for the past nine years.
TRIANGLE ROCK CLUB
Business: Indoor climbing gyms
Locations: Morrisville, NC; Raleigh, NC; Fayetteville, NC; and Richmond, VA. TRC's newest location will open later this year in Durham, NC
Expansion Capital: Six rounds of Small Business Administration financing
The military, climbing and entrepreneurship all fit with Kratz's penchant for uncertainty. "When you're climbing, there are real risks of injury or death. In the business world, it's real risk of financial failure. So being able to comfortably and competently make decisions in those environments—I think all those things have a very good crossover application."
SOUTHERN CHARM
Climbing gyms had no place in Kratz's original entrepreneurial vision. He planned on becoming an outdoor rock climbing guide, but a climbing mishap in which he fell and broke both feet prompted him to reevaluate the long-term economics of that path.
"I realized if you get injured, your income will stop," Kratz says. "And I met much better rock climbers than me who were living out of their trucks." Opening a climbing gym would provide a more stable paycheck, he reasoned, and it could also spread his passion for the sport.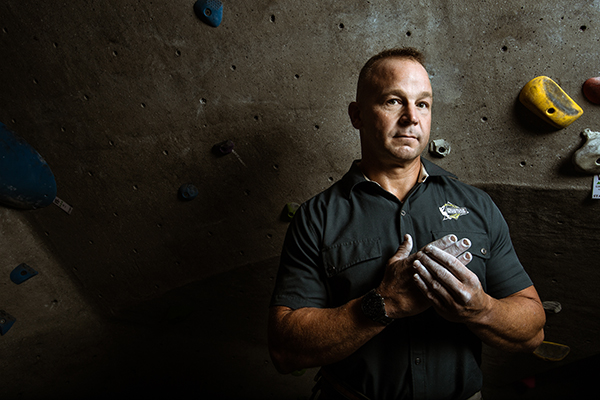 "A startup with two Marines, with no business experience whatsoever, who are bootstrapping indoor rock climbing. That was 11 years ago, and it sounded crazier back then than it does now."
ANDREW KRATZ
Managing Partner, Triangle Rock Club
As Kratz developed a business strategy, the process felt familiar, and not unlike a military patrol order. "It's basically saying, 'This is the mission, this is what we're going to do, this is how we're going to do it, and these are the things we're going to need to do it.'"
He traveled the country to study other climbing gyms, and in 2006, he wandered into a Raleigh facility. As Kratz recalls, it was dirty and lacked air conditioning. It had bad lighting and smelled terrible, and although the gym was poorly run, it was packed with customers. Kratz believed he could do it better. "I had this vision in my head of what it should look like, and I wanted it to be clean and professional, and I wanted it to be welcoming," he says.
Raleigh is growing quickly. It now has more than 450,000 residents, an increase of more than 60 percent since the year 2000. And when Kratz discovered the city ranked high on lists like "top places to start a family," he decided it was the right place to start his business.
In 2006, Kratz left his job at a Pennsylvania military academy and moved to Raleigh with his wife and two young children. He didn't have a building yet for the gym. And if the business didn't succeed, there was no Plan B for supporting his family. "It's like Cortes in the New World. You burn your boats to make your men work harder," Kratz says.
After looking at more than a dozen properties, Kratz found one with 24-foot ceilings in a town called Morrisville about 14 miles outside Raleigh. To launch the business, he needed half a million dollars. The climbing wall handholds alone cost about $50,000. "That's more money than I've ever spent in my entire life on anything," Kratz remembers thinking.
He and his business partner, Luis Jauregui—another former Marine—each put in about $100,000, and they raised an additional $100,000 from family and friends. That meant a loan was still required to bridge the gap. Kratz quickly realized he needed a small bank, where he could speak directly with a decision-maker to convey the commitment he and Jauregui had to the business. He knew how implausible it all looked on paper. "A startup with two Marines, with no business experience whatsoever, who are bootstrapping indoor rock climbing," Kratz says. "That was 11 years ago, and it sounded crazier back then than it does now."
It sounded sane enough for the first small Raleigh bank he approached, which approved a $200,000 loan.
LEARNING THE ROPES
When Triangle Rock Club opened in December 2007, one of its first customers was Joel Graybeal. He was new to rock climbing, but he soon became a regular at the gym.
In 2011, Graybeal decided to end his 25-year career in investment banking. While determining his next move, Graybeal offered to help Kratz. He didn't intend to become a business partner, but that changed as he learned more about TRC. "This small gym, with not very tall walls, was getting an immense amount of attention, and it just kept getting busier and busier."
Graybeal saw the potential to expand well beyond one location, but for Kratz, the prospect of multiple gyms felt like a nightmare. "I was running on all cylinders doing one location," he says. He had a hands-on role in the gym's marketing and employee management—he even signed up new members. So Graybeal gave him some advice, which Kratz now passes along to aspiring entrepreneurs. "I say, 'Your most valuable commodity is your time, and as a business owner, you should be focusing your time on things that only you can do.'"
That meant hiring more staff—the company now has 225 employees—allowing Kratz to focus on running the business, which Graybeal does as well. He became a minority partner in 2011, and an equal partner three years later. (Jauregui, Kratz's co-founder, is still a TRC partner but is no longer involved in day-to-day operations.)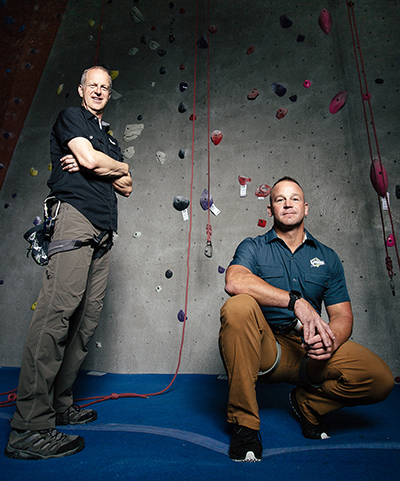 During the past five years, TRC opened three additional locations—in Raleigh, North Carolina; Fayetteville, North Carolina; and Richmond, Virginia. Its fifth gym is slated to open later this year in Durham, North Carolina.
'DRIVING THE SPORT'
"Climbing gyms are a fad." Mike Helt, editor-in-chief of Climbing Business Journal, has heard that assertion for the past decade. He encounters it less frequently now, in part because the number of climbing gym locations increased between 7 percent and 10 percent since 2011, according to Helt. He says that 45 U.S climbing gyms opened in 2017, bringing the total to 454 by the end of that year.
Helt sees promise in Triangle Rock Club's development strategy. By focusing on the Southeast, the company has targeted a region underserved by climbing gyms and its locations are sized appropriately. "They're not getting in over their heads and building a $10 million facility in a city that doesn't need it," he says. "Their gyms are basically small-to-medium size, which is really sustainable—and an interesting model, which I think we're going to see more of."
Of the industry shifts Helt has witnessed, the makeup of climbing gyms' clientele is one of the biggest. Gyms are no longer dominated by devoted outdoor climbers seeking a winter training spot.
"Fifteen years ago, [climbing] was an outlier, an extreme sport that crazy people did," Kratz says. The sport now has a higher profile—it will be an Olympic event for the first time in 2020—but what's more notable is the broad appeal of today's climbing gyms. The dingy facility that Kratz visited years ago probably wasn't a hotspot for kids' birthday parties, church youth group outings or corporate team building—events that TRC gyms host regularly. "Of our membership base, I'd say less than 25 percent will ever touch real rock outside," Kratz says. "Indoor climbing is the caboose that has become the engine. We're driving the industry now. We're driving the sport."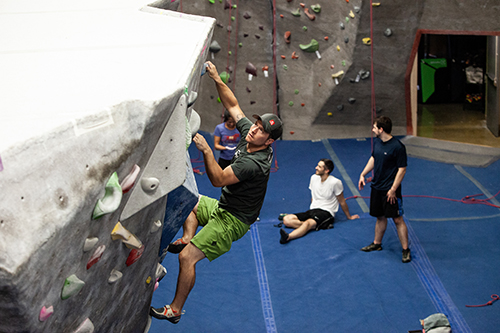 TRC's gyms also have treadmills and elliptical machines, free weights, and yoga and Pilates classes. By offering more exercise options, it hopes to sway customers deciding whether to join a climbing gym or a conventional fitness club. Members pay their membership fees monthly, not annually, and TRC also offers $19 day passes and a discounted 10-day pass.
There were an estimated 676,000 commercial climbing gym members in 2017, according to the Climbing Wall Association. Meanwhile, figures from the International Health, Racquet & Sportsclub Association show 60.9 million people in the U.S. have a traditional health club membership. That disparity represents a huge market opportunity for climbing. By converting just a fraction of existing fitness club members, the industry would grow dramatically, Graybeal says.
TIES THAT BIND
The physical and mental challenge of climbing draws customers to gyms, but a social atmosphere helps keep them there. Mark Phillips, managing director at Jacobs Capital, a boutique investment banking firm in Chapel Hill, North Carolina, saw this firsthand when he visited a Triangle Rock Club gym in 2017.
"One of the things that was really surprising was nobody in the entire gym had earphones in," he says. That's highly unusual for any 21st-century public space, but particularly in a gym—and one where about 75 percent of climbers are millennials. At TRC, Phillips saw people actually talking to each other. Climbing culture tends to be collaborative: When waiting for their turn on the wall, climbers often share suggestions for tackling a route.
TRC has designed ways to foster even more interaction among its members. It hosts an annual Memberfest (which has included a climbing-wall version of Twister) and quarterly member-appreciation parties. It also posts events on meetup.com to bring people together for dinner or drinks after climbing. Those social connections are good for customer retention. If a member knows a bunch of people at the gym, that individual is more likely to come back, Kratz says.
That's true for Casey Peterson, a 29-year-old financial adviser who joined TRC's Raleigh location in July 2017. Prior to that, Peterson had memberships at other fitness centers, but he never stayed for more than six months. Working out "felt like a chore," he says. Then a friend with a TRC membership invited him to come along using a free day pass. In addition to discovering some neglected forearm muscles during his first visit ("I could barely open my car door the next day"), he found the other climbers offered plenty of encouragement. Now Peterson visits TRC about three times a week. When he's planning a climb, sometimes he'll text other friends who are members, but if they can't join him, that's OK. "I never feel like I'm going by myself," he says. "I'm always going to know somebody there. It's a community for sure."
CLIMBING HIGHER
Thanks to six rounds of Small Business Administration financing, Triangle Rock Club has expanded to serve more members. But finding the right real estate has proved difficult. After a 4 1/2-year search, TRC finally found its newest location, slated to open later this year in a former Walmart building in Durham, North Carolina. "We're hopeful that the retail contraction trends will provide some additional opportunities for us down the road. But it's tough to find existing buildings with 40-foot clear height," Graybeal says.
Climbing's unique space needs have led to some unusual repurposing of buildings—including a climbing gym that's housed in a former Methodist church in Bloomington, Indiana. In 2018, the country's largest climbing gym opened in Englewood, Colorado, in a 53,000-square-foot complex that formerly housed the headquarters of defunct retailer Sports Authority.
Triangle Rock Club has no plans to open a mega-gym. Its largest location is 33,000 square feet. But Kratz does expect to open more locations in the Southeast. He's closely studying several markets so the company can act quickly when the right real estate opportunity emerges.
Adapting to the industry trend toward taller walls, TRC is more than doubling the height of some of the walls at its Morrisville gym from 24 feet to 55 feet. Some portions will remain at the lower height—in part because shorter routes are better at hooking beginners. Kratz says he wants climbing newbies to enjoy success, rather than just the thrill of a novelty experience or the feeling of defeat if they don't make it to the top.
A few months ago, Kratz enjoyed the view from the peak of Mt. Whitney, the highest point in the continental United States. He still devotes time each year to outdoor climbing, and this was not the first time he scaled the California mountain. But on this occasion, he and his fellow climbers took a new route, one with 1,500 feet of straight granite.
The trek could be a stand-in for his experience as an entrepreneur. Describing the climb that day, Kratz says, "We had to figure it out along the way."
This story originally appeared in the January/February print edition of Middle Market Growth magazine. Read the full issue in the archive.