Middle-Market Public Policy Roundup
This week the House passed a final budget, tax reform discussions progressed, and the Treasury Department issued new regulatory recommendations.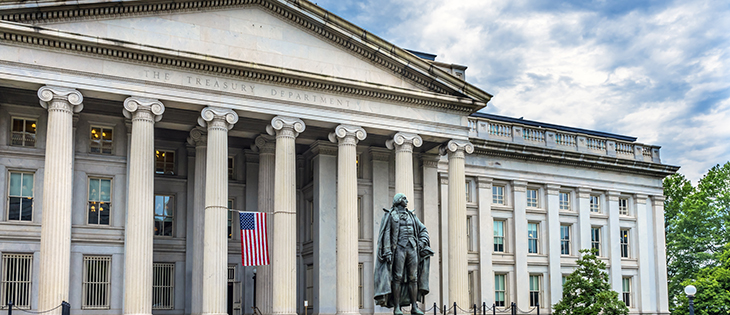 This week MMG was watching closely as the U.S. House of Representatives passed a final budget, new developments emerged in tax reform discussions, and the Treasury Department issued new recommendations for asset management and insurance company regulation.
Interest Deduction Change Proposals Coming in Tax Bill
Removing provisions for interest deductibility is rapidly becoming one of the remaining ways GOP leaders will attempt to pay for a tax cut. Axios reports that in the tax reform bill slated for release on Nov. 1, the proposed approach would reduce the deduction to 70 percent from 100 percent. The 30 percent difference would be taxed at the new statutory corporate rate. If this happens, existing debt would likely be grandfathered in.
Budget Passed
The House of Representatives passed a final budget on Thursday in a 216-212 vote, identical to the budget passed by the Senate last week. Included in this budget are the procedures for the process of reconciliation, which will allow for the passage of a tax reform bill with a simple minority vote while avoiding the possibility of a filibuster.
Per Politico, House Ways and Means Committee Chairman Kevin Brady has said that he will release the legislative text for a tax reform bill on Nov. 1, and committee consideration will begin on Nov. 6. While the budget passage is an important step for tax reform efforts, it is not indicative of consensus within the GOP ranks, although it shows the intense pressure exerted by the Republican leadership. Expect the issue of the state and local tax deduction, or SALT, to continue to be a sticking point for Republicans from high-tax states, several of whom voted no on the budget due to the issue. GOP leaders had originally planned to hold a meeting to discuss the SALT issue on Wednesday night, but they postponed it—likely because they secured enough votes to resolve the issue at a later date.
Treasury Issues Recommendations for Asset Management and Insurance Company Regulation
The Treasury Department issued its third set of recommendations pursuant to President Trump's Executive Order 13772, which stated that the department should review the U.S. financial system and identify regulation inconsistent with the administration's so-called "Core Principles," which include directives to:
Empower Americans to make independent financial decisions and informed choices in the marketplace, save for retirement, and build individual wealth
Prevent taxpayer-funded bailouts
Foster economic growth and vibrant financial markets through more rigorous regulatory impact analysis that addresses systemic risk and market failures, such as moral hazard and information asymmetry
Enable American companies to be competitive with foreign firms in domestic and foreign markets
Advance American interests in international financial regulatory negotiations and meetings
Make regulation efficient, effective and appropriately tailored
Restore public accountability within federal financial regulatory agencies and rationalize the federal financial regulatory framework
Treasury is slated to release a total of four recommendations. Thus far, they have touched the topics of banks and credit unions, capital formation, and most recently, the asset management and insurance industries.
The recommendations outlined four ways in which the following key areas should be addressed:
Systemic risk and solvency evaluations: Recommendations include differentiating asset managers from banks by focusing on systemic risk arising from products and services, rather than on the entity-level; and placing emphasis on strong liquidity risk management, rather than stress testing asset management firms.
Efficient regulation and government processes: Recommendations include the adoption of a principles-based approach to liquidity management, implementation of a "plain-vanilla" rule for ETFs, allowing new entrants to avoid cost and delay from obtaining individual exemptive orders, permitting the use of implied consent for electronic disclosures of shareholder reports, realignment of the Federal Insurance Office around five core pillars, and harmonization among federal and state agencies and regulators.
U.S. engagement in international forums—efficient regulation and government processes: Recommendations include promotion of the U.S. asset management and insurance industries and their respective frameworks by working with U.S. members of international forums, and increased transparency of domestic and international policymaking and standard-setting processes.
Promotion of economic growth and informed choices: Recommendations include the reexamination of the Fiduciary Rule, collaboration among the SEC, Department of Labor and state regulators to ensure a right-sized and effective regulatory framework; calibrated and incentivized regulatory treatment of high-quality infrastructure investments by the National Association of Insurance Commissioners and state insurance commissioners; and an interagency task force (spearheaded by Treasury) that is designed to develop policies for the regulation of long-term care insurance that are complementary to state-level reforms.
Check back each Friday for the weekly Public Policy Roundup. Is there a policy issue you'd like us to cover? Send your suggestions to MMG Associate Editor Kathryn Mulligan at kmulligan@acg.org.

Ben Marsico works on public policy issues for ACG.