Trialing the Four-Day Workweek
MiddleGround Capital joins companies across the globe that are experimenting with a shorter workweek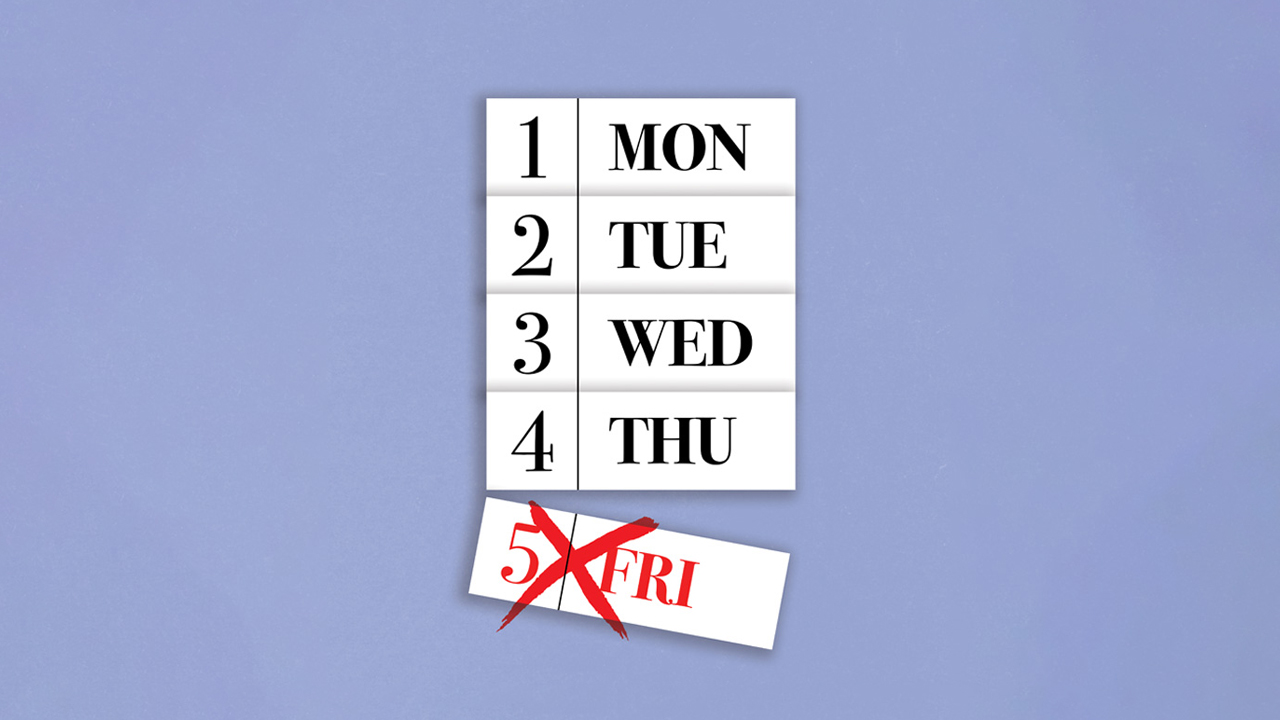 Companies in countries around the world have been running trials of the four-day workweek and finding positive results. Now there is percolating interest in finance and among middle-market businesses in the U.S.
Speaking on a panel at ACG's virtual Operators Summit in March, Kunal Mehta, expert partner at Bain & Company, said "there is a grassroots effort" to implement the four-day workweek. And John Stewart, founding partner at private equity firm MiddleGround Capital, says a pilot program that began several months ago at his firm is going well and he's receiving inbound interest from other PE firms that are considering a similar model.
A worldwide pilot was spearheaded last year by 4 Day Week Global, a nonprofit organization associated with U.K. and U.S. universities that consults companies on implementing the four-day workweek. A trial ran at U.S. companies from last April through October. Some businesses have since decided to permanently adopt the four-day workweek or phase it in over time. MiddleGround, based in Lexington, Kentucky, began its experiment earlier this year and is gradually transitioning to the shorter workweek.
MiddleGround's Experiment
When Stewart first announced his plan to phase in the four-day workweek on LinkedIn in the beginning of the year, there wasn't a lot of positive feedback. "Some people were calling me crazy," he says. MiddleGround is the only private equity firm to have gone public with its four-day work week experiment. Stewart says that even employees resisted at first. He says some younger staff members, especially ones that came from investment banking, are used to 80- to 100-hour workweeks. "They don't value time off as much as others do. But I've got more experience and I know that eventually you burn out and become resentful," Stewart says.
Stewart's strategy was to start with making 20% of the year a four-day work week and gradually apply that schedule to the full year over a five-year period. MiddleGround started by offering days off to align with holidays, so that employees could enjoy a long weekend. "With a four-day weekend, you can actually go somewhere," Stewart says, adding that some employees traveled to Europe or the Caribbean on one such extended weekend in April.
Related content: 6 Signs of Overworked Employees
Stewart's experiment followed many others that were conducted last year. At the end of the trial in conjunction with 4 Day Week Global, employees and managers reported positive results, including increased productivity and less burnout, according to CNBC. The pilot involved 33 companies in the U.S. and 61 companies in the United Kingdom. The trial had been implemented in multiple other countries, including Spain, South Africa, Belgium, Iceland and Japan.
Lessons Learned
After the 4 Day Week Global-facilitated trial, many companies said they didn't want to go back to the regular five-day week. The pilot used a "100-80-100 model," where workers would receive 100% of their pay for 80% of the time worked while maintaining 100% productivity. In the U.K., businesses that participated in the six-month trial "said switching to a four-day workweek improved productivity, morale and team culture," according to CNBC.
Companies that participated in the trial in the U.S. included Kickstarter and Cisco. Bolt, a San Francisco-based e-commerce company, was an early adopter of the trial in the beginning of 2022, deciding to permanently implement the strategy later that year.
Bolt issued an announcement saying, "The Four-Day Workweek Is Here to Stay" last year, citing overwhelmingly positive results from the three-month trial. "94% of employees surveyed said they wanted the program to continue and 86% said they were more efficient with their time," the announcement noted, adding that 87% of managers reported that their teams maintained productivity levels.
We've seen the research on the four-day workweek and its benefits on mental health and productivity.

John Stewart

MiddleGround Capital
Retention Strategies
"We've seen the research on the four-day workweek and its benefits on mental health and productivity," MiddleGround's Stewart says of his decision to implement the shortened schedule. He adds that employee engagement and well-being is important and the four-day workweek is just one of many benefits MiddleGround offers staff. Some of the other perks include no employee co-pay on insurance, paid lunches at work, pets in the office and fitness centers. "We want to do anything we can to make work more fun for staff," Stewart says. The approach also helps with retention, he adds.
Retention is important to Stewart, especially during recent trends of the "Great Resignation" and "quiet quitting." Hiring and training new employees is costly, he notes, so keeping good team members is crucial. The approach seems to be working so far, as the firm has had low turnover: Only three people quit in the last three years. The firm currently employs 120 people.
Related content: Three Ways the Great Resignation is Shaking up the Economy
Stewart says many of MiddleGround's portfolio companies already have four-day workweeks, but the private equity firm doesn't mandate it.
Even as it phases in the truncated schedule, MiddleGround requires its employees to come into a physical office on the days they're working. Unlike many businesses that went remote or hybrid post-COVID, Stewart doesn't believe in permanent remote work: "One of my employees asked if he can go work from the beach for two weeks and I said, 'Why don't you go to the beach and don't do work?'"
Stewart admits that there are times when employees must work even if it's on a day off—if they're in the middle of a transaction, for example. "When you have a live deal, you have to work, but then you can take time off once the deal closes," he says. He imagines getting creative with the four-day workweek in the future and having one team take Fridays off and another take Mondays off, so there is always someone available to represent the firm.
Regardless of where the experiment leads, Stewart believes it's worth trying.
"I don't think there is any reason you can't do it. Even if we get half of the way there and then stop, it'll be good enough," Stewart says. He also notes that the idea has to come from the top—not an HR manager or consultant, so employees know the head of the firm supports the idea.
"It's good that it came from me, and I try to set a good example by not doing work on days off," he continues. "And I can tell that others are doing it too by the e-mail traffic that I get."
Anastasia Donde is Middle Market Growth's senior editor.