State of the Union
A favorable climate for organized labor has businesses weighing how to meet workers' needs while skirting union involvement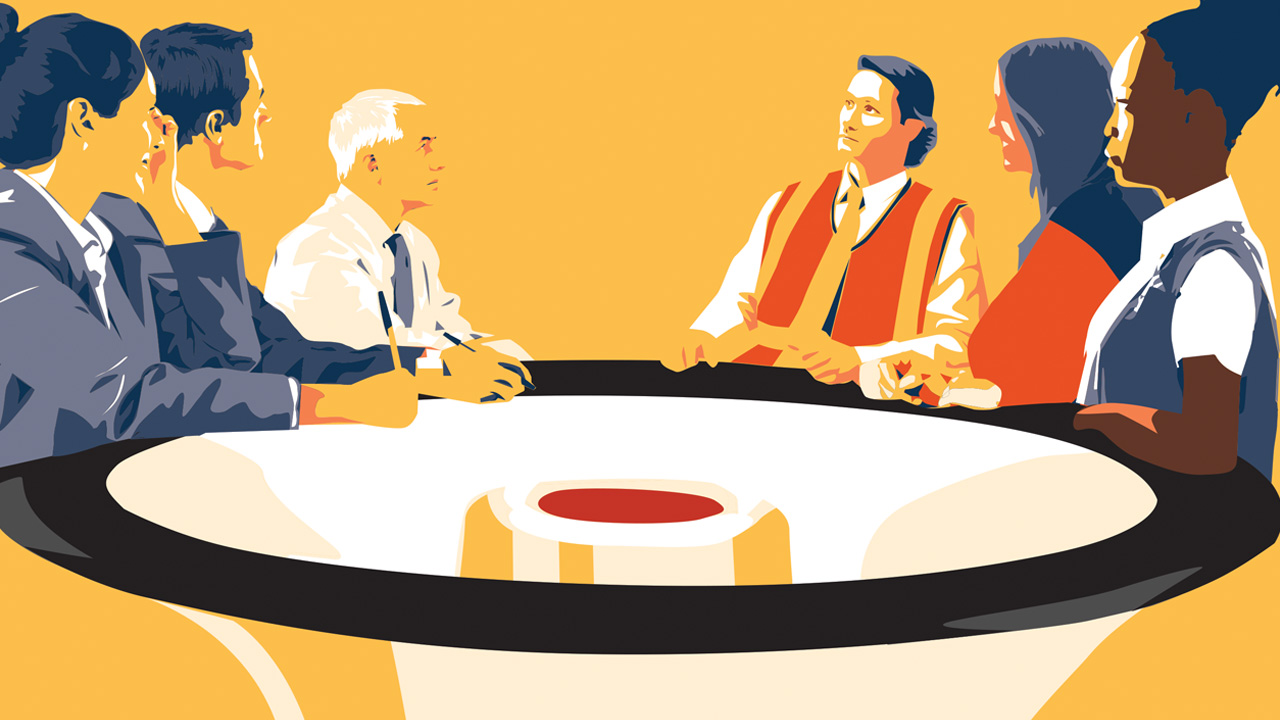 Once a powerful force in the American economy, labor unions successfully fought to eliminate child labor, shorten the workday and improve workplace safety, while representing a sizable share of the U.S. workforce.
Yet union membership has declined significantly from its peak in the 1950s, when more than one-third of workers were affiliated with a union. By 2021, union membership sat at just 10.3%.
That number doesn't tell the full story, however: Even as overall membership remains at historical lows, a tight labor market, changing worker expectations and high-profile organizing efforts at the likes of Starbucks, Apple and other companies have sparked an uptick in union activity that is prompting business leaders to reckon with a resurgent labor movement.
---
This section of the report originally appeared in Middle Market Executive's Summer 2022 issue. Read the full story in the archive.
Illustrated by Daniel Hertzberg.
---
The National Labor Relations Board reported that during the first six months of its 2022 fiscal year, labor unions filed 57% more petitions for representation compared with the same period a year before. And unions have become more popular, according to a recent Gallup poll that found that 68% of American citizens approve of unions, the highest share since 1965.
Like their predecessors, today's unions offer employees the chance to band together to negotiate for more favorable pay, benefits and working conditions. Yet as Wilma Liebman—who served on the NLRB under three presidents—told Insider, businesses typically have a "total allergy" to unions. Employers often fear that unions will damage collaboration between employer and employee, interfere with the autonomy of a business, and cost more money than a company can afford—concerns that are now exacerbated by a host of other economic challenges, from supply chain shortages to rising inflation and an ongoing talent war.
Yet there may be common ground that companies can find with their employees to give them what they want before they feel the need to organize—or to work constructively with unions in cases where organizing efforts are already underway.
What Workers Want
Union activity in the past few years has made headlines as workers across industries look to organize. Sites of these efforts include more than 220 Starbucks stores across the country where employees have sought elections, and at least 20 stores that have successfully unionized, according to reporting from NPR in April. In March, employees at a Manhattan outpost of REI formed the outdoor retailer's first union. There have also been reports of unionization efforts this year at Apple's corporate headquarters and continued attempts to organize at various Amazon warehouses.
Related content: 'The Great Resignation' and the Top 5 Employee-related Risks That Most Worry Midsize Companies
One of the catalysts of the recent surge in union activity and support is a shift in workers' expectations of their employers. During the recent Great Resignation, employees left their jobs because they felt disrespected, underpaid and unable to advance, according to the Pew Research Center. The exodus showed that, more than ever, employees are willing to simply walk away from their jobs. Companies continue to face a talent shortage, which has given workers the upper hand in many respects.
Unionization is especially attractive to younger generations of workers, according to Michael J. Lebowich, a partner in the Labor and Employment Law Department and co-head of the Labor Management Relations Group at law firm Proskauer.
"Organizing is less about the what and more about the who," he says. "I'm seeing very significant amounts of new union organizing coming from people out of school, zero to five years. I think that they have affection for the ideas. A lot of the drive is coming from a demographic that's more interested in the collective."
Organizing is less about the what and more about the who. I'm seeing very significant amounts of new union organizing coming from people out of school, zero to five years.

Michael K. Lebowich

Proskauer
A 2020 survey from Gallup found that 71% of people ages 18 to 34 support unions, about 8 percentage points more than each of the two older age groups. Labor experts note that the newest workforce entrants grew up during both the Great Recession and the pandemic, which instilled in them a sense of economic insecurity, and they're unafraid of being tarred as communist, a concern that stymied unionization efforts in the past.
Younger employees also have different work-related priorities than their older colleagues. A report by workforce communication app Firstup revealed that members of Generation Z care more about work-life balance, mental health days and activities at work that create a sense of community. To ensure that employees of all ages feel satisfied at work, Lebowich suggests that leaders and managers speak with them to understand how they want to mold their work and the company culture.
"Look at the workforce generally, and then more specifically your own workforce and find out: What are they interested in? What are their needs?" he says. "And I'm not talking about interrogating them but assessing where your people are and seeing what's unique. What should we
be doing to make sure that we're satisfying their interests?"
Companies willing to listen and improve management practices may be able to meet employees' needs before they turn to a union.
"You can create the conditions where employees want to work," says Peter Berg, professor of employment relations and director of the School of Human Resources and Labor Relations at Michigan State University. "You pay good wages, give good benefits and give workers a sense of voice, commitment (and) transparency at your business. Let them know that you're concerned about diversity, equity and inclusion, and that you want to make them feel that they're engaged in their jobs."
Getting Organized
You can create the conditions where employees want to work. You pay good wages, give good benefits and give workers a sense of voice, commitment (and) transparency at your business.

Peter Berg

School of Human Resources and Labor Relations, Michigan State University
Creating a positive working environment is an important first step toward preempting an organizing effort, but it isn't always sufficient to sidestep union involvement.
Seth Ford, a partner at law firm Troutman Pepper, believes that the No. 1 catalyst of union formation is poor relationships between management and employees. He suggests managerial training that teaches how to be responsive and proactive with employees. Managers should also plan for how to respond to a potential unionization effort in a lawful and meaningful way.
"(Companies) need to have a union-avoidance practice, where they educate their management team on unions and what they should be expected to do if they see signs of a union campaign," Ford says.
No matter how small the company, it should be aware of what an organizing campaign looks like, according to Ford, who notes that unionization efforts happen in stages. What starts as a grassroots campaign may develop into employees passing around literature via email or messengers. From there, unions begin collecting signatures of supportive employees on union cards.
Ford recommends that companies think about each stage well in advance. Front-line supervisors will likely be the first to hear about employee dissatisfaction or a desire to unionize. Managers often don't act, which he says is the worst thing they can do.
"They need to be able to quickly communicate with and educate employees about the policies and practices of the workplace, and how that could be compromised or impacted by a union commitment," he says. For example, if a company believes that unionizing may make collaboration difficult, management should inform employees of this potential consequence.
Related content: Three Ways the Great Resignation is Shaking up the Economy
If a company gets wind of potential unionization efforts at any stage, Lebowich says that it may be too late to appease employee concerns without a union getting involved. But it remains important to listen to their perspective. Typical issues he's seen are an uneven work-life balance, the sense of having no voice in the workplace, as well as a lack of diversity, equity and inclusion.
"And if you can focus on that and say, 'We hear you,' that's where to go first," Lebowich says. "They may get the idea that they don't need another voice. It's something that any organization should be looking to do."
Once employees begin talking to unions, Berg suggests that companies work to embrace the union movement and shape it to meet their needs. If employees say that they want union representation, he believes that organizations should acknowledge that right and help ensure employees' concerns are addressed.
"That's a response that, I think, will serve the business better than resistance," Berg says. "Resisting and persecuting the union will bleed into the workforce and make it that much harder to get employees committed to your workplace."
Seeking Sound Counsel
A complicating factor that unionizing efforts raise for a business is their impact on access to capital: What will investors think?
The answer might not be as bad as companies fear. Ford says he's seen an increased willingness on the buy-side of M&A deals to take on extant union agreements and adopt the same workforce. "You're seeing fewer asset purchase deals, because it's sort of a seller's market," Ford says. "Buyers are willing to just take on existing labor agreements, particularly in the middle market and private equity."
A union may not jeopardize investor interest, but that doesn't mean it won't cost a company money. A common and expensive problem arises when companies catch wind of an effort to unionize and try to address it themselves, without proper legal counsel. Lebowich says that once employees begin speaking with a union, companies face many legal pitfalls.
You're seeing fewer asset purchase deals, because it's sort of a seller's market. Buyers are willing to just take on existing labor agreements, particularly in the middle market and private equity.

Seth Ford

Troutman Pepper
"The legal costs can be very significant," Lebowich says. "Collective bargaining is just like any other legal negotiation, except they go on a really long time. Most first-contract negotiations used to last 12 months, but now they last 24 months. That's a lot of time and energy from management and outside counsel."
Outside counsel is essential when companies have never dealt with a unionization effort, especially for keeping up with the complexities of the National Labor Relations Act, which stipulates what companies can and can't do during collective bargaining. Companies often needlessly run afoul of these laws. In one notable example, Barstool Sports founder Dave Portnoy had to settle with the NLRB after writing on Twitter that he hoped employees would unionize so that he could "crush it and reassert my dominance."
"You need guidance and counsel from the beginning," Lebowich says. "The people who stay in front of this are the people who think about it before it happens."
Companies hoping to dodge the time and expense of a unionization effort may find comfort in the numerous obstacles that an organizing effort must overcome in order to be successful.
Related content: Creating an Employee Experience That Drives Business Success
U.S. law makes unionizing an arduous task, says Berg. As one example, there are now 28 states that have right-to-work laws, which prohibit union fees as a condition of employment.
The drawn-out process of unionization also works in the favor of companies, according to Berg. The time between the vote to unionize and the election is a heavily competitive period between the union and management, and management has a big advantage. Companies can make their case
to a captive audience of employees. Unions don't have that opportunity, nor do they have access to employee contact information. Unions typically rely on employees to send messages, spread information and schedule meetings with other employees.
A Sustainable Movement?
While the labor movement is energized now, the future will depend on what happens with the ongoing worker shortage and employees' leverage in the workplace.
The pandemic and Great Resignation made employees think differently about the type of work they're engaged in, where they work and their compensation. Yet many companies are still resistant to people working from home or in a hybrid role. Berg expects employees will continue to demand flexibility and may turn to a union to advocate for it. Those in industries that require on-site work will have different demands—retail workers likely want more control over their hours and scheduling, for example.
Economic uncertainty is another driver of unionization, as people look to increase their job security. Companies would be wise to watch inflation numbers, Lebowich suggests, as they could be a good indication of employee sentiment. "More uncertainty and concerns lead to more community organizing efforts," he says.
Ultimately, Berg expects unionization efforts to gain steam so long as employees are in high demand. "Workers win some and they lose some—they might now be winning a bit more than they're losing," Berg says. "And this is a time to strike. This is a time to move for action. They're doing that and hoping to capture representation, and then they've got to sustain it. The landscape of sustaining it, especially if the employer is very hostile to you, can be really difficult."
Hal Conick is a writer based in Chicago.