The Shifting Priorities of PE Hiring
Despite challenging market conditions, recruiters see continued demand for operating partners, human capital executives and other specialized roles at middle-market private equity firms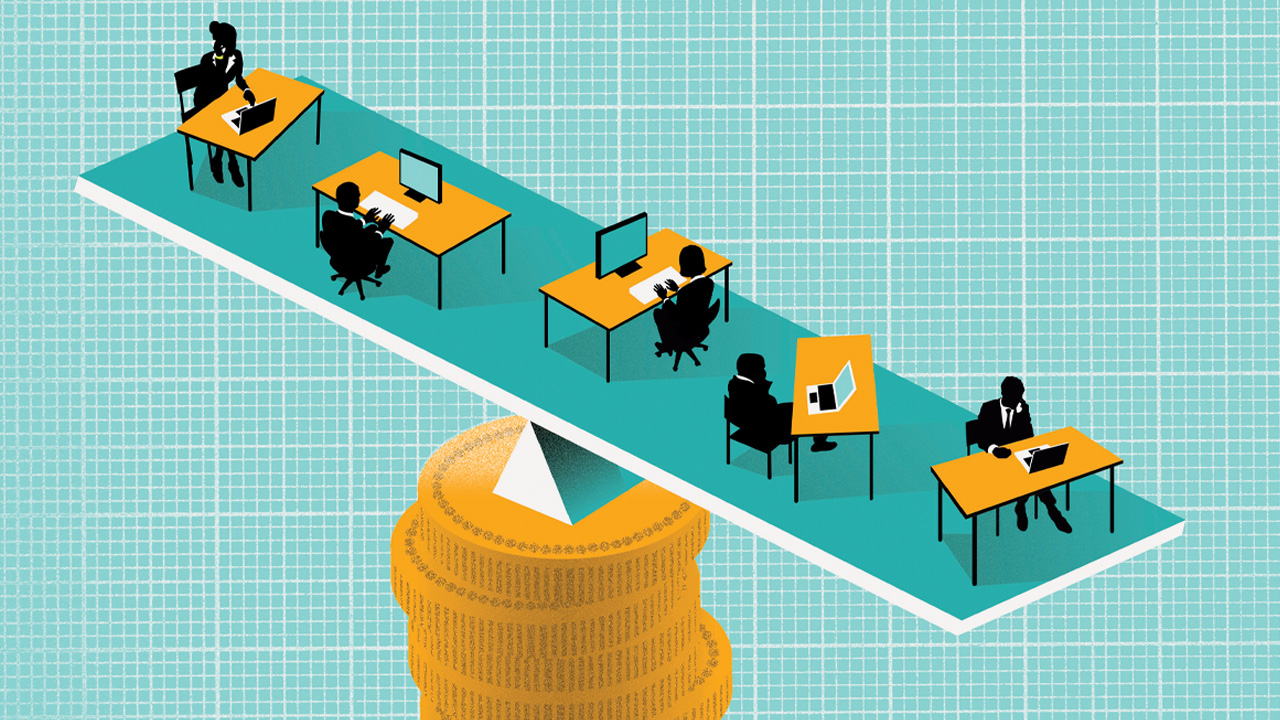 Spring is a season of new beginnings. For Ben Laufer, it was the perfect time to explore a career move.
Having spent a year as a director at PeakEquity Partners, a private equity firm that invests in enterprise software and solutions companies, Laufer realized that he didn't see himself at the firm long-term. Yet, given the challenging private equity fundraising environment of the past year or so, he was uncertain his job search would bear fruit.
---
This section of the report originally appeared in the Fall 2023 edition of Middle Market Executive.
Illustrations by Neil Webb & Rob Dobi.
---
What he found, over the course of more than 100 interviews and conversations with middle-market funds earlier this year, is that hiring within the PE industry is a mixed bag.
"The current market is complicated and bifurcated in a lot of respects, in terms of what people are looking for, what their needs are and how they are proactive or reactive to talent conversations," says Laufer, who joined growth equity firm Edison Partners as a principal at the end of July. "Hiring is motivated by fundraising, capital deployment and exits, and there's a correlation between how firms think about the next handful of years and what their HR needs are across the value chain— whether at the fund or portfolio company level."
Despite the difficult fundraising environment, Laufer found that many middle-market PE firms are still actively looking to fill roles for everything from business development to operations.
"I've been in the recruiting space for 30-plus years, and I've never seen a four-year period like what we're going through right now," says Peter Tannenbaum, CEO of executive search firm Ramax Search. First, the onset of the COVID-19 pandemic in 2020 brought hiring to a screeching halt. A flurry of hiring followed in 2021, as firms made up for lost time. Then last year, the "great resignation" sparked fierce competition for talent. Over the past six to eight months, there was yet another pullback in hiring.
"It's uncharted waters right now," says Tannenbaum. "But there's always a demand for people. As the market shrinks, some of the smaller midsize guys are waiting for the big guys to lay people off so they can grab experienced candidates."
PE Hiring Goes for a Ride
Despite a difficult fundraising environment and a drastic decrease in the number of deals closed by PE firms across the board, recruiters insist that headlines touting major layoffs are misleading and primarily represent large-cap firms. While there has been a slowdown in hiring within certain areas of middle-market private equity, and even some minor layoffs, hiring professionals describe any paring back as akin to culling the herd.
Unlike investment banks, which tend to over-hire during boom periods and over-fire during downturns, PE firms operate with fixed budgets. As such, they maintain consistent staffing levels and do not typically reduce headcount during recessions. "Private equity groups are lean organizations to begin with and rely heavily on outside advisors to support their deal activity," says John Kurkowski, a managing partner in the private equity services division of advisory firm Crowe. "Significant capital has been raised over the past three to four years that needs
to be invested. … While deal activity has been slower, more time has been focused on existing portfolios."
Though slower activity in sectors such as software and technology has translated into less hiring activity within some portfolio companies in recent months, recruiters say there is no shortage of roles to fill, as sectors like energy transition and portions of consumer flourish. Hiring is specific to individual roles and areas. One such area where demand for qualified candidates is strong is portfolio operations.
Firms are building out fairly strategic groups of professionals with consulting and operating experience that work closely with portfolio companies.

Bill Matthews

BraddockMatthews
The Operating Partner Demand
"Firms are building out fairly strategic groups of professionals with consulting and operating experience that work closely with portfolio companies. And with some portfolio companies facing potentially more distressed situations than in the past, this role has been even more in demand," says Bill Matthews, a partner at executive search firm BraddockMatthews. In fact, hiring professionals say that PE firms have been aggressively building up their operations teams for the past couple of years.
Related content: Operating Partners Take Center Stage
"With more and more PE firms chasing the same supply of deals, it's Economics 101, and we continue to see hiring in the operations teams," says Sean Mooney, founder and CEO of BluWave, a business network serving the private equity industry.
His sentiment is shared by Jonathan Graham, a partner with executive search firm Heidrick & Struggles, who notes that PE firms have come
to view the role of operating partner as far more important over the past two years. "When there are not as many deals happening, they turn their eyes toward the portfolio company operating partners since those are the roles that make a big difference in portfolio company performance," says Graham. "We've seen a huge increase in the hiring of operating partners, where they're looking for retired CEOs, retired CFOs and really seasoned 'been there, done that' executives to work with portfolio companies on how they can do things better and more efficiently." Mooney has also seen an uptick in human capital roles at private equity firms, a category he describes as the fastest growing in the middle market. "You're seeing fund after fund hire a human capital head whose job it is to help with portfolio companies, as well as the internal firm operations," he says.
Mid-Level Professionals' Career Path Stalls
Still, there are challenges at the senior level within middle-market PE firms—the one area where hiring professionals say there was significant over-hiring during the pandemic. Faced with a glut of professionals at the vice president level, promotions among senior executives have all but halted. Such overcrowding, coupled with the realization that career advancement could be much further off than initially expected, is spurring some people in this group to look for opportunities outside their current organizations. For PE firms in the market for talent, this has created an attractive talent pool for opportunistic hiring.
Kelly Ford Buckley, a general partner and chief operating officer at Edison Partners, notes that her firm has intentionally shifted what it looks for in job candidates. Rather than prioritizing traditional investment banking or management consulting pedigrees, Edison seeks professionals with well-rounded backgrounds who can relate to the needs and challenges of CEOs and management teams at portfolio companies and acquisition targets. "From the partner level down, we've been hiring folks with more of a balance of operating experience and investing exposure. And in recent years—possibly because of the current macro environment—I've definitely seen a lot more interest from former board members or operating executives who want to make the transition into growth equity or private equity," says Ford Buckley.
Compensation Dynamics
Compensation for new hires is one area where fundraising challenges are expected to have an impact. Data from Preqin shows that global private equity firms raised $106.7 billion in the third quarter, a 35% decline from the same time period last year. According to Heidrick & Struggles, between 2020 and 2022 the median base cash compensation rose by 26% for associates and 15% for managing partners. While any significant compensation changes within the industry will not be visible until bonus season, hiring professionals expect that this year's bonuses are likely to be more subdued than last year's.
When it comes to new hires—depending on the role being filled—the impact of market challenges on compensation is already visible.
"Compensation packages are not as crazy as they would have been 18 months ago, particularly among mid-level positions like VPs, where there was a lot of hiring going on," says Kate Romanowicz, a senior client partner at Korn Ferry and a member of the firm's global private markets practice. She adds that it wasn't uncommon to see firms "buying out" bonuses—paying recruits the value of the bonus they expected from their prior firm to entice them to leave sooner. "Now, funds are much more likely to sit and wait a few months for professionals to get their bonus from their existing employers and then bring them on," she says. Still, exceptions remain.
Related content: When Hiring a CFO, PE Firms Refuse to Settle
Strong candidates for leadership roles within portfolio companies are in such demand that firms are paying a premium. "It's more competitive and harder to find the true impact-makers and game-changers—they're in more demand than ever, and their compensation is going up," says Bo Pennell, managing director of Townsend Search Group. "Private equity firms are now even offering equity for people at the manager level of their organizations, where historically it was only the C-suite level, VP level and above that realized equity participation." Similarly, Pennell says there has been a major change in the value that PE firms ascribe to strategic human resources leadership within portfolio companies.
It's more competitive and harder to find the true impact-makers and game-changers—they're in more demand than ever, and their compensation is going up.

Bo Pennell

Townsend Search Group
Previously viewed as little more than an overhead expense, organizations are beginning to see strategic HR as a way to add value and create more attractive places to work.
Most hiring executives expect that deal activity will finally resume by year-end. If that comes to fruition, recruiters anticipate an uptick in demand for experienced fundraisers and investor relations professionals. "We envisage a lot of hiring on the fundraising front," says Korn Ferry's Romanowicz. "Firms need people with the Rolodexes and with track records of selling funds."
In the meantime, firms are hiring in preparation. "I wasn't sure what the degree of receptiveness to my cold outreach was going to be, but it turned out much better than I had hoped going in," says Laufer. "I also didn't want to wait for the sake of waiting for a 'better' hiring environment, because who knows what the next 12 to 24 months will look like."
Britt Erica Tunick is an award-winning journalist with extensive experience writing about the financial industry and alternative investing.
Middle Market Growth is produced by the Association for Corporate Growth. To learn more about the organization and how to become a member, visit www.acg.org.