Open For Business: A Q&A with Penny Pritzker
Entrepreneur, investor and former U.S. Commerce Secretary Penny Pritzker discusses her current ventures, team building, disruptive technology and more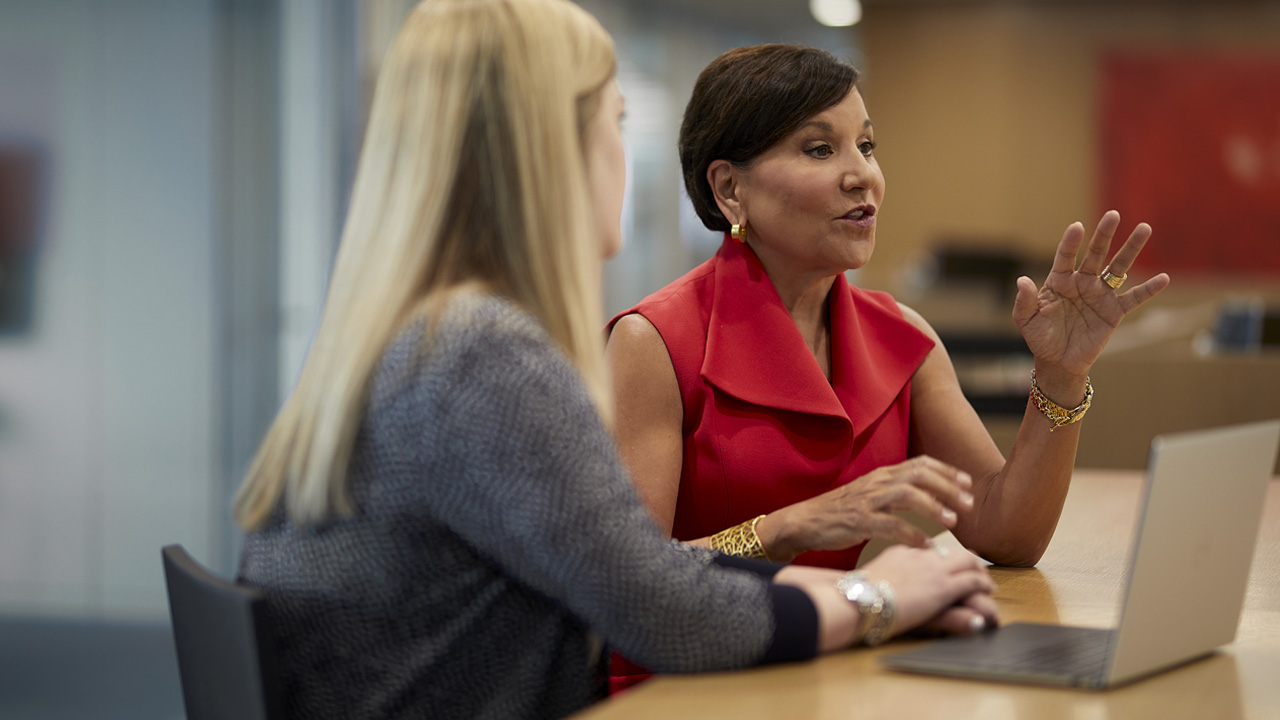 Penny Pritzker is the founder and chairman of PSP Partners and its affiliates, Pritzker Realty Group (PRG), PSP Capital and PSP Growth. From June 2013 through January 2017, she served as U.S. secretary of commerce in the Obama administration.
---
This section of the report originally appeared in Middle Market Executive's Fall 2022 issue. Read the full story in the archive.
Photography by Miles Boone Photography.
---
Pritzker currently serves on the boards of Microsoft and Icertis, among others, and on President Biden's Council of Advisors on Science and Technology. She recently corresponded with Middle Market Executive about her investing approach, hiring effective leaders, navigating challenges in today's environment and more.
Q: You've launched and grown several businesses across an array of industries over the course of your career. What are some common threads across these endeavors, and how does your background as an entrepreneur inform PSP Partners' investment strategy?
A: I believe that building durable businesses and investing in growth and innovation is an inherently noble endeavor. Building businesses successfully—and the right way— requires more than capital and certainly more than one person. I am so proud of our culture, vision and team at PSP Partners, which includes so many talented professionals and leaders, including Troy Noard and Mike Oleshansky (managing directors who lead PSP Capital), Momei Qu (managing director who leads PSP Growth), Jon Skinner (who joined us as our CEO at the start of the year) and a number of others.
Since we founded the firm 12 years ago, and certainly upon my return to PSP Partners following my service as commerce secretary, we've worked as a team to continuously enhance and evolve our strategy to ensure success not only for our firm but also for our partners. We invest in long-term macro trends; focus on sectors and business models in which we bring experience, expertise and value-added resources; and partner with innovative leaders who share our passion for building great and lasting organizations. We are incredibly pleased not only with our strong recent investing momentum but also with our deep engagement with our partners and companies to help them amplify growth and optimize their businesses. Altogether, we are now invested in more than two dozen companies and partnerships.
Within PSP Partners we focus on three sectors— advanced industrials, business and technology services/ software, and real assets—and have three direct investment platforms: PSP Capital, PSP Growth and Pritzker Realty Group.
First, PSP Capital invests in larger, more established businesses in two sectors of the economy in which we have deep conviction and bring to bear highly relevant experience and relationships: advanced industrials, and business and technology services. Second, PSP Growth invests in earlier-stage, high-growth B2B software technology companies that enable efficiency and disrupt the status quo. Finally, Pritzker Realty Group invests in commercial, industrial and multifamily real estate through PRG Industrial and PRG Multi-Family. In addition to these direct investment platforms, we invest in other areas through our asset management group at PSP Partners.
Some recent investments include Ntiva, a leading managed IT services firm addressing significant and long-term global digital transformation demand, and StormTrap, a stormwater management and water quality business addressing a growing need to manage and treat water in the face of extreme weather events, population trends, inadequate legacy infrastructure and rising land costs. Both investments reflect our strategy of thematically investing in sectors and businesses where we believe PSP can be a value-added partner, leveraging our global network, expertise and resources to help amplify growth and connectivity for our businesses. Most importantly, we are a values-based organization that leads with integrity, honesty and passion for developing and supporting great leaders and organizations.
Q: It's clear that you genuinely enjoy building and growing companies, and a key part of that is aligning yourself with an effective team and leaders. What do you look for when choosing people to lead a business alongside you?
If there's anything we've learned in these past two years, there are some challenges for which you cannot prepare in advance.
A: My team and I look for several attributes in effective leaders and leadership teams. It starts—and frankly ends— with integrity, humility and a values-based culture. I sit on the board at Microsoft, and Satya Nadella often says that the "C" in CEO stands for "culture." I couldn't agree more. Second, we look for leaders who can articulate and align an organization around a bold vision and clear, tangible goals. Third, we look for leaders who are talent magnets and committed to developing the people who work with and for them. Lastly, we look for leadership teams who are intentional in employing a "management operating system" to drive priority setting, effective communication and accountability throughout the organization. In our experience, the combination of these attributes typically leads to high-functioning teams and resilient organizations. If there's anything we've learned in these past two years, there are some challenges for which you cannot prepare in advance. It is in those times that you will need partners with a combination of qualities I mentioned earlier to achieve success.
On a personal level, I would also add that I take a "life is short" mentality and always strive to work with and alongside partners that I like, respect and enjoy.
Related content: Choosing Leaders for Your Next Phase of Growth
Q: Given the uncertainty in the economy today, what's one piece of leadership advice you would offer readers as they help their organizations navigate current challenges in the market?
A: Business leaders today are dealing with a compounded and difficult set of economic challenges: global inflation, the ongoing climate crisis, tightened supply chains as we continue to heal from the pandemic and a massive labor shortage, to name just a few. Whether you are an operator or investor, the reality is that these conditions will be around for a while. My advice is to actually do a number of things in concert. First, you need to ensure that your balance sheet is strong to weather any difficult periods, so watching your burn carefully is essential. Second, management teams should do regular scenario planning and pressure test various outcomes to best manage and mitigate risk. Third, you should be curious about your blind spots and institutional biases to create an environment where you can safely challenge assumptions. Fourth, overcommunicate with your management team and to your company as a whole. Fifth, you must be nimble to quickly take advantage of opportunities that may arise. Last, make sure you do everything you can to support a strong, innovative and resilient culture—and that starts with the leadership team setting the example.
Third, you should be curious about your blind spots and institutional biases to create an environment where you can safely challenge assumptions.
Q: As both a private sector investor and a former public official, what role do you see for private capital in helping American businesses compete globally, and where is government action needed?
A: I have always believed that it is the role of private businesses to create jobs and not the role of government. I also believe that in many instances business leaders are patriots that create increased opportunity for millions of people throughout our country. That being said, the government can play an important role to create the conditions for economic growth. Initiatives like the passage of the federal infrastructure law and the CHIPS and Science Act in recent months can not only make a significant direct impact on broadband, digital infrastructure and semiconductor production, research and development, which are so vital to our global economic leadership; but they can also spur investment and growth of American businesses (which we've already seen).
Related content: The Silver Lining of the Mid-Market's Gloomy Economic Outlook
At the same time, however, I would like to see our country do much more to help the millions of working Americans trying to adapt and adjust to the impact of technology. A better system of workforce training at scale is critical to help these workers more easily move into higher paying jobs of the future. For example, I believe we should be doing more as a nation to support public-private workforce partnerships that focus on upskilling and advancing American workers.
Q: Technology is a throughline in many of your current roles—as a Microsoft board member, co-founder of the civic-tech organization P33 in Chicago and through your investment activities. Is there a particular innovation or tech application that you're particularly excited about for its disruptive or enabling potential?
A: You are right, in my vantage point from those affiliations, as well as a member of President Biden's Council of Advisors on Science and Technology, I am amazed to witness many cutting-edge innovations and trends up close. I am particularly interested in quantum computing and its potential commercial applications in manufacturing and technology. Illinois has become a hotbed of innovation in quantum computing, with two national labs that each won one of the large Department of Energy quantum center grants and a host of promising dynamic companies. At the same time, the focus on environmental stewardship and sustainability will continue to grow and impact every sector with so much investment flowing into the space. Technology will play a critical role in developing environmentally responsible ways to support economic growth. I believe we will see incredible innovation in this area in the coming months and years.
Lastly, I see us still being in the early days of cloud migration, and there are a number of innovative software companies that are changing the way companies do business. For example, one company in our portfolio, Icertis, is the leading provider of contract intelligence software, enabling large, complex enterprises not only to gain extraordinary efficiency through the cloud-based management of all of their contracts, but moreover, to more quickly analyze those contracts, realize the intent, draw actionable insights and drive better outcomes. These types of solutions really excite me, and I think the future for Icertis and other companies working in the cloud is just enormous.