Middle-Market Public Policy Roundup
A regulatory relief bill is on its way to the House, a trade war looks increasingly unlikely, and Trump picks Larry Kudlow to lead the National Economic Council.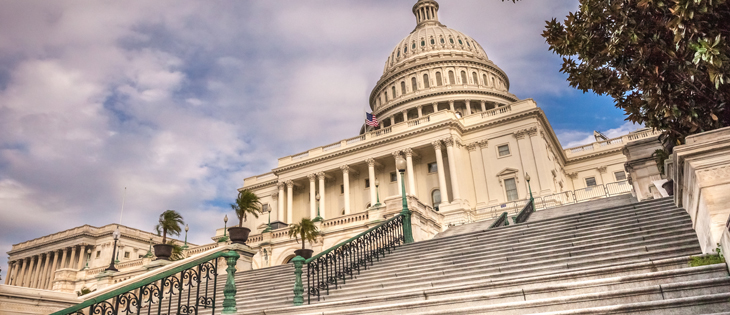 This week's roundup looks at the progress of a bipartisan regulatory relief bill that passed the Senate and is on its way to the House of Representatives. Meanwhile, a trade war sparked by President Trump's tariffs looks increasingly unlikely. And the president's appointment of Larry Kudlow to lead the National Economic Council may come as a relief to free trade proponents.
Dodd-Frank Regulatory Relief En Route to the House
The bipartisan, community bank-oriented regulatory relief bill we've been following has made its way through the Senate, which passed the measure in a 67-31 vote. The bill is now headed to the House of Representatives, CNBC reports. House Financial Services Committee Chairman Jeb Hensarling has approximately 30 House bills whose inclusion he would like to negotiate, and he signaled he would be open to having a conference between the Senate and House to address their differences. The Senate leadership prefers to pass the bill as is, and it may pressure the House to take it up without a conference.
It is still possible for legislation to happen!
Axios highlights one of the drivers behind the bill: "Over years of fly-ins and other Capitol visits, bankers from around the country provided lawmakers with data-rich, fact-based, artful arguments."
ACG Global operates its own fly-in day for its members to present "data-rich, fact-based, artful arguments" to legislators on policies that can strongly incentivize economic growth. To learn more, consider attending ACG Global's Public Policy Summit and play a role in helping Congress work the way it was designed to.
"Over years of fly-ins and other Capitol visits, bankers from around the country provided lawmakers with data-rich, fact-based, artful arguments."
Trade War? More Like a Skirmish
As we previously reported, President Donald Trump has moved to enact a 25 percent tariff on steel imports and a 10 percent tariff on aluminum. Last Friday, Axios reported that Trump would exempt both Canada and Mexico from any potential tariffs, mitigating much of the risk to America's two largest trading partners for the commodities. While there is still potential for other countries to suffer harm from the tariffs, Trump also has indicated that he is willing to negotiate exemptions for other countries as well, leading to the possibility that the "trade war" will in the end be all bluster and no action.
Interested in what causes a trade "spat" vs. a trade war? RSM Chief Economist Joe Brusuelas wrote an article explaining the differences. Essentially:
Trade Spat: One country tries to justify artificially disincentivizing another country's goods from being sold. Often this is resolved through the World Trade Organization.
Trade War: "When countries move beyond the WTO and engage in punitive trade and financial taxes." According to Brusuelas' article, "The first indicator that a trade war has begun would be the announced intention to withdraw from, or abrogate, current trade treaty arrangements."
While a trade war certainly is possible—as has been the case with many all-encompassing international policy statements—a significant retreat from the original proposal for an across-the-board tariff is underway and will possibly continue.
Larry Kudlow Named National Economic Council Director
The Wall Street Journal reported that Larry Kudlow will be the 11th director of the White House National Economic Council. The goal of the NEC, created by President Bill Clinton in 1993, is to ensure that "economic policy across different executive branch agencies is on the same page," according to the WSJ.
After the departure of previous NEC Director Gary Cohn, there was a fear of major staff turnover if a protectionist, like trade adviser Peter Navarro or Commerce Secretary Wilbur Ross, were to take over. Kudlow is an ardent free-trader who has publicly opposed some of Trump's policies, most notably his desire to pull out of NAFTA, as well as the president's proposed tariffs. It has been reported that Trump chose Kudlow in part for his public confidence and media savvy.
Check back each Friday for the weekly Public Policy Roundup. Is there a policy issue you'd like us to cover? Send your suggestions to MMG Editor Kathryn Mulligan at kmulligan@acg.org.

Ben Marsico is ACG Global's manager of legislative and regulatory affairs.