ACG Member Spotlights: West & South Central
A snapshot of ACG's membership and the contributions of its volunteers across the West and South Central U.S.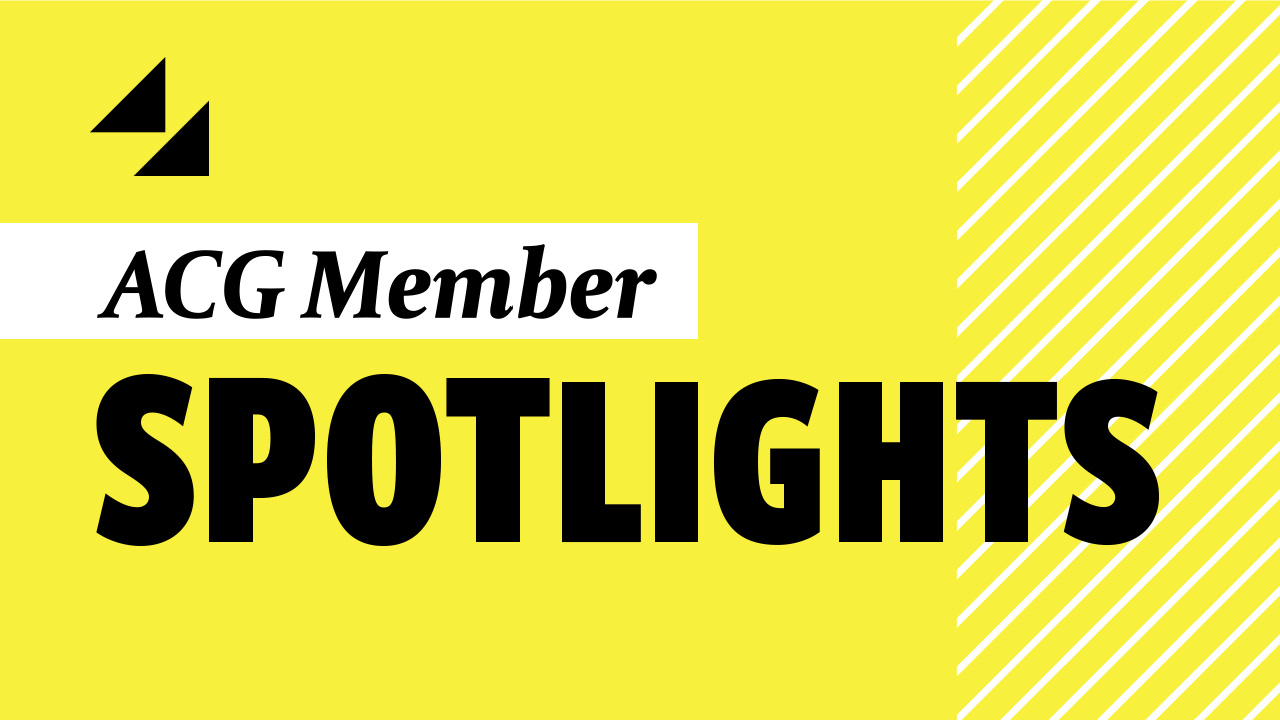 In this year's special edition of Middle Market Growth: The 2023 MAX Awards issue, we're showcasing important constituencies within the Association for Corporate Growth and the broader middle-market dealmaking community.
Out next month, the special edition has awarded a Private Equity Firm of the Year, Lender of the Year, Investment Bank of the Year and an ACG Legend.  But to offer a broader snapshot of ACG's membership and the contributions of its volunteers, we've also selected certain individuals to spotlight.
Below, we showcase members from across the West and South Central regions who represent key membership categories. They all share a commitment to ACG, having volunteered their time to plan events, grow membership, build new programs and foster connections. These are the members who make ACG the place to do business in the middle market.
Explore the Spotlights below. View the Northeast Spotlights here, and Spotlights from the Midwest, Canada, Great Lakes, South, and Carolinas here.
Cassandra Mott
Partner, Blank Rome | ACG Houston
Cassandra Mott has been a member of ACG's Houston chapter since 2009, serving as president, vice president and in other key roles over the course of her tenure.
As chapter president in 2014, Mott launched a pair of committees focused on the betterment of women and young professionals. In unifying three Texas ACG chapters—Houston, Dallas/Fort Worth and Austin/ San Antonio—she empowered improved communication between chapters.
"Cassandra is a visionary bridge builder, and a strong advocate for women," says Paul Gautier, managing director at Cary Street Partners and a board member for ACG Austin/San Antonio. "She is a true leader and knows how to bring together the right people to get things done. She's incredibly well-connected and efficient, not to mention a delight to work alongside."
Upon moving from Cleveland to Houston in 2009, Mott quickly cultivated business development opportunities and even long-term friendships with fellow middle-market ACG members. Along with her work as president, she engaged in a strategic planning process that resulted in the hire of Executive Director Morgan Stone.
"Morgan has been a game-changer for our chapter over the last eight years, elevating us to next-level professionalism, marketing, sponsorship, programming and membership services," says Mott. "I'm also grateful to Blank Rome for supporting ACG Houston as we continue to grow the firm's transactional presence in Texas."—DJG
Jay McCabe
Vice President and Relationship Manager, Comerica Bank | ACG San Diego
As a member of the Association for Corporate Growth, Jay McCabe, vice president and relationship manager for Comerica Bank in San Diego, spearheaded an annual conference that has become a premier event for the middle-market community.
McCabe joined ACG San Diego in 2004 and has been a board member since 2018. Right before the start of the pandemic, he initiated a new event for the chapter with the goal of building relationships with private equity investors.
"With the help of the most effective volunteer committee I've ever had the opportunity to serve with, in February 2020, only one month before the COVID shutdown, we hosted our first annual ACG Capital Connection," he says.
The conference took a two-year break during the pandemic but was back in February 2023.
"Both ACG and San Diego have a lot to offer, and our conference strives to showcase this, both to the ACG and broader business communities," McCabe says. "With a differentiated focus on serving business owners and their management teams, investors and advisors, we can attract capital, educate and ultimately strengthen our economy."
"Despite the challenges of putting together such a significant event, Jay always has an upbeat attitude and has assembled a tremendous team to support his efforts," says Steve Root, audit shareholder for LevitZacks in San Diego. Root is the treasurer of the San Diego chapter and serves with McCabe on the board.
The efforts of McCabe and his committee yielded an event that ultimately reflects the core purpose of ACG, Root notes: "One of the features at the CapCon Conference is DealSource, which arranges one-on-one meetings with investment banks and private equity firms, which is really the foundation of what ACG is about."—AM
Margaret Shanley
Principal, Transaction Advisory Services Practice Leader, CohnReznick | ACG Los Angeles
As a member of ACG's Los Angeles chapter since 2000, Margaret Shanley enjoys creating compelling events for the middle-market community.
"My involvement with the annual business conference has been wonderful," she says. "I have been able to help secure marquee sponsors and speakers, and moderate panels."
One highlight was hosting a fireside chat with author Suzy Welch during a women's lunch in 2022. Shanley also recently moderated a sold-out panel of investment bankers at a chapter event.
Starting as a member of the Programs Committee, Shanley rose to become vice president. From there, she became a co-chair of the ACG Los Angeles Annual Business Conference and has served in that role for 15-plus years.
Shanley says being part of ACG has enhanced her career and helped her make connections, especially since she moved to the U.S. as a young professional from Ireland.
Michael Rivera, chief strategy officer for ACG, has high praise for Shanley.
"Margaret Shanley has distinguished herself within the ACG Los Angeles community through both the quality and longevity of her involvement," says Rivera, who served as the Los Angeles chapter's CEO before joining ACG headquarters last fall.
He notes that the ACG Los Angeles Business Conference is an important event. "Much of the credit for the conference's informative nature and high-value networking can be attributed to Margaret's participation," he says. "Margaret is smart, accomplished and direct," Rivera adds. "She has always been willing to leverage her professional network for the betterment of the association."—AM
Suzie Doran
Partner, SingerLewak | ACG Los Angeles
A sense of community fostered by the Association of Corporate Growth is what Suzie Doran, a partner with accounting and consulting firm SingerLewak in Los Angeles, most appreciates about being a member of the organization, which she joined in 2004.
Doran has been involved in many aspects of the Los Angeles chapter. She has served on the ACG Los Angeles Conference Committee, the Award Committee, Women's Committee, Executive Committee, Programs Committee, and as treasurer and president of the chapter.
Doran has made both personal and professional contacts through ACG. "ACG has positively impacted me professionally by providing me with my first client that I brought into the firm," she says. "ACG has been a great community that has fostered some wonderful relationships over the years."
Cornelia Cheng, managing director of MGG Investment Group in Los Angeles and Las Vegas, met Doran through ACG Los Angeles, and they serve together on the chapter's board. Cheng says Doran makes a point to spread the word about ACG's many benefits.
"She brings incredible energy and commitment in leading and promoting ACG across the dealmaking community," Cheng says of Doran. "Most recently, and with short notice, she stepped up as interim ACG LA Advisory board chair to fill an unexpected vacancy."
Doran also builds connections among chapter members and other stakeholders, according to Cheng, who says Doran is always active in welcoming those who are new to the local dealmaking community. "She is also a prolific connector who actively finds opportunities to connect with those in her network to facilitate partnership opportunities," Cheng says.—AM
Brad Elliott
Senior Vice President, CAC Specialty | ACG Denver
After serving ACG for nearly two decades, CAC Specialty Senior Vice President Brad Elliott is poised to become ACG Denver's next board president later this year.
As a newly minted MBA in 2004, Elliott joined ACG because he believed it was the best way to engage in Denver's finance and deal community. He's served on the M&A/PE/IB Committee and Corporate Outreach Committee.
Currently, Elliott serves as program chair where he helps develop programming that features major Denver business leaders. He says he has focused much of his time and efforts at ACG Denver on planning, preparing and delivering high-quality programs for the betterment of the ACG Denver community, which has raised the tide for all involved.
Elliott credits ACG Denver with helping him build long-term relationships and friendships with others in the middle-market space. "I highly recommend ACG to colleagues as deal communities can be a tight-knit group, and ACG provides the premier environment for building lifelong relationships," Elliott says.
Over the years, Elliott's volunteer involvement in the chapter has been invaluable to the deal community, says Veronica Muñoz, ACG Denver's executive director. "Brad's impact on ACG has been tremendous," she adds. "He is a rare blend of a visionary who tirelessly executes."—ST
Douglas J. Guth is a Cleveland-based freelance writer covering the middle market and small business.
Annemarie Mannion is a Chicago-based freelance writer covering business.
Sue Ter Maat is ACG's communications manager, based in suburban Chicago.
View the Northeast Spotlights, and the Midwest, Canada, Great Lakes, South, and Carolinas Spotlights.