ACG Member Spotlights: Midwest, Canada, Great Lakes, South, and Carolinas
A snapshot of ACG's membership and the contributions of its volunteers across the Midwest, Canada, Great Lakes, South, and the Carolinas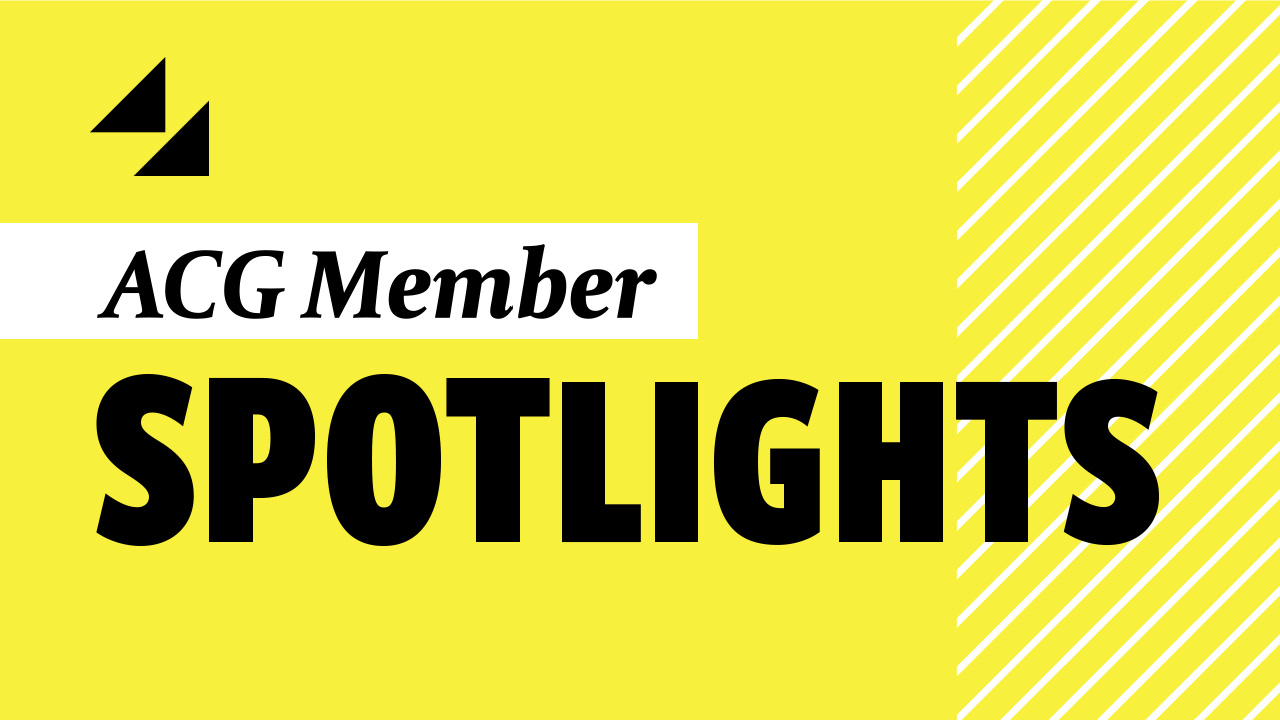 In this year's special edition of Middle Market Growth: The 2023 MAX Awards issue, we're showcasing important constituencies within the Association for Corporate Growth and the broader middle-market dealmaking community.
Out next month, the special edition has awarded a Private Equity Firm of the Year, Lender of the Year, Investment Bank of the Year and an ACG Legend.  But to offer a broader snapshot of ACG's membership and the contributions of its volunteers, we've also selected certain individuals to spotlight.
Below, we showcase members from across the Midwest, Canada, Great Lakes, South, and the Carolinas who represent key membership categories. They all share a commitment to ACG, having volunteered their time to plan events, grow membership, build new programs and foster connections. These are the members who make ACG the place to do business in the middle market.
Explore the Spotlights below. View additional Spotlights from the Northeast as well as the West and South Central U.S.
Heather Lewis
Business Development Senior Associate, WILsquare Capital | ACG St. Louis
Heather Lewis had three months of normalcy after joining WILsquare in late 2019. A former accounting firm executive and member of ACG St. Louis since December 2019, Lewis and her colleagues acted quickly when the coronavirus pandemic threw the business world into chaos.
Under the leadership of executive director Amy Ruebsam, ACG St. Louis pivoted to virtual happy hours and other online events that kept members connected. To expand her own network, Lewis attended virtual activities hosted by numerous ACG chapters outside of St. Louis as well.
"ACG helped me continue to make connections during a pandemic," says Lewis. "Building relationships and learning more about people is a large part of my job, and ACG gives its members the ability to make connections no matter what is going on in the world."
Lewis is currently focused on her work with ACG's Emerging 20, a leadership development program for rising young leaders in the M&A space.
"ACG is not only a place to build relationships; it's a place to gain knowledge through various programs," Lewis says. "Getting younger folks involved with ACG is our driving force."
Michael Norton, a board member of ACG Chicago and director of business development for boutique investment bank Houlihan Capital, knows Lewis through their mutual attendance at dozens of industry and ACG events. Norton calls Lewis a "master connector" who has made her chapter stronger and more relevant.
"Heather brings the right people to the ecosystem, which is the best way to strengthen the ACG community," says Norton.—DJG  
Tricia Balser
Managing Director and Head of Ohio Regional Commercial Banking, CIBC US | ACG Cleveland
Tricia Balser is passionate about increasing inclusivity and supporting women in the M&A industry, and being part of ACG has helped her achieve those goals.
Balser has been a member of ACG's Cleveland chapter for 16 years. She is currently president of the chapter, which recently celebrated its 40th anniversary.
"I participated in the 40th Anniversary Committee that ensured an unforgettable event that acknowledged the chapter's rich history and celebrated the possibilities of the next 40 years," she says.
Previously, Balser served on the Executive Committee under the role of Innovation Pillar, which includes subnetworks of Women in Transactions, Young ACG (YACG), Akron and Corporate Development. She also was chair of Women in Transactions
"I have always celebrated the role of women in the M&A industry," she says. "I hope that I have inspired other young women who aspire to prominence in their field."
It seems her passion is shared with other chapter members, since its last two presidents have been women.
"Tricia is a wonderful person and effective leader," says Margaret Jordan, director of business development at KIKO Realtors, Auctioneers and Advisors, who served on the Women in Transactions Committee while Balser was chair. "She is well liked and is known for being dependable, smart and strategic."—AM
Ben Gibbons
Founder and Managing Partner, Waterpoint Lane | ACG Toronto
Nearly a decade ago, Ben Gibbons, founder and managing partner at growth-stage investment firm Waterpoint Lane, joined ACG Toronto. He was introduced to the association through a past ACG Toronto chapter president, Dan Amadori. At the time, Gibbons had recently moved from Australia to Canada and was looking to establish his network in the deal ecosystem.
Gibbons went on to join ACG Toronto's Young Professionals Committee in 2016 and was appointed to the ACG Toronto board in 2018. In 2019, he took on the role of vice chair and became ACG Toronto board chair in 2021.
Gibbons also launched the chapter's 50th anniversary gala dinner and Recognition Awards at the 2022 Capital Connection Conference and is currently leading the development of an ACG Canada network model with all five Canadian chapters.
He credits ACG with helping him build critical skills.
"Volunteering on the board has certainly helped me with governance principles and attaining and improving my skills with risk oversight," Gibbons says. "As I've advanced to the board chair role, that has also enhanced my ability to be market present and grow the brand of Waterpoint Lane."
Gibbons has excelled in his role at ACG, according to Mike Fenton, president and CEO of ACG Toronto.
"Ben is a strong facilitator and engages everyone as an equal," Fenton says. "He's always been open to new ideas and willing to assist members and colleagues to network with our chapter network. He's a natural leader—he works well with both our younger members and with industry leaders."—ST
Justin Spears
Director of Business Development, Southeast, Trivest Partners | ACG Charlotte
Justin Spears, Trivest Partners' director of business development, Southeast, says joining his local chapter, ACG Charlotte, has helped propel his career.
Spears' ACG membership has led to strong relationships with the intermediaries from which Trivest sources deals, and it has assisted in closing deals through heightened visibility for his role and firm. He added that membership has provided him with opportunities to collaborate and glean perspectives from a diverse group of M&A professionals.
Spears' association with ACG began a few years ago, when he joined the Florida chapter after a colleague invited him to attend the 2019 ACG Florida Capital Connection. He has since moved to Charlotte and is now based there, allowing him to be active in the ACG Charlotte chapter.
"The (ACG Florida Capital Connection) event was an incredible introduction to the dealmaking universe and knowledge-share that is ACG," Spears says. "It is absolute table stakes to be an ACG member if you spend time in the world of M&A."
After joining Trivest's Charlotte office, Spears became heavily involved in the chapter, joining the ACG Charlotte board in 2021. He also serves as vice president of programming and is a member of the subcommittee for ACG Charlotte's Deal Crawl conference.
"Justin is an active ACG member, attending events around the country," says ACG Charlotte Executive Director Betsy Bryan Mandl. "He also goes above and beyond to strengthen our chapter with great ideas and often brings prospective new members."—ST
Steve Tye
Managing Director, Croft & Bender | ACG Atlanta
As a member of ACG Atlanta since 2005, Steve Tye has worked to extend the chapter's reach and bring in new members with a diverse range of experiences and perspectives to the board.
That commitment to outreach is evident in some of the roles he's taken on, including serving as current board chair for ACG Atlanta and as chair of M&A South, the largest networking event for middle-market dealmakers in the region.
"Steve has embraced ACG and showed the value that ACG brings to all stakeholders— middle-market companies, private equity, venture capital, investment bankers, service providers and others," says Bill Wade, CEO of Company.com in Austin, Texas. Wade and Tye served together on the ACG Atlanta board of directors and on the M&A South committee.
M&A South's appeal is supported by the numbers: 55% of the 1,150 attendees at the most recent event came from outside of the state. There were 5,500 one-on-one meetings and 18,000 meeting requests.
Tye's lasting impact has been in seeking to recruit board members with different backgrounds, perspectives and experiences. The board recently adopted a diversity, equity and inclusion pledge.
"We intend to be intentional and consistent with our commitment through regular events and to hold ourselves accountable to the pledge," Tye says.
The chapter is also recruiting more corporate dealmakers to broaden ACG's reach beyond private equity and middle-market advisors.
Tye credits ACG with helping him make personal and professional connections.
"There really is no other place to bring together professionals, all with the common goal of supporting middle-market dealmaking," he says.—AM
Douglas J. Guth is a Cleveland-based freelance writer covering the middle market and small business.
Annemarie Mannion is a Chicago-based freelance writer covering business.
Sue Ter Maat is ACG's communications manager, based in suburban Chicago.
View the Northeast Spotlights, and stay tuned for additional ACG member spotlights from across the continent.