Eager Consumers Rev up Growth in Powersports
Post-pandemic interest expected to drive aftermarket demand.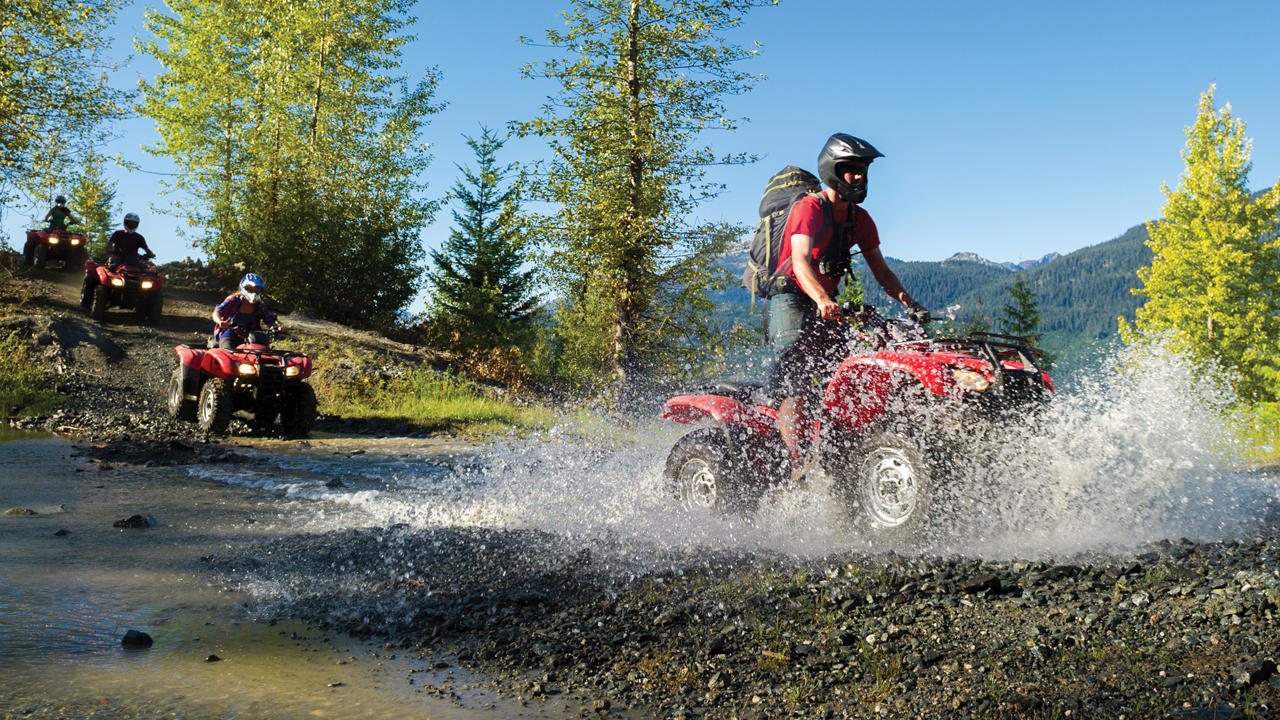 This article originally appeared in the Summer 2021 issue of Middle Market Growth. Find it in the MMG archive. 
The COVID-19 pandemic helped reacquaint consumers with the great outdoors. It also minted a new group of customers in the powersports segment, leading to a surge in demand for sporting equipment and presenting opportunities for aftermarket manufacturers and retailers.
The powersports market—which includes off-road vehicles like ATVs, boats and jet skis, and snowmobiles— grew at a remarkable pace over the past year. According to a report from investment bank PJ Solomon, the total market grew by 18% throughout all of 2020, and accelerated to 25% in the final quarter.
"I'd characterize it as white hot," says Justin Hillenbrand, a partner and co-CEO of private equity firm Monomoy Capital Partners, who also leads the firm's powersports investments. "I don't think there's another way to describe it."
During the pandemic, CDC guidelines allowed many outdoor activities to continue, and federal stimulus packages fueled consumer spending. A number of people left urban areas for roomier accommodations in suburban and smaller communities, where they were more inclined to purchase recreational products.
"It's not surprising when you have the entire population stuck at home for months. They try and figure out what they can do within their own confines— whether that's riding a bike, an ATV or a snowmobile. The desire to be outside is immense," Hillenbrand says.
Patrick Furlong, a director in the consumer retail group of PJ Solomon, estimates around 40%-50% of new unit purchases in the powersports equipment market in 2020 were from first-time buyers.
The introduction of easier-tohandle, family-friendly vehicles like three-wheel motorcycles and sideby- sides—a kind of off-road utility vehicle—and the addition of safety features like seat belts, anti-lock brakes and roll cages that started prior to the pandemic have helped powersports manufacturers win millions of new customers.
"This wasn't a fluke. This was a proactive effort by a lot of these [original equipment manufacturers] and brands over the last 10 to 15 years to create a product that's more appealing to a more diverse range of consumers," Furlong says.
Brands like BRP and Polaris have been designing equipment for a younger and more diverse customer base. The only powersports segment to contract in 2020 was on-road motorcycles (by 3%, according to PJ Solomon figures), which are typically marketed to baby boomers and older customers.
"When you look at marketing material from powersport equipment manufacturers today, it's friends and family around a campfire, not a bunch of guys parked outside a bar," Furlong says.
Combine increased enthusiasm in powersports with new equipment like electric vehicles, which are typically easier to ride and maintain, and the spike in interest in the segment has staying power that will likely outlast the pandemic. "There's going to be a lot more people that are enthusiasts next year than there were a year ago," Furlong says.
Aftermarket Aftermath
The boost in purchases of powersports equipment over the last year will likely translate into future sales for companies that make and sell customizable parts for those vehicles.
You saw the huge uptick in the OEM purchase, and now you're going to see the fat tail of the aftermarket play out for the next five years.

Justin Hillenbrand

Partner and Co-CEO, Monomoy Capital Partners
"You saw the huge uptick in the OEM purchase, and now you're going to see the fat tail of the aftermarket play out for the next five years," Hillenbrand says.
As older vehicles trade hands and find new owners, consumers are unlikely to find parts needed for repairs or customizations because their original manufacturer has discontinued support. This situation hands the advantage to third-party and aftermarket manufacturers and repair shops. Market research firm Global Market Insights released a report in February that projects the value of the powersports aftermarket will exceed $14 billion by 2027.
"While new and used vehicle purchases can be more episodic, those vehicle sales provide a longer-term benefit to the aftermarket," says Jeff Derman, a managing director at PJ Solomon in its global consumer retail group. "Riders can make even a used vehicle feel new and different by accessorizing it. The good news for the aftermarket is accessories purchases occur repeatedly over the vehicle's lifetime, so the increase in ridership coming out of 2020 should provide tailwinds for the aftermarket that persist."
This isn't lost on Hillenbrand. Monomoy has built an investment niche focused on companies in the powersports vehicle aftermarket. Among its portfolio companies is Motorsports Aftermarket Group, a distributor of aftermarket powersports products and accessories, which the firm acquired in 2017 for a $300 million debt-for-equity swap.
"We have a lot of exposure to the space right now," says Hillenbrand, who adds that Monomoy is also looking into more outdoor and powersports opportunities in the camping space, like towable trailers and RVs.
PJ Solomon's Furlong and Derman, who have recently worked on deals involving powersports e-commerce, aftermarket and dealership businesses, expect more of these companies to go to market and take advantage of increased valuations.
"There's an enormous amount of activity. Deals are getting done and there's certainly a high degree of buyer appetite to tap into this category," Derman says. "There clearly are strategic companies and financial sponsors who are trying to position themselves for where the category evolves to once we all have an understanding of the new normal."
Among the deals announced this year is re-owned powersports retailer giant RumbleOn's acquisition in March of dealership chain RideNow Powersports for over $575 million. That same month, investment firm Clearlake Capital Group injected additional development capital into powersports aftermarket accessories maker Wheel Pros. In 2020, Wheel Pros purchased Zbroz Racing, an aftermarket manufacturer of snowmobile parts.
In May, private equity investor Kinderhook purchased Victory 1 Performance, a maker of high-performance vehicles, for its powersports company Race Winning Brands. And the private equity division of Morgan Stanley announced its acquisition of Nivel Parts & Manufacturing, a maker of aftermarket equipment, including for off-road vehicles.
Despite the recent activity and optimism in the space, challenges persist.
During the early months of the pandemic, homebound consumers bought up existing inventory. Disrupted international supply lines and closed factories meant supplies were cleared out nationally. Import challenges for powersports brands have only increased as a months-long semiconductor shortage continues to grip manufacturers, and as global trade recovers from the pandemic, Hillenbrand says.
Although industry data showed a spike in purchases for new equipment in 2020, the details become fuzzy around the sale of used equipment, which is likely a far larger segment of the market, according to Furlong.
In addition to disrupted supply of vehicles from overseas, powersports is also suffering from a spike in the cost of raw materials, like plastic resin and steel.
Still, Hillenbrand expects consumer interest will continue to drive new growth. "This newfound enthusiasm for powersport activities is likely going to sustain itself for some time," he says.
Benjamin Glick is Middle Market Growth's associate editor.