The Health Tech Boom
The last year revealed the challenges within the health care industry and drawn investors' attention to companies with technology solutions that promise to make it more efficient and effective.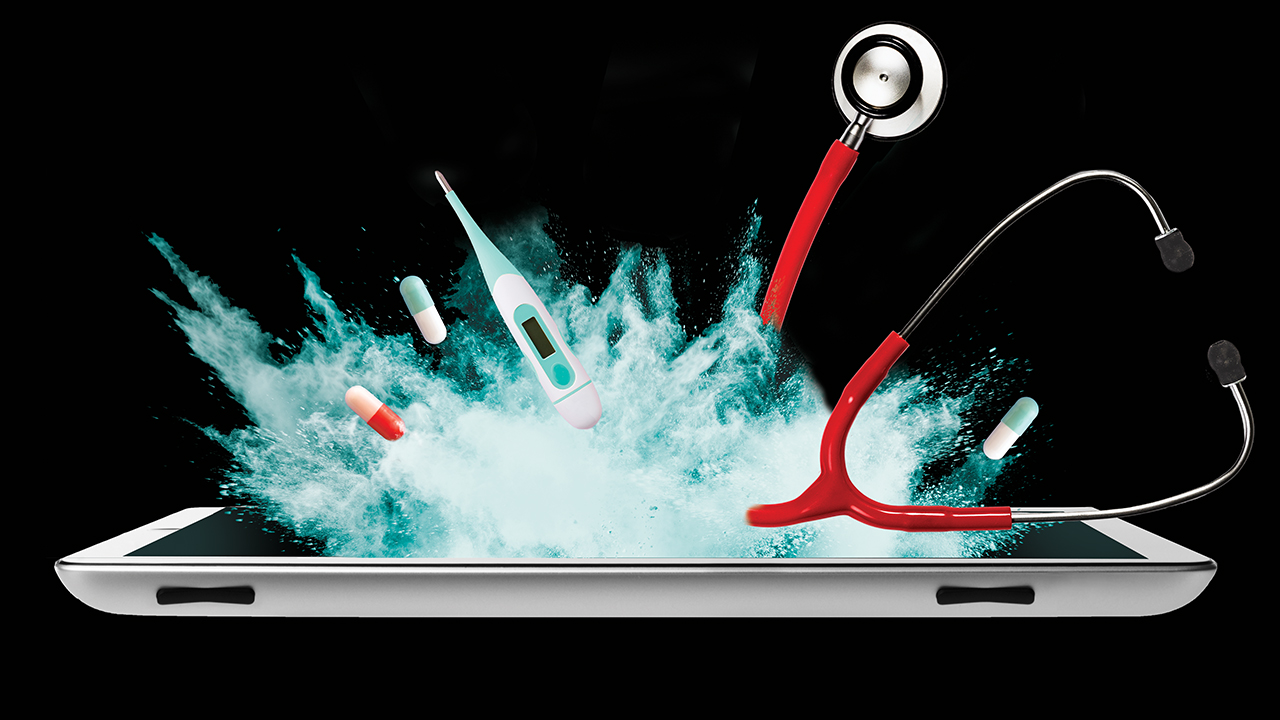 This story originally appeared in the Winter 2021 print edition of Middle Market Growth magazine. Read the full issue in the archive.
The COVID-19 pandemic strained the U.S. health care system in ways unimaginable before 2020, from shortages of ventilators and personal protective equipment that put patients and health care workers at risk, to canceled elective surgeries that threatened the survival of private practices.
Combined, the trials of the last 12 months have raised awareness of the challenges within the health care industry and drawn investors' attention to companies with technology solutions that promise to make health care function more efficiently and effectively.
Enhanced Healthcare Partners is among the private equity firms to show interest in health tech. In December, EHP invested in Hallmark Health Care Solutions, a New York-based company offering software that provides workforce management and physician compensation solutions.
EHP's investment was motivated by an interest in finding a better way to determine physician compensation and to address a nationwide nursing shortage.
Matt Thompson, general partner at EHP, says physician compensation is a highly complex calculation that includes multiple components, such as the type of work a doctor is doing, their specialty, location, individual quality scores and productivity, all of which must be collected from many different systems, individual payers and insurance companies.
"It might take weeks to process, and then it is tough to incorporate back into the payroll system," Thompson says.
Hallmark's solution automates calculating and adjudicating physician pay. It intelligently monitors compensation while providing real-time feedback to administrators and physicians according to their particular compensation methodology.
Compensation can vary from physician to physician, and the need for transparency is growing as hospitals ramp up their hiring. The share of physicians employed by a hospital or health system nearly doubled from about 25% of U.S. physicians in 2012 to 44% in 2018, according to a report by Avalere Health and The Physicians Advocacy Institute, a not-for-profit focused on health care policy.
"The more transparency and light you can bring, the more satisfaction physicians will feel. And you can reward physicians whose patients have great outcomes," Thompson says.
In addition to Hallmark, EHP's 10 portfolio companies include investments in a hospital, physician practice, pain management group, primary care group and urgent care practice. Working with those holdings underscored the need for better options for staffing nurses, another factor that influenced EHP's decision to invest in Hallmark.
Even before the pandemic, the nursing shortage was a troubling issue. The U.S. workforce has about 4 million registered nurses and about 60% work in hospitals. The U.S. Bureau of Labor Statistics reports that about 1.1 million new RNs are needed by 2022 to avoid a nursing shortage.
Hallmark's cloud-based, artificially intelligent tool helps hospitals more efficiently deploy per-diem, traveling, part-time or retired nurses who can fill staffing gaps like those experienced by another EHP-backed business, NeuroPsychiatric Hospitals (NPH), during the pandemic. "It was challenging to staff facilities during COVID, and because of the overall nursing shortage nationwide," Thompson says.
With Hallmark's solution, hospitals can reduce costs by managing full-time, part-time and contingent workers in a single system. Managers can better predict their staffing needs for a shift and source the most appropriate and cost-effective labor, according to Thompson.
"The solutions that Hallmark brings to bear can not only soften the pain points of our other investments, but our other investments can help turbo charge their growth," he says.
Health Tech Enters the Spotlight
Dynamics in health care that were caused or heightened by the pandemic, such as the nursing shortage, have focused investor interest on technology as a means to address difficult challenges.
"The pandemic has thrust health tech into the spotlight, so activity remains strong across the board by all types of investors and acquirers," says Dhruv Vig, vice president of Healthcare Insights at Silicon Valley Bank.
That wasn't always the case. A 2019 report from McKinsey & Company noted a lack of interest from private equity investors, which may stem from health tech's complexity.
Despite such challenges, McKinsey reported that health care companies with a strong technology element are valued, on average, at 17.1x earnings, compared with an average of 14.9x across the industry. The multiples surpass those in other subcategories, including pharmaceuticals, services, diagnostics, payers and health care providers.
"In recent years, well-managed health care tech companies have performed even better, with some exits at 23x to 25x earnings before interest, taxes, depreciation, and amortization (EBITDA)," the report states.
Although PE investors have been slow to enter health tech, they have plenty of money to spend. According to Preqin, a data provider, investors are sitting on $1.5 trillion in cash, which is the highest amount ever and double what it was five years ago.
Where they spend that capital may be influenced, in part, by COVID-19.
Some of the changes brought on by the pandemic, such as the increased use of telemedicine, are here to stay, predicts Kevin Cable, co-founder and managing director of investment banking firm Cascadia Capital.
Data from the Centers for Disease Control and Prevention supports Cable's assertion. The CDC reports a 154% increase in telehealth visits during the last week of March 2020, compared with the same period in 2019.
Another area where Cable sees growth is in the treatment of patients with chronic conditions, such as diabetes or heart disease, because of the need for ongoing monitoring. "Patients will need services over and over again," he says.
Life sciences is another health care segment where investors are looking for opportunities. "We've seen a lot of interest and completed a number of transactions to help companies get through clinical trials and help them think about different opportunities in the market," notes Greg Treger, managing director of investment banking firm Clearsight Advisors.
"We see considerable interest from PE for pharma services companies helping drug manufacturers at all stages of the drug life cycle, but particularly at Phase II and beyond," he adds.
Chasing a Cure and a Deal
Addressing pain points during clinical trials was top of mind for Chicago-based private equity firm Sterling Partners when it invested in Datacubed Health in September.
New York City-based Datacubed offers an app that makes it easier for patients in clinical trials to complete electronic clinical outcomes assessments.
Sterling Co-founder and Chairman Steven Taslitz notes that clinical trials may be hampered by issues such as outdated forms of communication and tracking that create friction between the trial operators and patients, or data gaps that result in errors and delays in bringing drugs to market.
Technology in our space is generally about how to do things better than they were done before.

Liam Logue

Executive Vice President, Corporate Development, UDG Healthcare
During clinical trials, participants provide health information that clinicians, researchers and the participants themselves use to track their condition and the impact of treatment on their symptoms. According to Taslitz, however, participants often fail to provide key information for various reasons—including ones as simple as having to wait to talk with a clinician, or needing to log on to a computer or tablet.
"We were attracted to the space because clinical trials are incredibly complex, often involving thousands of participants, costing tens of millions of dollars, and lasting a decade or more," he says. "We realized they could benefit from the adoption of new technology to streamline the trial process."
Depending on the therapeutic area, Datacubed estimates typical compliance rates for trial participants providing health information are about 65%. The company claims that its compliance rate is much higher, in the range of 90% to 95%, because participants can enter their data at any time by mobile phone. The app also prompts users with reminders and yields rewards, such as a burst of confetti and an in-app currency that participants can use to purchase games or make charitable donations.
Using its app, patients stay in trials longer, Datacubed reports. It claims that its average retention rate is 85% compared with an industry average of 70%.
The pandemic has thrust health tech into the spotlight, so activity remains strong across the board by all types of investors and acquirers.

Dhruv Vig

Vice President, Healthcare Insights, Silicon Valley Bank
While Sterling's investment was driven by a desire to reduce costs and address other challenges associated with clinical trials, there also is a need for better ways to bring drugs to market, which was the driver behind an investment made a couple of years ago by UDG Healthcare, a publicly traded health care services provider.
"Technology in our space is generally about how to do things better than they were done before," says Liam Logue, executive vice president of corporate development for UDG.
"Our main focus is on anyone who is doing something innovative," he adds. "We focus on what the problem is, what the company is setting out to solve, and how they get there."
Over the last 15 years, the company has made about 50 acquisitions. In 2018, it acquired SmartAnalyst, which offers technology to help pharmaceutical companies prioritize which drugs they put through development and bring to market. The company aims to reduce costs and development time.
"There are a lot of strong views within the pharmaceutical industry that research and development has to become more productive," Logue says. "There are too many dollars spent on products that failed or that had development timelines that were too long."
Logue says the acquisition of SmartAnyalyst has paid off. "We've performed ahead of our plan. In the first two years, we grew our profits by more than 30%. So far, so good."
The Next Buyer
For financial buyers of health tech businesses, eventually the time will come to sell.
Enhanced Healthcare Partners' Thompson says his firm plans for how the decision to exit will be made at the time of the investment.
Those criteria vary, but often the decision hinges on whether a company has been able to expand its offerings.
"We want to see a company prove that it can add new products, bring them to market, launch them and see them continue to grow," Thompson says.
In the case of Hallmark, Thompson says EHP plans to work with the company to introduce two new products over the next couple of years.
"That would put Hallmark in a really exciting position," he says. "If we're able to do it, then I think we'll have the kind of track record that the next buyer can look at and say 'Yes. This is the kind of company that has a true, leading market differentiator.'"
Thanks to the pandemic and ever-changing regulations, health care technology is a space that continues to evolve. Because of that, engaging in the industry requires a degree of flexibility.
"No investment goes in a straight line," Thompson says. "Some of the greatest successes we've had are ones where we had to pivot strategies mid-investment. Those can work out just as well, if not better, as you pivot through time." //
Correction: The print version of this article inaccurately stated that Enhanced Healthcare Partners' portfolio includes 12 companies, instead of 10. The online version has been corrected.
Annemarie Mannion is a former reporter for the Chicago Tribune and freelance writer who covers business.