The March/April 2018 issue of Middle Market Growth looks at the disruption underway in the real estate industry—from the growing popularity of flexible office-space leases among middle-market companies, to private equity's approach to investing in shopping-mall assets.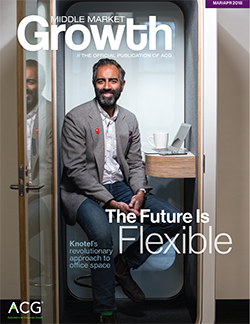 Print copies will hit ACG members' mailboxes later this month. The magazine is sent as an exclusive member benefit. Check back frequently as stories from the print issue are added to middlemarketgrowth.org.
And in case you missed it, MMG is expanding to six issues a year from four. Grow with us, and learn how MMG can help tell your story.
Below is a preview of the upcoming stories in this issue.
ON THE COVER //
The Future Is Flexible: Knotel's Revolutionary Approach to Office Space
Modern companies are looking for flexibility as they grow and evolve. Knotel is meeting that demand with a range of leasing choices, customized design features and outsourced services that remove the burden of office administration.
INSIDE THE ISSUE //
Private Equity Finds Profit Potential in U.S. Malls
PE firms are using cash on hand to devise innovative ways of transforming shopping centers into multi-use hubs that foster community—and turn a profit.
In Focus
Insperity handles HR from pre-acquisition to strategic execution, helping businesses achieve success by making the most of their human capital.
MidPoints by John Gabbert
E-commerce has transformed the retail industry, and real estate investors are well-positioned to take advantage of the physical assets left behind.
Quick Takes
WattTime, a growing company that emerged out of a San Francisco hack-athon, uses technology to help building operators make more sustainable choices about energy consumption.
MIDDLE-MARKET TRENDS SUPPLEMENT //
Experts from ACG Global sponsors and featured firms offer insight into the trends shaping 2018, from the SEC's regulatory priorities and registration requirements, to PE's growing interest in radiology and disruption in the retail sector.
PODCAST //
The Middle Market Growth Conversations biweekly podcast series is now on iTunes! Listen to interviews with middle-market influencers on the go.
Subscribe today on iTunes.