ACG members took to the Hill last week to meet individually with a combined 54 congressional staffers and members of Congress in order to explain the substantial role midsize companies play in the U.S. economy and to strengthen the connection between the middle market and policymakers. Meanwhile, ACG submitted a comment letter this week in support of the DOL's Joint Employer Proposal, and the SEC issued a Concept Release designed to harmonize securities offering exemptions.
ACG Meets with Over 50 Congressional Offices During 2019 Fly-In
On June 19, ACG held its annual Middle Market Fly-In. Open to all ACG members, the Fly-In is an important opportunity for ACG members from around the country to come to Washington, D.C., and speak directly to members of Congress and staff about the essential role that ACG members and the middle market play in driving the U.S. economy.
Over 40 ACG members participated in the event and met with a combined total of 54 congressional offices. In the meetings, ACG members combined robust data with personal stories to demonstrate the outsized contributions to job and sales growth that middle-market companies make, as well as the important role played by private capital to growing midsize businesses. ACG members asked that policymakers consider middle-market impacts as they engage in policymaking and use ACG, which represents the entire middle-market ecosystem, as a resource.
In meetings on the House side, ACG members urged members of Congress to join the Congressional Caucus for Middle Market Growth, a forum to identify ways to help this vital sector thrive and to facilitate an ongoing dialogue between Congress and midmarket businesses.
Ohio Congressman Steve Stivers Presented with Growth Award
During the Fly-In closing reception, ACG presented the ACG Growth Award to Congressman Steven Stivers, R-Ohio. Congressman Stivers is a founding member and co-chair of the Congressional Caucus for Middle Market Growth and has been a vocal supporter of policies to ensure a thriving middle market. Established in 2014, ACG's Growth Award is the association's greatest recognition to persons whose service has benefited middle-market businesses.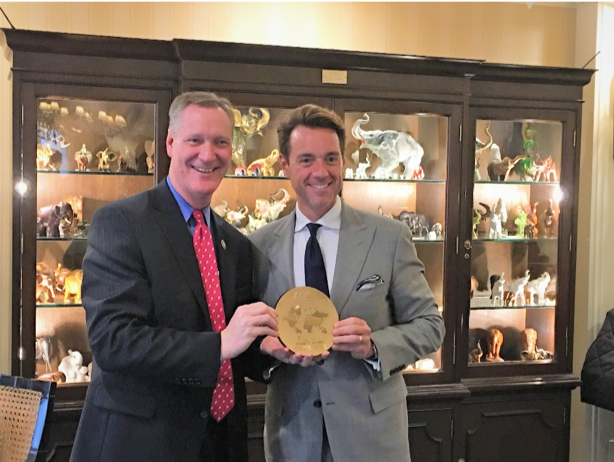 ACG Submits Comment Letter in Support of Department of Labor Joint Employer Proposed Rule
On June 25, ACG submitted a comment letter in support of the Department of Labor's Proposed Rule on Joint Employer Status Under the Fair Labor Standards Act.
Joint employer status under the FLSA dictates when two employers are jointly responsible for ensuring that employees receive at least the federal minimum wage and overtime pay when applicable—such as when a firm is responsible for ensuring that wage and overtime laws are met for the employees of a contracting firm it is working with.
Designed to promote certainty for employers and employees, reduce litigation and encourage innovation, the proposed rule would create a four-factor test that would consider whether the potential joint employer exercises the power to hire or fire the employee, supervise and control the employee's work schedules or conditions of employment, determine the employee's rate and method of payment, and maintain the employee's employment records.
In the letter, ACG asserted that there are several compelling reasons for DOL to adopt its proposed rule, specifically that the proposal would:
Provide clarity and reduce unnecessary compliance costs.
Appropriately limit the exposure of middle-market businesses, the primary drivers of job growth, from overly broad joint-employer liability.
Facilitate economic growth.
Promote innovation and certainty in business relationships.
Increase judicial fairness and predictability.
You can read the full ACG Comment Letter here.
The DOL Proposal follows shortly behind the National Labor Relations Board's rulemaking for changes to the definition of a joint employer under the National Labor Relations Act, a separate statute that governs collective bargaining and labor laws.
SEC Issues Concept Release on Harmonization of Securities Offering Exemptions
The SEC issued a Concept Release on Harmonization of Securities Offering Exemptions, which seeks public comment on ways to simplify and harmonize the regulatory framework for private placements and other private offerings of securities.
The Concept Release seeks public input on several areas that impact private fund advisers, and contains an entire section seeking input regarding offerings by pooled investment vehicles. Among other things, the Concept Release seeks input on whether:
The definition of an "accredited investor" should be expanded to focus more particularly on the sophistication of the investor, the amount of the investment or other criteria rather than just the income or wealth of the individual investor.
The commission should expand issuers' ability to raise capital through pooled investment funds.
Retail investors should be allowed greater exposure to pooled investment funds.
Any changes should be made to the regulatory regime with respect to SBICs.
ACG is actively analyzing the SEC's Concept Release to determine its impact on the middle market and will assess potential advocacy efforts.
Are you an ACG member who enjoys reading the public policy roundup?  Join our Public Policy Interest Group to receive even more in-depth coverage of federal policy activity impacting the middle market, as well as opportunities to help shape ACG's advocacy efforts.

Maria Wolvin is ACG Global's vice president and senior counsel, public policy.

Ben Marsico is ACG Global's manager of legislative and regulatory affairs.