The financial rules written in the decade since the financial crisis have served as a wake-up call for middle-market deal-makers, spurring them to build relationships with decision-makers and to look to their industry peers for guidance.
To enable those connections, ACG will host its Middle-Market Advocacy Summit on Sept. 12-13 in Washington, D.C., which will feature a lineup of influential speakers, including Securities and Exchange Commission Chairman Jay Clayton.
Gretchen Perkins, a partner at private equity firm Huron Capital Partners, credits the event with helping to foster dialogue between policymakers and the business community.
She recalls the transparency of Rep. David Schweikert, a Republican from Arizona and a member of the House Ways and Means Committee, who spoke during the 2013 summit. "He shared how his committee viewed our world, and how they viewed Wall Street and Main Street," says Perkins, who serves as co-chair of ACG's Public Policy committee. She notes that the congressman's candor provided helpful insight into lawmakers' thinking.
"The policy summit is an excellent way to continue the dialogue and help all of us—whether you're a legislator or a member of our industry—understand each other in hopes of working better together in the future," she says.
Direct Connections
In addition to hearing from speakers on legislative and regulatory topics, summit attendees have an opportunity to visit Capitol Hill to meet with members of Congress and their staff and help them understand the impact of midsize businesses and private capital investment in their districts.
Martin Okner, president of middle-market beauty company dpHUE and co-chair of the Public Policy committee, says the meetings present an opportunity to interact with key policymakers and share objective data from GrowthEconomy.org, which tracks the sales and job growth of private capital-backed U.S. companies.
"You can say to a legislator, 'You've got 300 private capital-backed companies in your congressional district alone, and here was the sales growth, here was the jobs growth compared with non-private capital-backed companies,'" he says. "We bring that data to them and it's very much appreciated because it's not coming from a partisan view."
In addition to sharing Growth Economy data, Okner suggests recounting personal experiences, such as one he had several years ago when, as a consultant, he helped restructure a company with the support of private capital. The investor recognized the struggling company's potential and was committed to keeping it alive, even as traditional lenders were walking away. That private capital investment saved 50 jobs, according to Okner.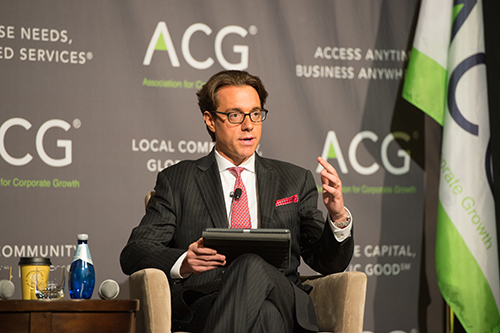 Perkins says to use the day on Capitol Hill to tell the story of the middle market. She agrees with Okner that firsthand accounts are the most powerful way to connect with and educate lawmakers. "Share what you do in your day so you can make the industry come to life and the officeholder can have a better understanding of our ecosystem," she says.
Addressing regulation is another key component of the summit, where representatives from the SEC offer insight into their examination and enforcement priorities. The dialogue gives regulators a chance to hear from middle-market private equity firms like Huron Capital about private capital's role in the financial system. Meanwhile, talking on the sidelines with other PE firms about how they're navigating new regulations is helpful to improve compliance practices, Perkins says.
For Okner, the face-to-face networking at the summit has helped spark new ideas to continue the rapid growth of dpHUE.
"It's one thing to sit down and listen to a webinar. It's another thing to sit at dinner with somebody running a company like ours in a complementary industry and hear about how they're creating value on behalf of not only equity holders, but really for the benefit of employees," he says.

Kathryn Mulligan is the editor of Middle Market Growth.