After Congress passed a law banning gender-based discrimination in higher education more than 40 years ago, demand for women's sports equipment increased. Today, one of the companies boosted by that new market continues to develop new and more advanced offerings, with applications that go far beyond athletics.
When Title IX was passed in 1972, the federal law sought to eliminate gender inequality on college campuses, including in athletics programs. Over the 10-year period to comply with the new statute, universities sought to make men and women's activities more equitable by investing in sports such as rowing, which created a market for a new set of businesses that supplied teams.
Nielsen-Kellerman was founded in 1978 as a maker of rowing equipment, and it benefited from the new ranks of women rowers, as did rowing attire companies, boat manufacturers and rowing machine-makers, according to Alix James, Nielsen-Kellerman's CEO.
"Every single one of those companies started in the late '70s, and it's not a coincidence," says James, who rowed while attending Yale from 1979 to 1983. "We all got to grow on the backs of a sport that was growing, and a lot of that growth came from women."
To comply with Title IX's requirement that schools provide equal opportunities to participate in athletics, universities looked for high-participation women's sports. With an average of 64 athletes on the roster, women's rowing was a good candidate. Colleges invested in building their rowing teams, creating new scholarships, improving facilities and purchasing new equipment to meet the needs of the expanding sport.
In 1997, collegiate women's rowing became a recognized NCAA sport, which led to further increases in women's rowing programs. For Nielsen-Kellerman, this activity created a new market to sell equipment to, and it allowed the company to invest in product development. Today, its NK Sports product line includes computational devices that measure stroke rate—"think bike computers for rowing and paddling," James says—and amplifier systems for the coxswain to communicate with rowers.
Rowing continues to experience global growth. It has the second-most available Olympic medals, behind swimming. For countries that want to up their medal count, rowing tends to be a sport they focus on, she adds.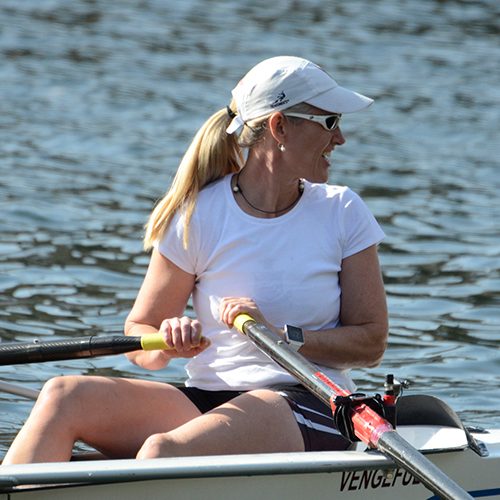 Entering New Markets
Nielsen-Kellerman has expanded beyond rowing to other industries that require precise measurements. Under its Kestrel brand, the Boothwyn, Pennsylvania company sells weather instruments to detect environmental conditions at the source. Due to the product's versatility, wildland firefighting has become a popular application. The instruments help firefighters detect wind speed, humidity and temperature to anticipate where a fire will move next. Kestrel products are also used in construction, meteorology and scientific research.
Long-range shooting is another fast-growing market for the company, which developed a reliable shooting calculator to measure wind speed and other conditions. The product has military, law enforcement and other tactical applications, and is used for recreational and competitive shooting.
Nielsen-Kellerman's latest initiative is to build an online data management environment that will provide data visualizations and reports—a transition into software that's new for a company historically focused on hardware. "It's a big shift for us," James says.
When private equity firm Clearview Capital bought Nielsen-Kellerman in October 2017, it saw an opportunity to help the company expand into new end markets by supporting sales and marketing efforts, according to Matthew Blevins, a partner at Clearview. He says the company is growing organically at about 20 percent and looking for opportunities for add-on acquisitions to access new markets.
Blevins cites agriculture, in particular, as an area with high growth potential. "There are a lot of different applications for the company's existing product line-up through the Kestrel brand that can be applied on the agriculture side of things, primarily through environmental measurements," he says.
States are increasingly regulating how crops are sprayed with chemicals and herbicides, which has fueled demand in the industry for Kestrel handheld wind meters, according to James.
Clearview is Nielsen-Kellerman's second private equity owner, and James says she's excited about the new opportunities to grow.
"I hired a lot of people this year across sales and marketing, and engineering and product management," she says. "We've always had more ideas than we could get done with the resources that we had. Our current backers are very enthusiastic about adding resources to let us bring more of those ideas to market sooner."
This article originally appeared in the January/February 2019 issue of Middle Market Growth. 

Kathryn Mulligan is the Editor-in-Chief of Middle Market Growth.