The January/February 2018 issue of Middle Market Growth explores the challenges and opportunities in the beleaguered retail industry—from capitalizing on trends in e-commerce, to using new digital advertising tools such as podcasts and social media to stay competitive.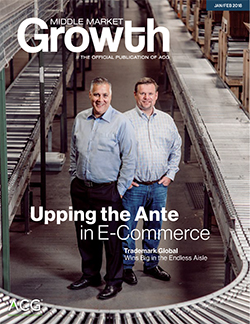 Print copies will hit ACG members' mailboxes in the coming weeks. The magazine is sent as an exclusive member benefit. Check back frequently as stories from the print issue are added to middlemarketgrowth.org.
And in case you missed it, MMG is expanding to six issues a year from four. Grow with us, and learn how MMG can help you tell your story.
Below is a preview of the upcoming stories in this issue.
ON THE COVER //
Upping the Ante in E-Commerce: Trademark Global Wins Big in the Endless Aisle
The ability to scale is central to the success of Trademark Global, which sources, warehouses and ships products for Amazon and other big names in e-commerce. The Lorain, Ohio, company is staking its future on the continued growth of online sales.
INSIDE THE ISSUE //
The Digital Dilemma: Are Online Ads Living up to the Hype?
Advertisers love to reach niche audiences, but ad placements on social media, podcasts and other online platforms have yet to deliver on their promise.
A Qualified Opinion
Two retail experts from RSM US LLP weigh in on the outlook for midsize retailers, opportunities for investment, and the changing face of real estate amid retail disruption.
MidPoints by John Gabbert
Private equity investors are watching from the sidelines as Amazon revolutionizes how customers shop, waiting to see how the e-commerce giant redefines the brave new world of retail.
Quick Takes
Data can make or break a midsize retailer. The CEO of IRI underscores the importance of taking a 360-degree view of consumer spending using data and analytics.
PODCAST //
The Middle Market Growth Conversations biweekly podcast series is now on iTunes! Listen to interviews with middle-market influencers on the go.
Subscribe today on iTunes.