AI Creates a Flurry of M&A Activity in Healthcare RCM and HCIT
From PE investors to strategic acquirers, AI is fueling M&A activity within RCM and HCIT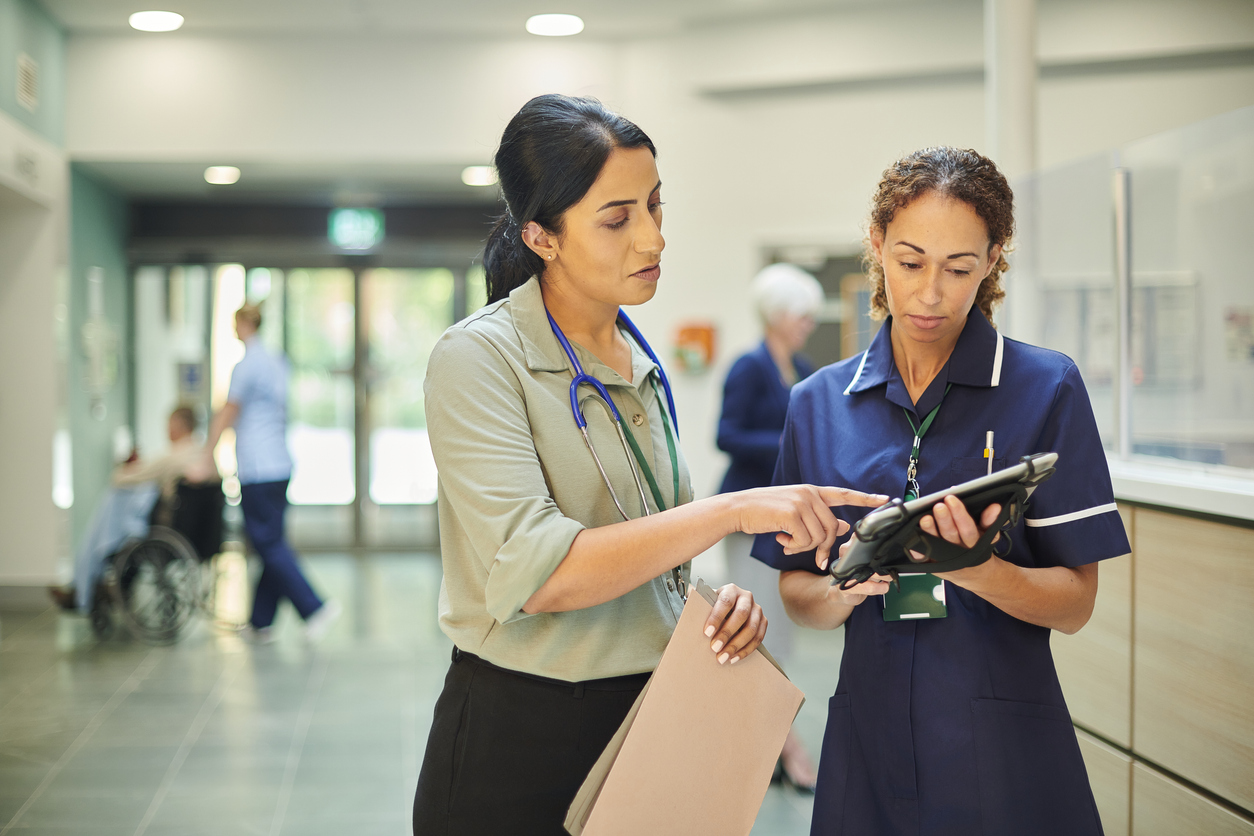 Throughout the evolution of the Revenue Cycle Management (RCM) and Healthcare Information Technology (HCIT) industries, their goals have largely remained the same: improve care, capture 100% of revenue for services performed and minimize costs. Today, healthcare facilities continue to rely on traditional methods to achieve these goals, including using outsourced labor to control costs.
But new opportunities are emerging as technology improves efficiencies and effectiveness, and artificial intelligence could be the next game-changer in RCM and HCIT. Within healthcare, 98% of leaders indicate that their organization has or plans to implement an AI strategy, according to data from healthcare services provider Optum.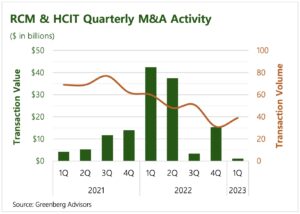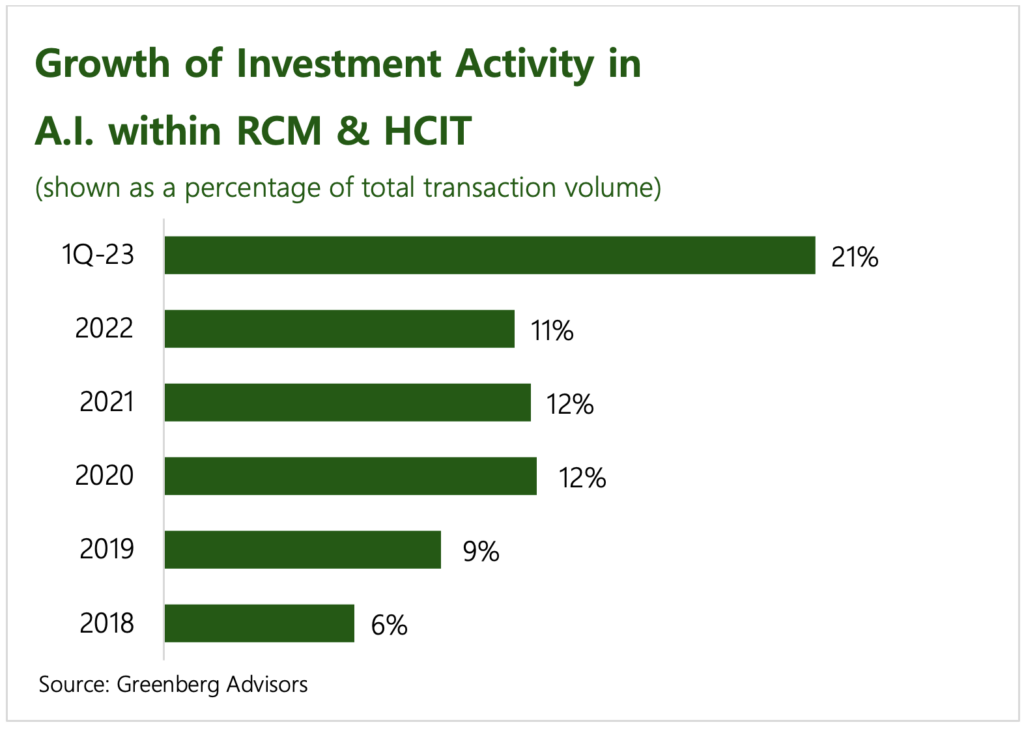 AI adoption has begun to shape M&A activity within the healthcare RCM and HCIT spaces, where dealmaking activity has been particularly strong in recent years: Between January 2020 and March 2023, over 725 RCM and HCIT transactions closed and more than $150 billion traded hands in these transactions. Investments into RCM and HCIT firms that leverage AI reached a new high in 2022, generating $37 billion in transaction value, based largely on transactions involving Change Healthcare, Nuance Communications and CloudMed.
Even beyond these mega-deals, it's clear that there is increased interest in this part of the market, as M&A deals involving AI represented 21% of all first quarter 2023 transactions compared to 11%-12% in each of the prior three years.
As AI matures and reaches its full potential to drive meaningful improvements across a variety of use cases, its impact on healthcare—and on RCM and HCIT specifically—will continue to evolve. Below, we explore emerging applications of AI within RCM and HCIT, and how those applications have begun to shape M&A activity.
Administrative Automation to Drive Corporate M&A
Administrative activities represent up to 30% of the total healthcare costs in the US, and at least half of that spending has been determined to be wasteful, according to a Health Affairs report. As hospitals continue to face financial hardships, administrative activities are a prime opportunity to reduce expenses.
One administrative area ripe for AI is the process of importing, standardizing and analyzing data. This data creates incredible opportunities, but also creates many difficulties when it comes to synthesizing information from disparate systems. Investors are anxious to fund companies that have the potential to resolve this issue.
Coding is one of the largest focal points for AI. RCM and HCIT firms have been feverishly developing AI to automate routine, time-consuming and costly coding processes so that staff can focus on more complex cases and denials.
Related content: Taking the Pulse of Healthcare M&A with Twin Brook's Tim Wentink
Investment activity has fueled this market's startup ecosystem, driving technological advancements. Companies like Navina, Fathom and Olive have garnered significant support from venture capital investors. More M&A activity is likely ahead, especially driven by strategic acquirers, as those market leaders with strong AI and technology resources seek acquisitions to add new clients or expand their solutions.
Healthcare RCM company Cloudmed, which was acquired by RCM company R1 from private equity firm New Mountain Capital in 2022 for $4.1 billion, is an excellent example of this. CloudMed grew through at least 14 add-on acquisitions of highly specialized services firms, each of which had a unique reimbursement-related focus. At the same time, the company acquired and developed an advanced AI platform that could be integrated into its acquisitions to improve efficiency and outcomes.
Dealmakers Eye AI in Clinical Decision Support & Population Health
The ongoing push to value-based care has placed more emphasis on improving and measuring clinical outcomes. Clinical decision support and population health tools are central to this thesis, and vendors are leveraging AI within these areas to push informed decision-making to the next level.
While AI won't replace healthcare providers, it can still be an invaluable asset in providers' toolkit. When applied effectively, as we've seen in clinical decision support and population health, AI can help analyze immense amounts of data and prevent medical professionals from overlooking important information when administering care.
The opportunities within this market are extensive and some investors are making big bets that these technologies will be an integral part of healthcare's future. For example, IBM's Watson Health Division, which has since been rebranded as Merative, was acquired in June 2022 by private equity firm Francisco Partners for more than $1 billion. In addition to automating administrative activities, Merative also provides AI-driven clinical decision support and related analytics software.
In the middle market, Apixio is an excellent case study representing the feverish demand for AI-powered clinical and administrative solutions. Apixio, which raised over $40 million across multiple funding rounds, was acquired by managed care organization Centene in December 2020. Just a few years later, in June 2023, New Mountain Capital acquired Apixio from Centene. Other examples in the middle market include Lightbeam Health Solutions' June 2022 acquisition of Jvion and Aledade's February 2023 acquisition of Curia. Jvion offers AI-powered predictive analytics and social determinants of health software to maximize providers' use of clinical, socioeconomic, environmental and behavioral data. Curia provides AI-enabled value-based care analytics software to find risk gaps and predict the likelihood of adverse outcomes.
M&A in Patient Engagement
It's well-documented that early and frequent patient communication generates substantial benefits to care outcomes and revenue cycle performance. The adoption of scheduling and patient communication solutions has helped bridge the gap between patients' desired level of communication and providers' ability to meet those demands.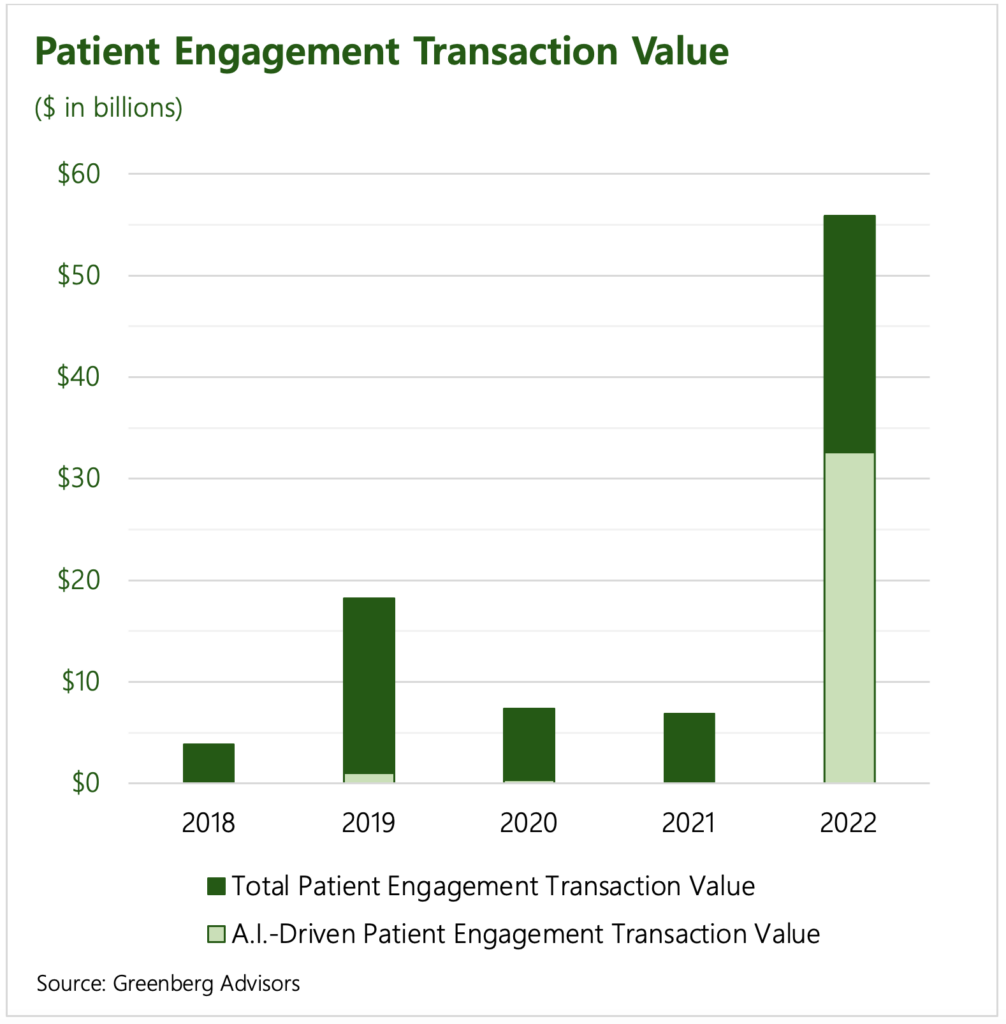 There's no better example of investor interest in patient engagement AI than Microsoft's $19.7 billion acquisition of Nuance Communications. While Microsoft dabbled in healthcare for many years, this acquisition represents its "taking the plunge." Nuance's AI- and natural language processing-enabled technology for patient engagement, transcription, clinical intelligence and other offerings provides Microsoft a substantial platform from which it can continue to transform from an infrastructure vendor to more of a solutions provider that addresses many aspects of the healthcare ecosystem.
In the lower-middle market, Mountaingate Capital-backed ImagineSoftware acquired Within Health in May 2023. Within Health developed AI software to drive its RadNav solution, which automates scheduling, follow-ups and patient reminder communications.
Related content: Finding Value in Healthcare
Going forward, patient engagement has a unique opportunity for AI deployment. While most other aspects of RCM and HCIT require software specifically developed for its use case, patient engagement is notable in that it could more easily leverage advancements made outside of healthcare, especially within large language models (LLMs) and related conversational AI. That creates the potential for new entrants to healthcare, as conversational AI and LLM firms that currently focus on other markets may use acquisitions as a foray into the healthcare market.
Looking Ahead
It will be interesting to see how AI continues to evolve, and how that will influence M&A and investment activity.  Already, we're seeing several forces behind M&A within this space. Service companies may seek to acquire AI firms as a way to reduce manual work and improve performance. We might also see more "acqui-hires," wherein a company acquires another company to add talented software developers and AI visionaries. As private equity firms in the middle market embrace the growth opportunities of AI-powered RCM and HCIT solutions, strategic acquirers are similarly likely to seek out companies with impactful AI capabilities that they can integrate into their own operations.
With no end in sight as to the growing complexities and changes in the healthcare market, providers will need to find tech-driven solutions to remain financially viable. The need is well-established, but the race among RCM and HCIT vendors to use AI to address that need has only just begun, and M&A activity could help accelerate their efforts.
About Greenberg Advisors
Established in 2009, Greenberg Advisors, LLC is an independent investment bank specializing in providing M&A transaction advisory and strategic planning to owners and investors in the Revenue Cycle Management (RCM), Healthcare Information Technology (HCIT), and related markets. The firm's professionals offer a comprehensive, yet highly specialized perspective from which to advise clients, which has resulted in the completion of over 150 engagements. These client successes reflect Greenberg's distinct client-first approach and sector depth. For more information, please visit www.Greenberg-Advisors.com.
Middle Market Growth is produced by the Association for Corporate Growth. To learn more about the organization and how to become a member, visit www.acg.org.