Chain Reaction: How Midsize Businesses Are Responding to Supply Chain Disruption
The middle market has had to get creative in its supply chain strategy, wielding strategic sourcing, collaboration and technology investment to overcome disruptions.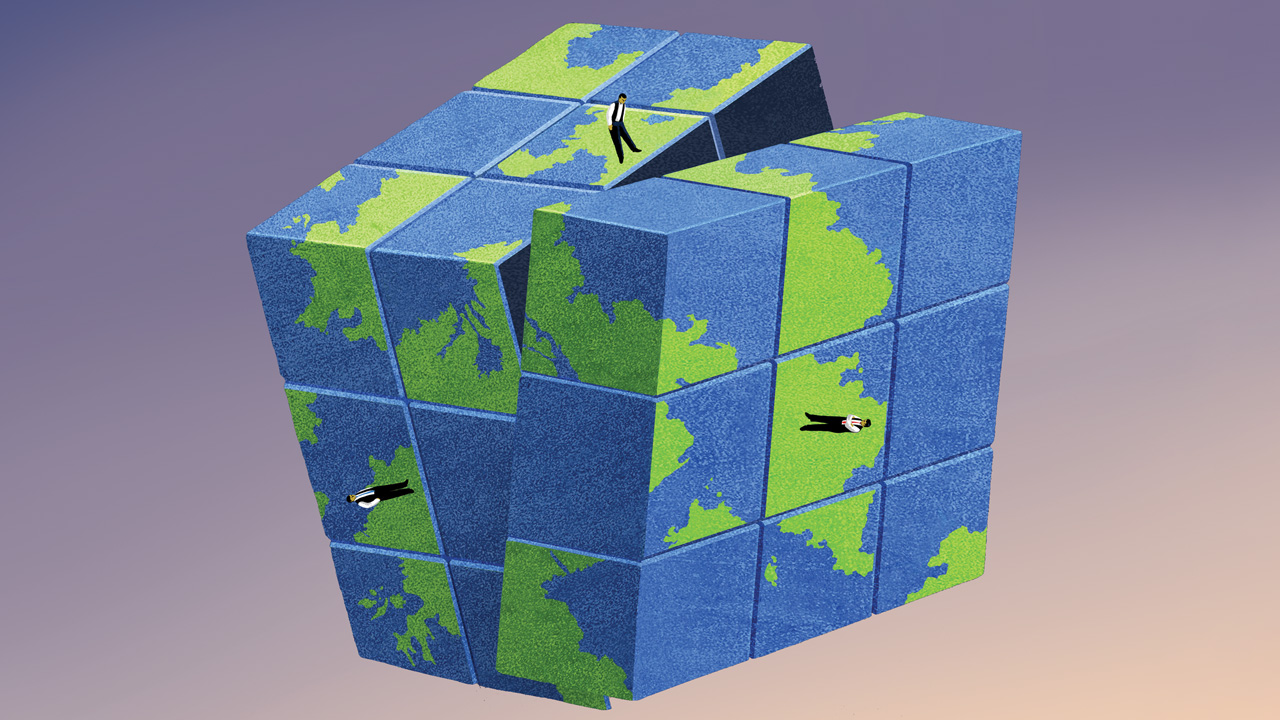 What started out as a rush to find toilet paper in March 2020 has turned into a full-blown supply chain crisis. Everything from lumber to kitchen appliances to cars to hotel mini-shampoo bottles is in short supply.
A full 100% of retailers experienced supply chain disruptions leading into the 2021 holiday season, according to a recent Software Advice report. While larger companies may have the buying power and capital to weather the supply chain storm, middle-market companies have had to get creative.
---
This is a preview of a story that originally appeared in Middle Market Executive's Winter 2022 issue. Read the full story in the archive. This section of the report was illustrated by Michael Glenwood Gibbs.
---
Identifying Alternatives, Even at a Cost
Shutdowns may have led to disruption, but for many mid-sized businesses, they were also an opportunity to strategize.
For MANA Products, a Long Island City, New York-based company that makes private label beauty products, March 2020 was an eventful month: Traub Capital Partners signed an agreement to purchase the company, while the coronavirus crisis led to a full two-week shutdown.
According to MANA CEO Bob Jaegly, the business did so with an eye on being ready to start production again whenever it was safe to do so. In the meantime, the company created COVID-safe protocols for warehouse workers, evaluated its product sourcing, and spent time and money on research and development to identify "back-up alternatives that perform equally as well, even if it costs more," Jaegly says. "We've learned that we need to have dual sourcing on several of our formulas."
At the same time, Traub linked MANA to their connections in the chemical and freight industries. "They were the Air Force to our infantry," says Jaegly. "Their network sped up our recovery."
Managing Expectations and Slimming SKUs
Semiconductor chips were especially challenging to source in 2021. If even multinational automotive companies are having trouble sourcing chips, what can middle-market companies do?
Ethan Klemperer, senior operating executive and head of the operating team at private equity firm Monomoy Capital Partners, says his firm worked with its portfolio companies to reset client expectations.
"Very early on we realized we were going to need to go on allocations for our customers," says Klemperer. For one portfolio company that manufactures products with chips, Monomoy and the company's supply chain and operations teams focused on making sure they could make enough to at least cover their overhead, and not over-promise on taking orders they wouldn't be able to deliver.
Monomoy also negotiated with customers to ensure they could manufacture products with different component parts, which had been difficult in the past. After their engineers found an alternative to a certified part that was still able to provide the same specifications and capabilities, those customers finally budged.
Strength in Numbers for Shipping
Ocean freight costs were a particular challenge for middle-market companies in 2021, with prices peaking in August at more than $10,000 per 40-foot container, according to the World Container Index.
Unlike large conglomerates, middle-market companies don't usually have the option to absorb higher freight costs or jump the line entirely by buying control of the shipping means themselves.
Instead, they've had to be nimbler, says Travis Dziubla, vice president of operations at private equity firm Lion Equity Partners. This could include splitting up orders that had previously gone on one ship to multiple ships. "It's a matter of trying to find capacity, as much as it has been managing the price," he says.
Middle-market companies can also band together through a purchasing association, instead of individually negotiating with their own brokers. Instead of trying to duke it out for limited available spots, purchasing associations bundle the needs of smaller companies together so they can act like a larger one.
Technology Solutions Can Bridge the Gap
Corporate digital investment continues to grow, but where middle-market firms place their money depends on individual needs.
1Concier, a Lion Equity portfolio company that serves the hospitality market, recently made a major investment in a modernized enterprise resource planning platform. "One of the primary drivers was to create more visibility into the cost structure so we could start seeing how much freight and supply chain was impacting us," says Dziubla.
Having better visibility into "where is our container on the ocean, what port is it going into, how long is the lead time in that specific part of the supply chain, and how is it trending over time" is vital, he adds. The technology enables forecasting that helps businesses decide if they need to reroute a shipment, how far in advance they need to plan, and what steps they can take to avoid stockouts.
Better analytics can help with forecasting, and enable better decisions to ensure supply chains keep running, says Geoff Lurie,
The ability to plan distribution of your product based on historical performance of supply chain—in terms of lead times to get your product here—is bumpy at best during this supply chain crisis.

Geoff Lurie

Managing partner, Traub Capital
managing partner at Traub Capital. "The ability to plan distribution of your product based on historical performance of supply chain—in terms of lead times to get your product here—is bumpy at best during this supply chain crisis," he says.
Bolstering and Diversifying Supply Chains
Companies that target timely delivery, which focus on getting products at the exact time they are needed and at the lowest cost, have faced high disruptions, especially if that price was achieved by working with one supplier. Those problems were exacerbated if the supplier was based in Asia, and not just at the initial outbreak of the coronavirus. Vietnam, for example, which is one of the world's largest suppliers of clothes and footwear, locked down in the summer of 2021 during a surge in COVID-19 cases.
Middle-market companies should be "moving away from a just-in-time mentality," says Olivia Montgomery of Software Advice, who adds that this might be difficult since it's been a dominant methodology for decades.
"Executives really need to start the conversation and lead the way in moving away from this mindset," she says. "It's OK to have more evergreen products, store products, and invest in warehousing space."
Smart middle-market companies have been reevaluating their suppliers, and making sure they have alternate vendors for key components without which they can't operate, even if it costs more. Forward-thinking middle-market companies have also moved away from fairly lean operations to more robust contingency planning,
But there is no magic bullet to overcoming supply chain disruption, not even migrating the supplier base domestically.
"There's just not that value to the consumer, and then the massive overhaul that would have to change to switch all supply chain traffic to domestic," says Montgomery. "It's unrealistic."
Read the full story in the Winter 2022 edition of Middle Market Executive.
Jen A. Miller is a freelance writer and author of "Running: A Love Story." She lives in New Jersey.