Hiring Talent Gets Easier with a Larger Pool of Candidates
Globalization Partners helps its clients adapt to remote working, hire employees abroad and retain existing workers, even if they move far away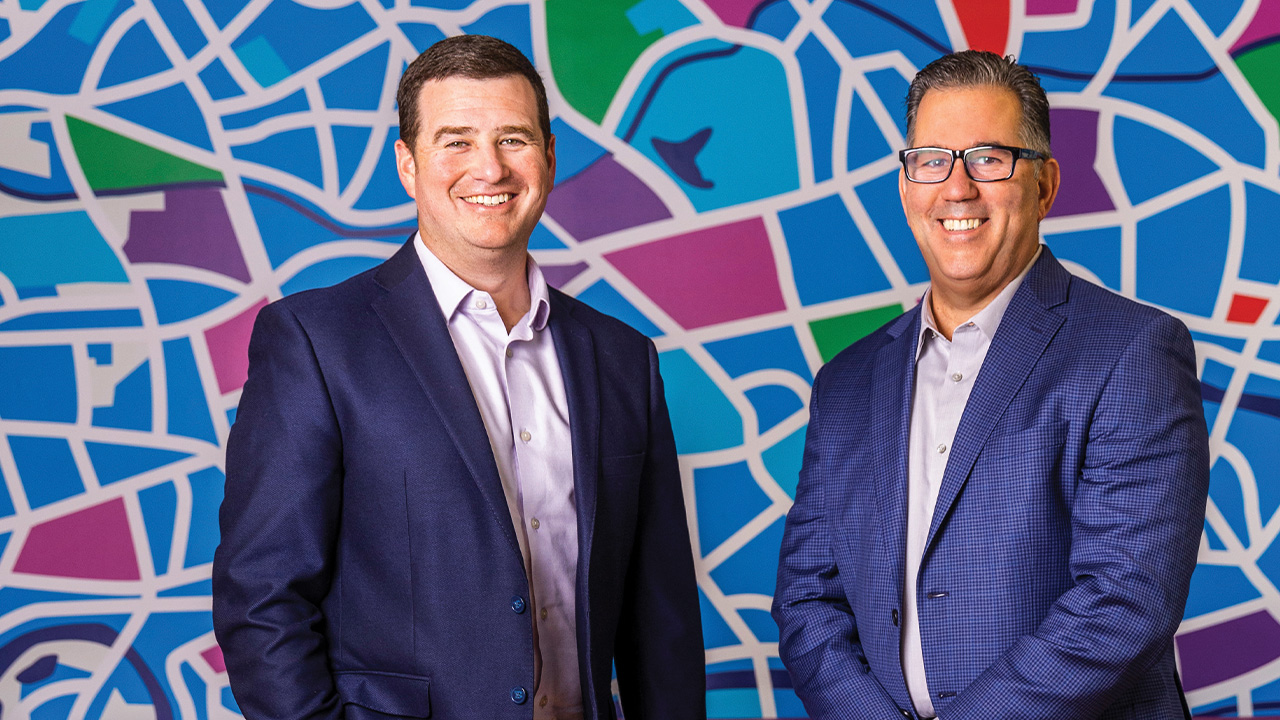 Most would agree very little good has come out of the pandemic. However, there are a few bright spots. One of them is that remote work options are here to stay and appealing to both employees and employers, which can lead to successful outcomes for all parties involved.
The shift allows employers to increase their talent pool and potentially lower labor costs, while allowing employees to live where they please without having to be located close to a company's physical office. Having the ability to work from anywhere is a valuable incentive for employees and helpful given today's tight labor market.
---
This report is brought to you by Globalization Partners and originally appeared in the Spring 2022 issue of Middle Market Executive. Read the full story in the archive.
Photography by Adam Glanzman.
---
"Companies need to get the most productivity out of their employees to create value. Most success or failures revolve around the people. I can control what I can control, but the people running the business are the ones who can ensure success," says Lou Vassalotti, senior director of strategic partnerships with Globalization Partners, an Employer of Record company that allows companies to hire anyone, anywhere.
Casting a Wide Net
There is an advantage to being able to hire anywhere in the world.
"Previously, employers may have tried to hire most of their employees within a 50-mile radius of their head-quarters; now they can find talent that meets their needs anywhere in the world," Vassalotti says. "For example, a New York-based tech firm can look for talent in Silicon Valley instead of settling for someone not as great just because they are based in New York," he adds. "If Silicon Valley talent is too expensive, or an employer can't find the right talent, they can even look abroad. That world has opened up, and it is great for employers."
More than one-third of companies (36%) say they are willing to hire remote workers anywhere in the world, according to The Conference Board, which surveyed more than 300 HR executives primarily from large U.S. companies. That's a significant increase from the 12% that were receptive to that approach before COVID-19.
Related content: The Most Valuable Lesson from 2021: Employees Want a Positive Work Experience
EditShare, a media workflow storage and editing solution company, realized early on that hiring internationally was important to its business thesis and it was a good solution as COVID dissipated.
"We are constantly scanning the markets for talent. Part of our current company strategy is to execute in returning markets—meaning those bouncing back from COVID first. That means a degree of flexibility around where we are operating and how," says Jackie Hazan, vice president of people operations at Watertown, Massachusetts-based EditShare. "And part of that, especially in the remote-first world, is looking at the best talent. How do we attract the best talent?"
EditShare turned to Globalization Partners for help because the process of hiring outside of a company's jurisdiction is not as simple as it sounds.
The Nuances of Looking Abroad
There are challenges that companies contend with when they hire in different states and different countries. For starters, companies must establish a legal entity in each country they wish to hire in, which can be time-consuming and expensive.
Additionally, tax policies, labor laws and employee benefits vary from state to state and country to country, leaving employers with lots of work to do before they can hire outside of their operating jurisdiction.
"Many companies grow by expanding into new markets. However, just because you want to put a sales team in Europe or Latin America, it doesn't necessarily mean you want to set up all the infrastructure to legally do business on the ground," says Vassalotti. "Most companies do not want to figure out employment laws and tax information for so many different countries. Most companies don't have the slightest clue how to set up legally in another country. We make that easy."
With the help of Globalization Partners, EditShare has expanded its workforce from about 50 people to over 130 all over the world, including China, Europe, the Middle East and Africa.
Retaining Far-Flung Talent
Monday.com had a similar experience. The cloud-based project and team management tool company, which is aimed at simplifying collaboration, says the pandemic resulted in its employees looking to relocate in different locations. The Tel Aviv, Israel-based company wanted to be sure it kept talent even though it didn't have a presence in the part of the world where its employees wanted to live.
"With everything going on in the world, a lot of our employees are looking to relocate to different locations. And, sometimes, we still want to keep them," says Debbie Ben Zaken, regional senior HR manager at Monday.com. Instead of investing the resources to set up an entity in another country, the company partnered with Globalization Partners.
The biggest thing people aren't aware of is how quickly they can hire in a country with our help. It's a long, painful road for companies to go this alone.

Kevin Burke

Globalization Partners
"Setting up an entity is a very complicated process, and it takes a lot of time," says Ben Zaken. "It was really hard for us to understand what we have to do as the employer, what is mandatory, and what other companies like us do. Globalization Partners gave us the insight into what hiring would be like in Brazil and Canada."
Related content: Choosing the Right Path for the Future Workplace
Globalization Partners operates in 187 countries and can help companies hire outside their jurisdiction by becoming the Employer of Record handling hiring, payroll, human resources and tax issues. The firm also makes sure local laws and regulations are followed. This has been proven to be difficult for companies that have no presence in a country. Globalization Partners is nimble and can help a company make a hire anywhere in the world within 24 hours.
"The biggest thing people aren't aware of is how quickly they can hire in a country with our help. It's a long, painful road for companies to go this alone. When companies learn there is an easier path that will make you compliant, Globalization Partners becomes an easy choice," says Kevin Burke, director of M&A, private equity and venture capital at Globalization Partners.
Burke estimates that his company's industry has seen its growth accelerate by 10 years as a result of the pandemic. "Our business has taken off in the last two years. We are hiring all over the world and it's for every title," he says. "Employers are now free to hire the best candidate wherever they may be. It's as simple as that."