ACG's CEO Provides Testimony to CARES Act Oversight Panel
ACG CEO Tom Bohn spoke before a congressional commission about the lack of access to the Fed's Main Street Lending Program for middle-market companies.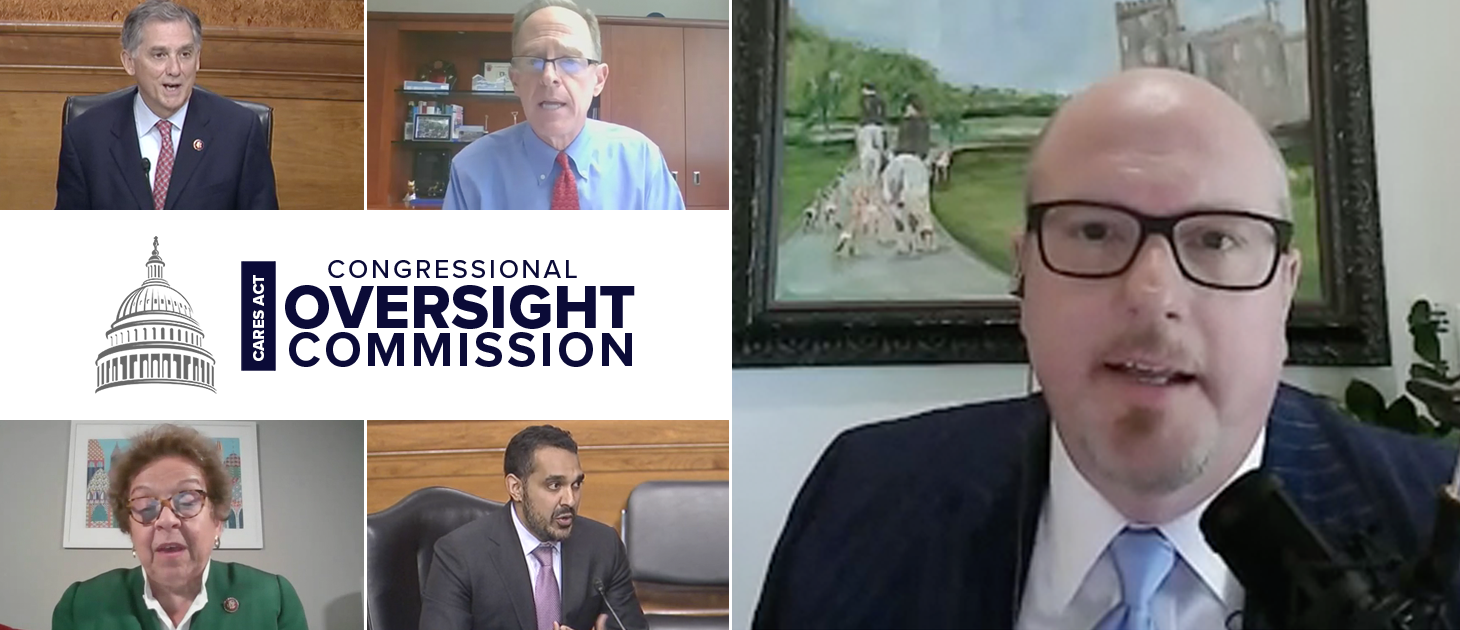 The Association for Corporate Growth's CEO, Tom Bohn, spoke before a congressional commission on Friday about the lack of access to a federal program designed to provide financial support to middle-market companies hurt by the COVID-19 pandemic.
Bohn testified before the Congressional Oversight Commission, a five-person panel established by the Coronavirus Aid, Relief, and Economic Security Act, during the group's first public hearing to address the efficacy of the Main Street Lending Program (MSLP), which backs loans to small and medium-sized businesses with up to 15,000 employees.
ACG and many of the midsize companies it represents were unable to qualify for the Small Business Administration's Paycheck Protection Program, another CARES Act initiative. They now face similar challenges securing loans through the Main Street program, according to Bohn.
"Perhaps naively, we thought the Main Street Lending Program would be accessible to organizations and companies excluded from the PPP," he said. "Suffice to say, it hasn't been accessed by many."
The Federal Reserve launched the Main Street Lending Program in June. As of Aug. 7, the U.S. Treasury Department had invested $75 billion in the program, which can support up to $600 billion in loans issued by approved lenders.
Approximately 509 lenders have registered or are in the process of registering to issue loans through the program, though only 153 of them have publicized that they are accepting loan applications from new customers.
Bohn noted that a lack of awareness and access to loans has forced nonprofits and middle-market companies to cut salaries and workers. A survey completed by ACG ahead of Friday's hearing found that 81% of respondents said they were unable to access loans through the program, and 22% said they were unaware of it entirely.
Goldman Sachs estimates that 45 million Americans—about 40% of the private sector workforce— are employed by a company eligible for a Main Street loan, but only $109 million in loans have been committed, according to the Federal Reserve Bank of Boston, which is administering the Main Street Lending Program.
Dr. Eric S. Rosengren, president and CEO of the Boston Fed, explained why it took so long for the MSLP to get off the ground during his testimony before the commission on Friday.
"Bank loans are inherently difficult," he said, also pointing to the challenges of developing software to automate the loan selection process and making sure it was in line with the legal constraints of the MSLP's term sheet, which was updated multiple times before the June launch. "That does take some time."
If the commission recommends the MSLP update its term sheet, Rosengren said it would take much less time than it did to launch the program.
Bharat Ramamurti, one of the oversight commissioners, pressed Rosengren on the slow pace of MSLP distribution, asking how the MSLP would prevent job losses and business closures when small and midsize companies may not be looking to take on debt in the midst of a pandemic.
In a response that echoed a sentiment by Federal Reserve Chairman Jerome Powell, who said the central bank has "lending powers, not spending powers," Rosengren said the MSLP was not designed like PPP, adding that the program was meant to lend a hand to companies with sound balance sheets and was not intended to serve as a grant—in order for the Fed to shield itself from risk.
"If you're a business that's deeply troubled and is in danger of closing imminently, this program is not going to solve the problem—because debt doesn't solve that kind problem, equity does," he said.
Another commissioner, Sen. Pat Toomey, R-Pa., noted that fee-based compensation may not be enough to incentivize a commercial bank to issue a loan that doesn't fit its risk profile, and he suggested another type of lender might be better suited to participate in the Main Street program.
"Would there be other kinds of lending institutions—for instance, BDCs—that might be more inclined by their nature to be able and willing to take more credit risk, because they recognize that coming out of the blocks with 20% of your credit risk in fees covers a lot of risk?" Toomey asked.
During his testimony, Bohn offered suggestions for improving access to loans for small and midsize companies, including changing the EBITDA-based tests, decreasing the program's minimum loan size from $250,000 to $50,000, and abandoning the Fed's adherence of the SBA's affiliation definition.
Under the SBA's affiliation rules, the total number of employees across a private equity firm's portfolio is used to determine whether an individual business qualifies for a loan.
Generating more awareness for the MSLP and refining its criteria to expand access will likely lead to an increase in loan applications and improved outcomes for struggling businesses, Bohn said. "The effect should help companies retain jobs and maintain operations, and consequently preserve the health insurance for millions of Americans in this increasingly unpredictable economy tethered to the crises created by COVID-19," he said.
Members of the Congressional Oversight Commission include Sen. Pat Toomey, R-Pa.; Reps. Donna Shalala, D.-Fla.and French Hill, R-Ark.; and Bharat Ramamurti, who most recently served as deputy policy director for economic policy on the presidential campaign of Sen. Elizabeth Warren.
Also providing testimony were Lauren Anderson, senior vice president and associate general counsel of the Bank Policy Institute; Vince Foster, executive chairman of Main Street Capital Corporation; and Gwen Mills, secretary and treasurer of UNITE HERE.
The commission is expected to include information shared during the hearing in its next monthly report, which it submits to Congress.

Benjamin Glick is Middle Market Growth's associate editor.