Workforce Productivity, Collaboration and Culture in a Post-Pandemic World
What the future holds for companies and their employees in the wake of the COVID-19 pandemic.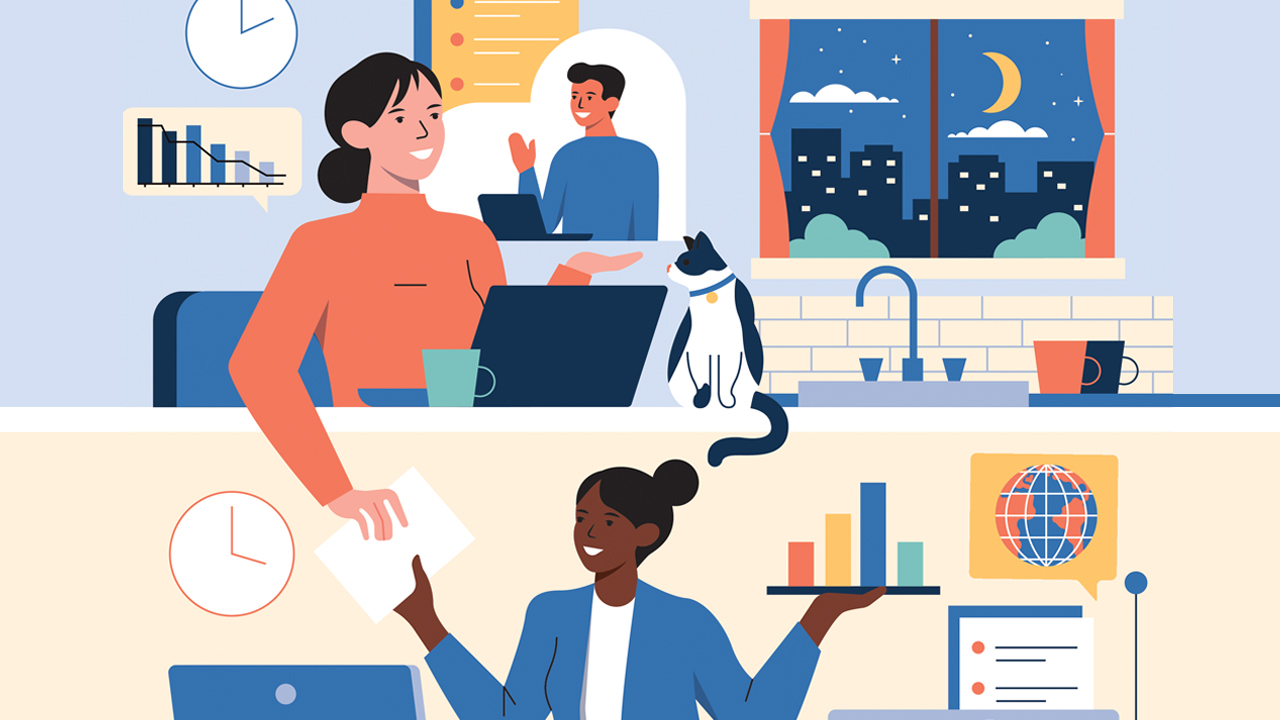 Throughout the darkest days of the pandemic there was a barrage of "return to work" conversations and lingering questions about what the future would look like once the COVID-19 pandemic subsided.
The acronym RTW was coined, and employers wrestled with the new questions it raised: When employees should return to work, what RTW would look like, how companies would onboard new employees if they weren't in the office, how employers would keep employees motivated from their bedrooms, and how leaders would maintain a company culture if they weren't in the office.
These dilemmas were the tip of the iceberg and over time, the questions started to evolve. The pandemic gave employees a new perspective on work-life balance and it's clear that many companies are reconsidering— if not altogether changing—the way they operate.
If you can be productive and keep customers happy, I think a hybrid approach can be an effecitve way to go.

Graeme Frazier

Partner, GF Data
The RTW question changed from when employees will return to work to how they will return, and what the new workplace environment will look like. Graeme Frazier, a partner at GF Data, a data company for the lower middle market, says the pandemic shifted his thinking about how his businesses need to operate to be effective. In addition to his role at GF Data, Frazier serves as president of Private Capital Research, a buy-side M&A firm that partners with family offices and other private equity firms to source, originate and co-invest in acquisition opportunities.
"I am an old school kind of guy and have been trained to show up at the office. If you are working with the right people, you don't necessarily have to 'show up' to be productive," he says. "People who have been brought up to believe showing up is endemic to productivity are learning that remote work can actually be quite productive."
The pandemic helped prove that positive business outcomes aren't necessarily tied to in-office work. "If you can be productive and keep customers happy, I think a hybrid approach can be an effective way to go," Frazier says.
A hybrid approach to being in the office is indeed becoming popular. According to a recent survey conducted by ACG, 78% of respondents expect their workforce to work in a hybrid model going forward.
Among those respondents that said they are ready to embrace a mix of at-home and in-office work, the majority cited three days a week as the optimal amount of time in the office.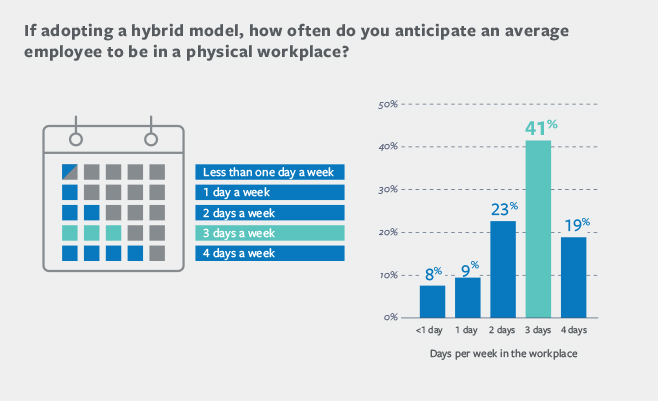 Yet there's no magic formula that will work for all companies, according to Adam Miller, a founder and manager partner with HYGGE Capital Partners, a dedicated human capital management consultancy that works with The Riverside Company and other private equity firms.
He is seeing private equity firms flex to make employees happier, but says there's not one size that fits all. Firm size, geography and culture all play a determining factor in what makes sense for different private equity firms. "A lot of firms are either allowing for a hybrid work week with three days in the office, or employers are giving employees an allotment of work-from-home days they can schedule with their manager's approval," he says.
Employees want flexibility, and that's forcing private equity firms to change their approach. "Private equity has not needed to be very mindful of employees' needs traditionally, however with the war on talent, all that has changed," Miller says. "They are making changes to stay competitive. COVID was just the catalyst for changes that were already needed."
Although baby boomers may have stayed at the same jobs for 35 years and climbed the ladder to build success and wealth, younger generations want better work-life integration, according to Miller. Firms will have to think beyond compensation to hire and keep them. "There are a lot more things that attract newer employees, and private equity has been playing catch-up. Pay isn't enough anymore," he says.
We believe that in-person collaboration is critical to our success, and to a person, we each elected to come back to the office.

Charlie Gifford

Senior Partner, New Heritage Capital
Others acknowledge that, while some flexibility is good and will make organizations more competitive when hiring, physically working side-by-side still matters in the private equity community.
Charlie Gifford, a senior partner at New Heritage Capital, says his firm opened its doors back up in October and let employees decide what they felt comfortable doing. Everyone at the firm has returned to the office.
"We believe that in-person collaboration is critical to our success, and to a person, we each elected to come back to the office," he says. "Private equity is very much an apprenticeship business, and we feel as though we owe it to the younger team members to work with them and teach them."
Gifford points to critical skills that are best learned in person. "It's hard to learn how to creatively structure a deal through Zoom. It's hard to teach the next generation when you are not together," he says. "That said, we have been, and will continue to be, respectful of everyone's individual needs. We realize this approach may not be right for everyone, but it has worked very well for us."
Frazier agrees that while the hybrid approach has worked, it's the younger generation of employees who are going to be at a disadvantage from not being in the office.
"If you are trying to build your personal brand and develop relationships with mentors and colleagues and people who will be important to you, it's harder to do that when you are not in person," he says. "I have to get back on the road to tend to relationships, but I was able to maintain many relationships through Zoom because I have had them for 30 years. That's certainly harder to do when you are newer to the business."
Look no further than Wall Street firms such as JPMorgan Chase and Goldman Sachs, which have both indicated that employees will return to work five days a week, as proof that some believe younger staff members need to be sitting alongside the experienced generation in order to thrive.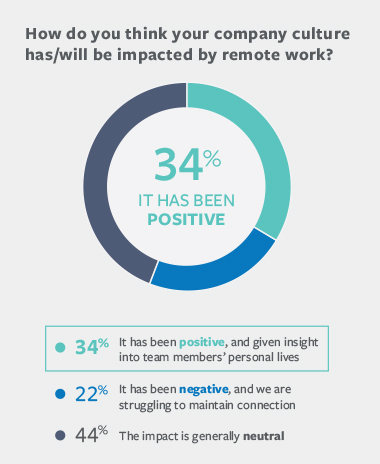 According to a survey of employers from Digital.com*, 49% of respondents said the job requires employees to be in the office because they can only do it in person. They cite better interaction with clients, better collaboration and improved social aspects in the office, compared with working from home. They also believe employee productivity has dropped with the move to remote work. Employers most willing to fire workers belong to the IT, finance and advertising industries.
Still, according to ACG's survey, 50% of respondents believe the impact of remote work on employee collaboration and productivity has been neutral, with 25% saying the impact is positive and the remaining 25% saying productivity and collaboration is down as a result of remote situations.
Company Culture
Company culture is really at the heart of this debate. Many, like Gifford, believe that young employees learn through shadowing. Others say they have had their best year ever, which proves in-office time doesn't matter like it used to, thanks to technology.
Either way, there's no denying that corporate culture is an important part of what makes a company successful. According to ACG's survey, 44% of respondents said working remotely has had no impact on company culture, while 34% said it has had a positive effect.
"If you asked private equity firms about their culture, many would have a hard time defining it today because their culture was created so long ago, and it doesn't hold true for many of the people who work at their firms today. The question becomes: How will you evolve your culture to make your workforce more productive? A lot of firms are now reevaluating their culture," Miller says.
He encourages firms to keep things that are important and shed those that are prehistoric, and that haven't traditionally focused on human capital. Positive employee experiences help create and maintain a strong company culture in or out of the office. "For example, today's employees don't want to wear a suit and tie every day. They want their employers to care about their well-being," Miller says.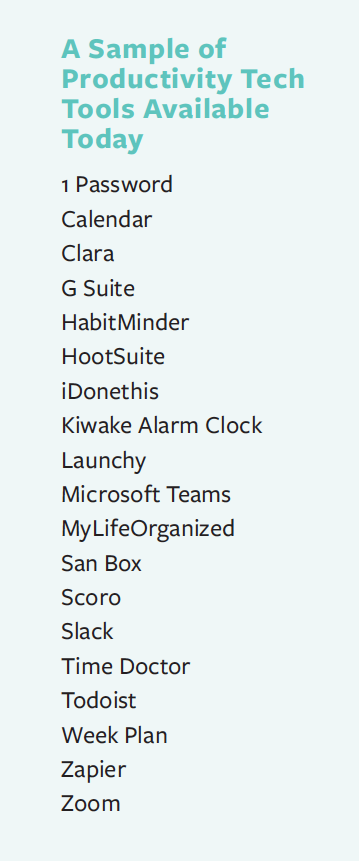 With fewer employees in the office, maintaining the company's culture becomes more difficult. Experts point to clear, consistent communication as an essential component to keeping the culture intact, particularly for millennial and Gen Z employees.
"The younger generation wants to be seen and heard and really understand the company's mission," says Miller. "Communication is critical."
Productivity Remains the Key
Whether employees are in the office or working remotely, productivity remains key. Technologies that help employees collaborate will only increase in importance over time.
Chris Marsh, principal analyst with S&P Global Market Intelligence, says companies were beginning to think more seriously about how to improve productivity and collaboration among employees prior to 2020, but the pandemic pushed the need for new technology and tools to the forefront. "Many of the technologies we are using now are good, but they are just a baseline. The majority of tech leaders say they are rethinking their technology strategies, with a view to creating better alignment, driving productivity and supporting team-building," he says.
S&P's data show that technology solutions for work management, visual collaboration and workforce automation will become much more prevalent in the future. "These tools will become a bigger part of the backbone of the response to the hybrid model over time," Marsh says.
They include software companies like Calendar, which uses artificial intelligence and machine learning to schedule appointments. It analyzes past calendars to make suggestions on how employees should spend time, like when and how to schedule a meeting. It also has a time-tracking feature to see how employees are spending their time. Another tool is Todoist, a task-management app that highlights your day's most important tasks. It can create sections and subtasks, and delegate assignments to others. The list of technologies available goes
on and on, and we are just beginning to see what is possible.
"There's no magic bullet, and people are fatigued right now, but all these tools help us do a better job for our stakeholders and will continue to grow in importance," Frazier says.
In addition to workflow tools, collaboration solutions will also grow in importance. "The question for companies is: How do you move forward and align people? How do you create those watercooler moments and promote team culture? There are so many new technologies that can help," Marsh says.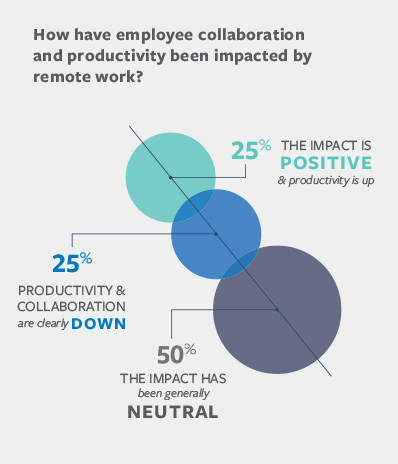 According to the Boston Consulting Group, companies that adopt new technologies quickly perform much better than their competitors in the market. They create jobs almost twice as fast as other small and medium-sized businesses. In addition, they increase annual revenue 15% faster than their competitors.
"As the world gets more permissive about being remote, businesses need to make sure everyone is working, is productive and stays connected," Marsh says. "Technology will help us do that."
---
*Digital.com surveyed employers on April 7 and 8 from a pool of 1,500 American small business owners.
Between May 28th and June 24th ACG surveyed more than 120 ACG members about work and technology.