Where Are the Women?
Girls Who Invest is striving to draw more women to the asset management industry, a space long dominated by men.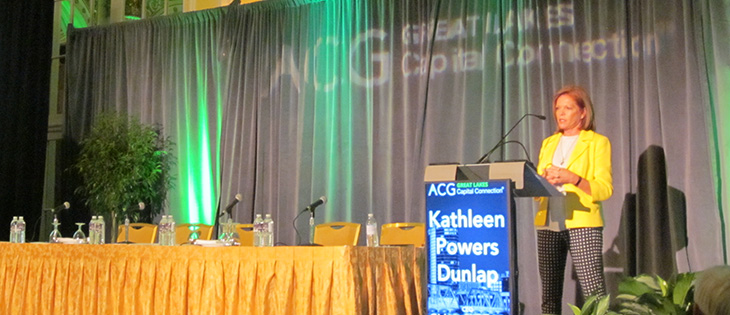 "What was the first concept you learned in investing?" a veteran financier asked her audience during a session at the Great Lakes ACG Capital Connection. The answer: Diversification.
Research suggests that diverse teams make good business sense—so where are the women in asset management, a field eclipsed by medicine, law and other professions that have developed more equitable gender representation?
Kathleen Powers Dunlap, a former institutional investor whose career has included roles at Barclays and Merrill Lynch, is attempting to reverse that trend through the nonprofit Girls Who Invest, where she serves as CEO. Founded in 2015, Girls Who Invest is targeting young women in high school and college from a wide variety of backgrounds, and offering them immersive exposure to the asset management industry.
Women and minorities manage less than 1.1 percent of assets within the $71.4 trillion global asset management industry, Dunlap notes. Only 10 percent of U.S. fund managers are women, compared with 63 percent of CPAs and 33 percent of doctors.
Girls Who Invest wants to see that figure rise dramatically, to 30 percent of global assets managed by women by 2030.
Investing in the Future
Dunlap was recruited to her current role by another finance veteran, Seema Hingorani, who founded the organization in 2015 after receiving an overwhelmingly positive response to an article she wrote for Bloomberg titled "'Girls Who Invest' Would Change Wall Street." The organization's name echoes Girls Who Code, a group that works to introduce women to computer science careers.
"Seema saw an incredible lack of women in portfolio management positions," Dunlap said during her presentation in Grand Rapids, Michigan, on Thursday.
"Young women want intellectually challenging work, but they also want meaningful work."
KATHLEEN POWERS DUNLAP
CEO, Girls Who Invest
Girls Who Invest uses a combination of education, internships and mentoring to eliminate barriers to entry for women in asset management, such as the lack of awareness and clarity about careers in the industry.
Dunlap cited the limited number of female role models and the industry's negative perception within society as obstacles to diversity.
"Young women want intellectually challenging work, but they also want meaningful work," said Dunlap, whose own career in finance began accidentally after she applied to a classified ad for a receptionist position at Merrill Lynch, was exposed to the world of finance, and muscled her way up the ranks to senior positions.
"I didn't know the difference between a stock and bond," she recalled.
An Immersive Industry Experience
As part of Girls Who Invest's flagship summer program, targeted at undergraduates, students learn core finance concepts from professors at leading business schools such as Wharton, along with skills like business etiquette and interviewing. They also participate in visits to sites such as Bloomberg—a leading program sponsor—and work for six weeks at paid internships at companies such as Blackstone and the Bill and Melinda Gates Foundation.
The nonprofit has also launched online programs, including through online course provider Coursera, to meet the high level of demand from participants—it received 1,500 applications for just 60 spots for its 2017 in-residence program.
Dunlap said Girls Who Invest will continue to grow—it's doubling its size next year and is partnering with University of Pennsylvania and Notre Dame. And it's seeing results. More than half of its 2016 program participants have jobs lined up after graduation, and those young women give Dunlap hope for the future.
"When you think that they're going to be the next leaders of our industry, we know we're in good hands," she said.

Kathryn Mulligan is the associate editor of Middle Market Growth.