Welcome to the Future of Work
The impact of the momentous events of the past year has permanently changed how companies do business.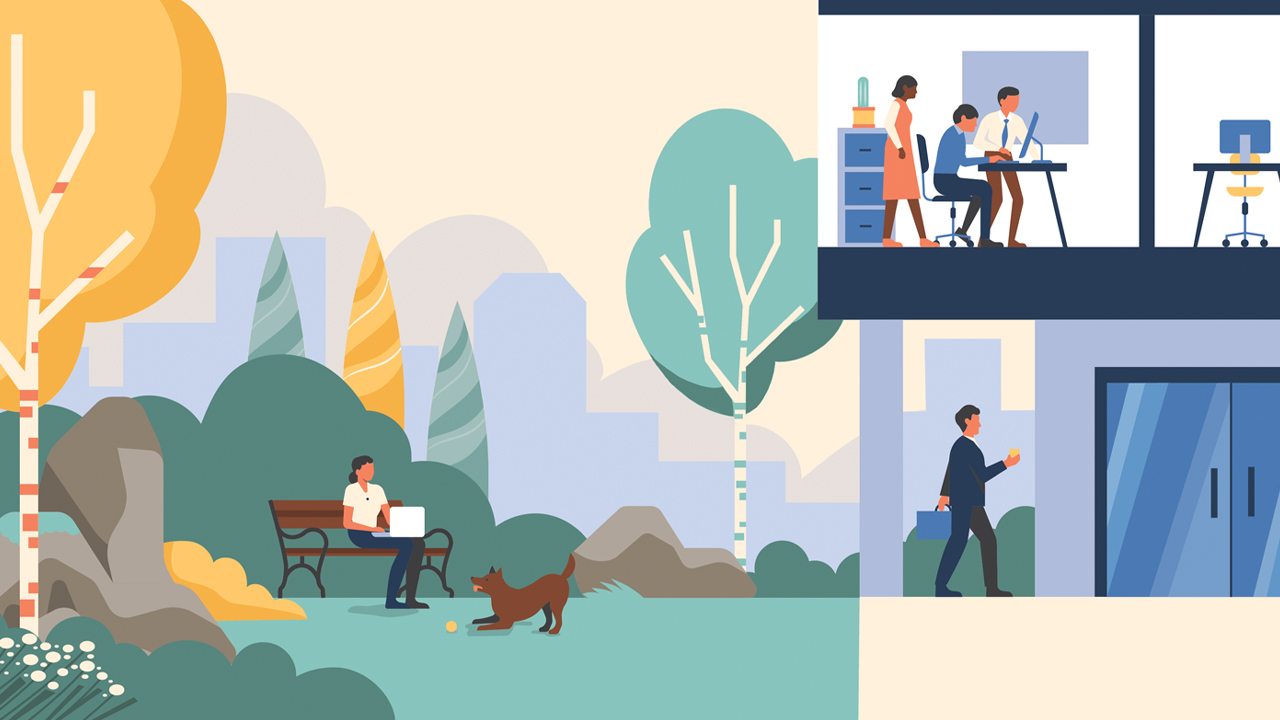 Last year will be one that everyone remembers but wants to forget. The pandemic's devastating impact on individuals and communities will be felt for years, and the disease has left an indelible mark on the economy and business community—both for better and for worse.
COVID-19 forced companies to adapt to mandated store closures, altered customer buying habits and disrupted supply chains. At the same time, many turned inward and began thinking differently about their workforce. Employee benefits, recruitment and retention strategies, and remote work policies are all under review as companies continue to evolve in the wake of the pandemic.
Those changes likely will mean that work looks different than it used to, and that might not be a bad thing.
Optimistic About the Future
The reimagining of workplace norms comes at a time when middle-market employers are feeling optimistic about the future, according to recent survey data.
ACG asked more than 100 middle-market company leaders about their expectations for their companies' financial performance in the fourth quarter of 2021 through 2022. Respondents were overwhelmingly positive: Almost half (48%) said they expect financial performance to be significantly up from pre-pandemic levels, and 45% expect performance to be at or close to pre-pandemic levels. Only 7% believe that financial performance will be down either slightly or significantly from pre-pandemic levels.
Kevin Burke, director of mergers and acquisitions, private equity and venture capital at Globalization Partners, is hearing a good bit of optimism from the portfolio companies he works with—but that rosy outlook is highly industry-specific. "Those companies that were most dramatically impacted by the pandemic tend to be less confident in the future," Burke explains. "But those that were able to pivot and change their business model are very optimistic."
Companies are excited. They are very optimistic about the strength of the consumer as well as technologies such as artificial intelligence and data mining that can help them work smarter.

Mary Ann Domuracki

Partner, MMG Advisors
Mary Ann Domuracki, a partner with MMG Advisors, sees renewed optimism, too, particularly among middle-market companies that performed well during the pandemic. "Companies are excited," she says. "They are very optimistic about the strength of the consumer as well as technologies such as artificial intelligence and data mining that can help them work smarter."
Everyone Now Knows the Acronym WFH
Achieving their ambitious growth goals will require companies to have the right employees in place—both figuratively and literally.
Perhaps one of the most significant changes brought on by the pandemic has been the mass exodus of the workforce out of the office and into the dining room, spare bedroom or basement. That shift has prompted a new question: Should employees bring their staff back to the office?
Working from home is not an entirely new concept. Data from research firm Gartner shows that 30% of the labor force worked from home at least some of the time prior to the pandemic. But never before have so many worked from home. And many of them like it. When the pandemic is over, companies must temper the expectation that workers will happily return to their workplaces five days a week.
According to the ACG survey respondents, the new normal will feature a hybrid model in which employees spend some time in an office and some time working remotely. Only 15% of respondents expect their employees to return full-time to the office and only 7% expect employees will work exclusively from home. For 78% of respondents, a hybrid model will be the likely solution.
Many middle-market companies are adjusting well to a hybrid approach, says Louis Aurelio, managing director and chief administrative officer at Kinderhook Industries, LLC, a New York-based private equity firm. The smaller the firm, the nimbler it can be. Still, Aurelio points out that a strong leadership team is critical for helping companies find the right mix of in-office and remote work.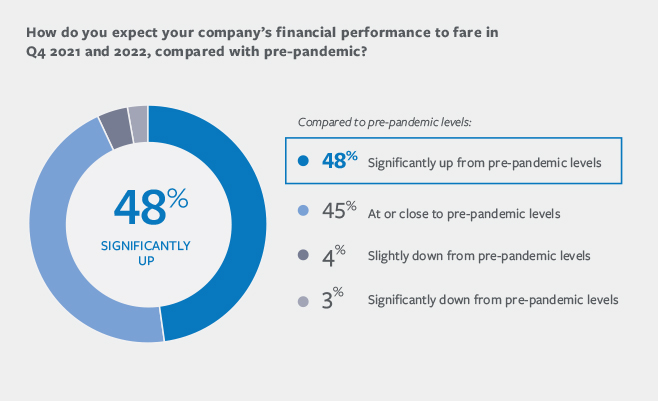 What's clear is that employees want choice. McKinsey & Company found that 52% of employees would prefer a more flexible working model post-pandemic, and Pew Research Center noted that 54% of employees want to keep working from home.
Remote work is so important to some employees that respondents to a survey by the Becker Freidman Institute at the University of Chicago would be willing to take a pay cut of 8%, on average, to be able to work from home two or three days a week. In McKinsey's survey, 30% of employees said they are likely to switch jobs if they have to work fully on-site.
Remote work also has other benefits. Less road traffic means shorter commutes—and fewer CO2 emissions into the atmosphere. Cities are less congested as workers relocate to suburban and rural environs.
Of course, remote work isn't available to all employees. Grocery store workers, waitstaff, transportation workers and production line staff need to be on-site. What's striking is the education divide between workers who can telework, and those who can't. While 62% of workers with a bachelor's degree or higher say their work can be done from home, only 23% of those without a four-year college degree say they can, according to Pew Research.

Out of Sight Is Not Out of Mind
If a hybrid model is in fact here to stay, companies will need to get over their concerns that employees won't work as hard if their managers aren't in the room.
Gartner found that employees are actually more productive working remotely, going above and beyond what is expected. Instead of debating whether staff members should be permitted to work from anywhere, middle-market firms should instead explore what tools and managerial support they'll need to help remote employees stay productive.
Companies are indeed worried about an exodus of talent and are also experiencing difficulty filling open positions— and are increasingly looking at flexibility as a solution.

Andy Challenger

SVP, Challenger, Gray & Christmas, Inc.
Companies should also look beyond roles when developing hybrid models, according to Gartner's "7 Myths Standing Between You and the Hybrid Future of Work" report. For instance, at first glance it may seem that a surgeon must always be in the "office"— in this case an operating room—but surgeons are also responsible for paperwork and patient consultations that can be done remotely.
Another benefit of hybrid work models is the opportunity to tap into a more diverse talent pool. Plus, employees with flexible work options are more likely to bring their authentic selves to work, improving engagement and performance, Gartner's report notes.
Hiring Becomes a Competitive Sport
If employees can work from anywhere, conceivably a company's talent pool just got a whole lot bigger, even as the unemployment rate remains above pre-COVID-19 levels. So why can't companies find the employees they need?
The Beige Book, released by the Federal Reserve, reports that food services, hospitality and retail are the industries experiencing the most employment growth. But it's especially difficult to hire low-wage workers, truck drivers and skilled tradespeople, the Fed notes.
Kinderhook's Aurelio says that even though organic growth at middle-market businesses is strong, finding talent is a challenge. "Our companies often say they can't hire enough people or can't find the right person," he says.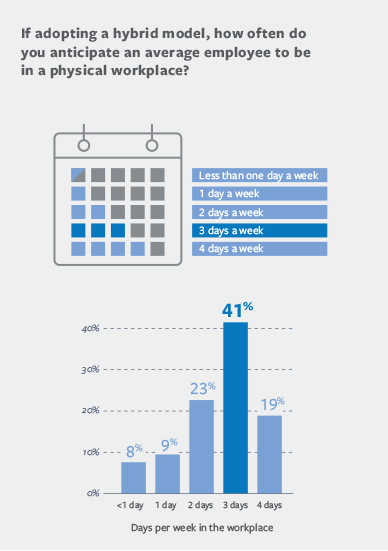 How do you attract and retain top talent? Companies are trying a variety of tactics to hire and keep workers, including bumping up salaries, offering signing bonuses, and providing free lunches.
Offering incentives in the form of higher pay and bonuses is just one tactic. The perk that many employees want—and employers are more willing to deliver—is control over their work schedule. "Companies are indeed worried about an exodus of talent and are also experiencing difficulty filling open positions—and are increasingly looking at flexibility as a solution," says Andy Challenger, senior vice president of outplacement and coaching firm Challenger, Gray & Christmas, Inc.
MMG Advisor's Domuracki finds that even when search firms offer competitive salaries and benefits, job candidates turn down offers if they can't work remotely.
Welcome to the Great Resignation
In April 2021, 4 million Americans— or 2.7% of employees—quit their jobs, according to the U.S. Bureau of Labor Statistics. The industries with the largest increase in voluntary separation include retail, professional and business services, transportation, warehousing and utilities.
Of those U.S. adults currently unemployed, furloughed or temporarily laid off, two-thirds say that they are considering changing fields or occupations, notes Pew Research.
Prudential's "Pulse of the American Worker Survey: Post-Pandemic Work and Life" found that half of employees say the pandemic has given them more control in deciding their career direction, and 24% will look for a new job. The top reason for talent migration is compensation (50%), followed by work-life balance challenges (38%) and lack of growth opportunities (34%).
The pandemic has ushered in new opportunities for companies willing to look beyond U.S. borders for talent. For example, one company that Globalization Partners' Burke works with is struggling to bring on employees in high-cost California, so it's looking to hire in Mexico City. Burke notes that his firm works with middle-market companies to smooth the transition to a non-U.S.-based workforce. "Companies are often surprised at how easy it is to source talent internationally," he adds.
Diversity, Equity and Inclusion Become Top of Mind
The murders of George Floyd, Breonna Taylor, Ahmaud Arbery and others sparked outrage, awareness, and mass activism in the U.S. Paradigm and the Harris Poll found that 69% of Americans believe that racial injustice is a problem—and 66% believe that companies should take action on racial injustice issues.
Doing what's right translates into doing well—and additional capital. Research has shown a positive link between diversity, equity and inclusion (DEI), and financial performance. Bain & Company found that 88% of limited partners use environmental, social and governance (ESG) performance indicators in making investment decisions, and 87% say they invest in companies that have reduced their near-term return on capital so they can reallocate that money to ESG initiatives.
Firms that are looking at their capital structure and investment options for their next stage of growth tend to think about DEI more.

Mary Ann Domuracki

Partner, MMG Advisors
MMG Advisors' Domuracki explains that a middle-market company's focus on DEI is somewhat tied to the firm's lifecycle. "Firms that are looking at their capital structure and investment options for their next stage of growth tend to think about DEI more," she says.
Kinderhook Industries is prioritizing DEI more than in the past, and those efforts have drawn accolades for several of its businesses. "We are very proud that two of our portfolio companies have recently been named 'Best Places to Work' by DEI benchmarking firms," Aurelio says.
Additionally, a strong DEI stance can attract and retain employees. Deloitte found inclusion is important when choosing an employer for 80% of workers and that 39% would leave their current employer for a more inclusive one. More than half (54%) of employees would leave their employer if it didn't speak out directly against racial injustice. Younger employees (18-44 years old) are the most likely to leave, at 63%, compared with those 45 and older (40%), according to Paradigm.
But even with companies' stated focus on DEI, there's often a disconnect between what employers think they are providing and what employees actually want from their firm's DEI initiatives. Most important to employees is an atmosphere in which they can be themselves (47%), followed by an environment in which they feel a sense of purpose (39%). Least important is working in an environment in which co-workers have similar life experiences (12%) or social values and opinions (14%).
Not Home, Not Office, but Somewhere In-between
Just like workers were forced to abandon their offices, gig workers, freelancers and others deserted their coworking spaces. Flexible space leasing activity in Q4 2019 was down 50% compared with 2018, according to JLL Research.
However, the tide appears to be turning as more workers become vaccinated. WeWork, a global flexible workspace provider, is seeing growth after the pandemic. The company reports that Q2 2021 had the strongest net desk sales since September 2019. All-access memberships increased 33% from March 2021 to May, and total occupancy increased 3% in the same time frame.
Employees are seeking greater flexibility in where they work, and spaces like WeWork offer another option between home and headquarters, notes Nick Giraudeau, global head of financial sales for WeWork. "Middle-market businesses need the ability to scale quickly, and offering access to coworking spaces can be a competitive advantage in attracting top talent," Giraudeau says.
JLL Research predicts that demand for flexible space will continue to increase as a result of the pandemic, and by 2030, 30% of all office space will be consumed flexibly.
3 Considerations for Middle- Market Firms
The workplace is undoubtedly evolving due to the pandemic. To stay competitive, middle-market companies will need to adapt, starting with three baseline activities.
Join the race for talent. A labor shortage means that companies will have to pull out all the stops to attract and retain talent. Higher salaries and signing bonuses are attractive, but consider flexible work arrangements and benefits, along with other perks.
Embrace hybrid work models. Now that they've had a chance to experience remote work, many employees don't want to return to the office fulltime. Implement a hybrid model that works both for your business and your employees. And train managers on how to manage a remote workforce.
Walk the talk. Your employees want to know that you take racial injustice seriously. Don't just give lip service to diversity and inclusion. Instead, make changes to your hiring and other human capital policies.
What Happens to Those Empty Offices?
Twitter was one of the first major companies to announce a fully virtual work model for most employees. Zillow announced that it would offer 90% of its employees flexible work options permanently. Nationwide will close many smaller offices and allow those employees to work from home. Even Ford announced a hybrid model for non-place-dependent workers.
Going forward, commercial real estate will likely be significantly impacted by the pandemic, and this trend could reverberate throughout the financial sector. The International Monetary Fund (IMF) notes that the size of the sector and the fact that commercial real estate relies heavily on debt financing—and plays a large role in banks' portfolios—could impact global financial stability. A 5% increase in commercial property vacancy rates could lead to a 15% drop in commercial real estate values in five years, the IMF estimates.
And although CBRE predicts that GDP will grow by 6.7% in 2021, bringing U.S. GDP back to pre-COVID-19 levels, the commercial real estate recovery will lag. But recovery may be faster than anticipated if the need or desire to social distance and implement new safety measures forces companies to keep their existing footprint or even add additional space. According to JLL Research, 196 square feet per worker was the regional average in 2020. Floor plans designed to accommodate social distancing would require increasing that square footage by almost 50%, according to a JLL estimate.
CBRE also predicts that suburban commercial real estate occupancy rates will recover faster than urban locations, since employees who work in suburban offices are less reliant on public transportation than their urban counterparts.
Past Survival and Back to Growth
For many companies, getting through the pandemic and its disruptions to business was a day-to-day struggle. Others thrived, either by chance— who could have predicted that hand sanitizer would be in such huge demand?—or because they were able to pivot and update their business strategies to take advantage of unforeseen changes, says Globalization Partners' Burke.
As we navigate one of the toughest periods on record, it's clear that middle-market firms will need to make changes in many aspects of their business if they hope to stay competitive in the post-pandemic economy.
COVID Prompts Positive Changes in the Workplace
A look at some of the ways COVID is forcing employers to rethink their employee benefits.
Spotlighting health care inequities. Disparate health outcomes and access to care have been simmering issues in the U.S., and the pandemic only highlighted existing inequality. The Centers for Disease Control and Prevention cites evidence that people in racial and ethnic minority groups are more likely to live in areas with high rates of new COVID-19 infections and to be exposed to the disease through their work environments. The country is beginning to have long overdue discussions about how to address health care inequities.
Prompting more flexible benefits. The pandemic has encouraged companies and their human resource teams to take a fresh look at the employee benefits they offer. Care.com found that 98% of human resources leaders and C-suite decision-makers plan to newly offer or expand at least one benefit due to lessons learned during COVID-19.
Many employers are committed to investing more heavily in the benefits that their employees want and consider most essential. For instance, 45% of companies plan to begin offering in-home backup childcare (and 42% plan to expand this benefit). Meanwhile, 42% plan to newly offer or expand senior care benefits.
Encouraging a mind, body and soul approach. Mental health employee benefits improvements are on the table as well, and with good reason: Pandemic-fueled trauma is negatively impacting employee focus. The risk of post-traumatic stress disorder is 55% higher than pre-pandemic, according to the American Health Policy Institute.
Lowering costs and cleaning the air. Companies have discovered that employees no longer need to board a car, train or airplane to collaborate. With videoconferencing, employees and companies alike save money, with the added benefits of greater flexibility and reduced fossil fuel consumption.