This story originally appeared in the May/June 2020 print edition of Middle Market Growth magazine. Read the full issue in the archive.
The way vehicles are designed and how drivers engage with them will affect the business of parts suppliers. If cameras work better, why does a car need mirrors? As more vehicles use electric power, mufflers get smaller or are removed entirely.
Based on its analysis of the automotive market, Plante Moran has projected whether demand for various products will rise or fall among original equipment manufacturers (OEMs) for new vehicles and the aftermarket. For some parts, like audio and entertainment components, the trend is already taking hold; for others, it could take 15 or 20 years before it appears.
For companies that produce parts that are at risk, it's a good time to evaluate where the market is going and to adjust accordingly. Those looking to sell will need to demonstrate to a buyer that they're adapting their model and planning for the future.
"None of these downward-trending products are going away tomorrow," says Ted Morgan, principal at Plante Moran. "But understanding longer- term demand for vehicle components will drive a supplier's product strategy."
Here's a look at three part categories and where they're headed:
Infotainment, Audio and Telematics:Demand in this category— which includes stereo, GPS and navigation systems—is projected to outpace industry growth among OEMs and the aftermarket. These systems become more advanced every year, and automakers want to include the latest technology in their new vehicles.
"NONE OF THESE DOWNWARD-TRENDING PRODUCTS ARE GOING AWAY TOMORROW. BUT UNDERSTANDING LONGER-TERM DEMAND FOR VEHICLE COMPONENTS WILL DRIVE A SUPPLIER'S PRODUCT STRATEGY."
TED MORGAN
Principal, Plante Moran
In the aftermarket, owners of older vehicles who want to upgrade their systems are driving demand, as are auto enthusiasts who want to enhance their car with a new touchscreen that can accommodate Apple CarPlay and Waze. Safety features, such as rearview cameras included with new models, are another common upgrade for older vehicles.
Exhaust: Demand for exhaust components, such as mufflers or catalytic converters, is expected to decline over time for OEMs, due to the industry's move toward electrification. As more vehicles operate using a battery rather than gasoline, automakers will need fewer parts to control the gases or noise created by an internal combustion engine.
The aftermarket, however, is trending in the opposite direction, due to demand from auto enthusiasts who want to outfit their vehicle with a louder muffler, for example. "Exhaust is one of the first things to get retrofitted after a car comes off the dealership lot," Morgan says. "There is a really nice opportunity for exhaust manufacturers who want to make a specific type of muffler or exhaust component that will give an owner the performance they're looking for."
Mirrors: Now that mirrors are no longer the only way for drivers to see around their cars, the part is projected to experience declining demand among OEMs and in the aftermarket. Cameras have become a fixture in new vehicles to provide an enhanced view for drivers and illuminate blind spots. For the autonomous cars of the future, 3D cameras and sensors will enable vehicles to navigate roads and identify obstacles.
This new technology will impact the aftermarket, too. In the future, consumers are likely to outfit an older vehicle with a camera system rather than replacing its mirrors.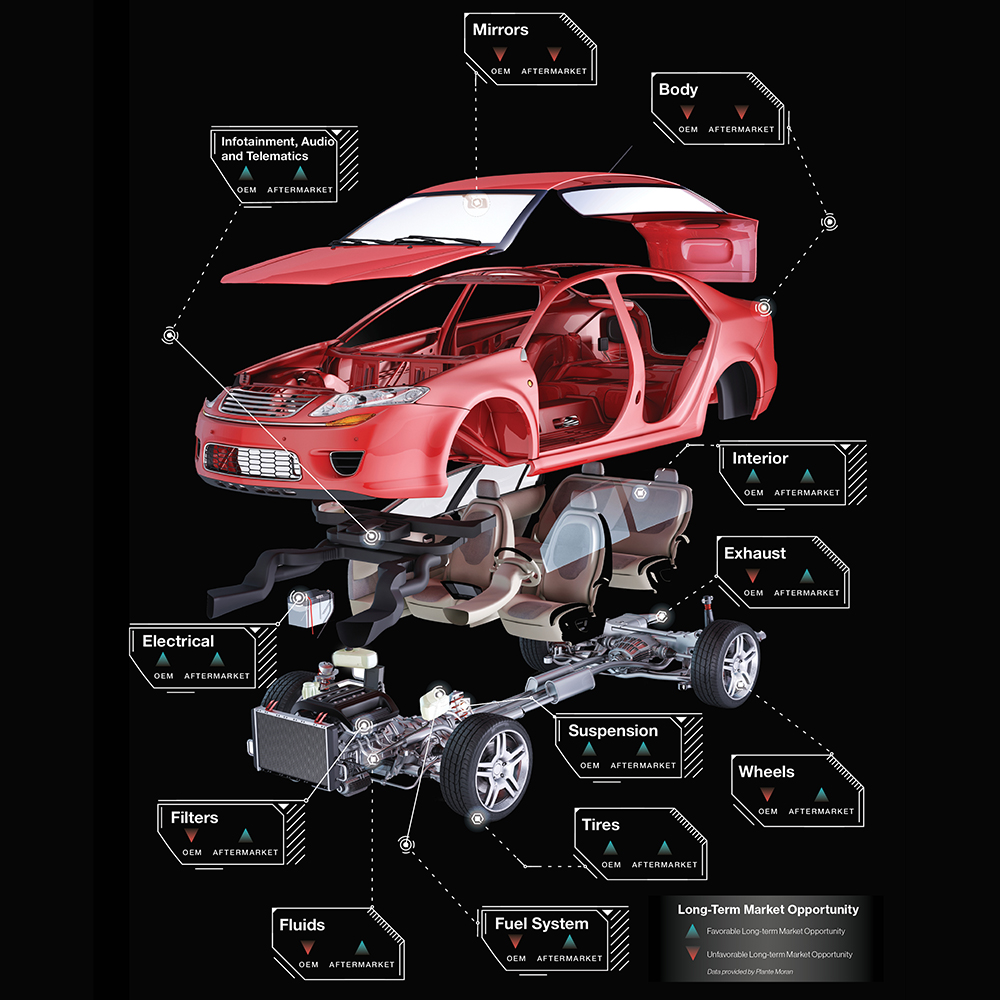 Kathryn Mulligan is the editor-in-chief of Middle Market Growth.