ACG Cincinnati Helps Executives Find Their Next Role
For members of the C-suite, finding a new position can be a lengthy process. But ACG Cincinnati offers education and networking that can help lead executives to their next role.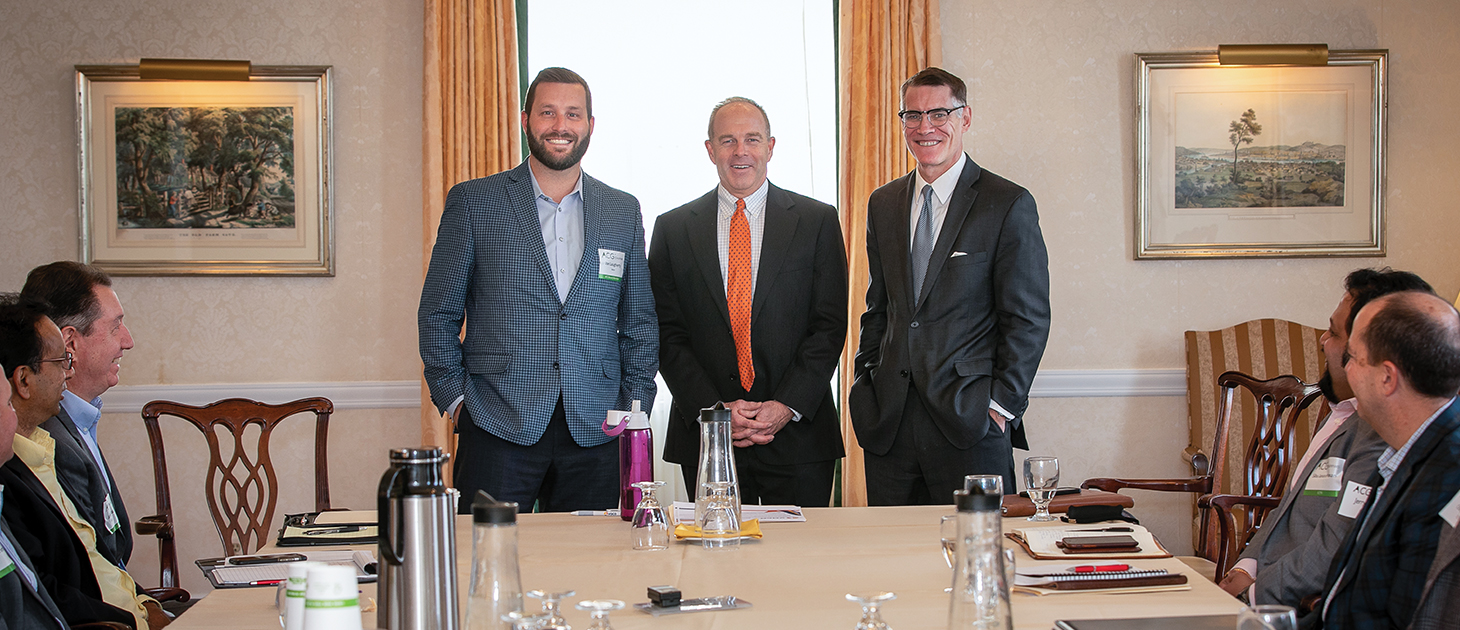 Garth Geist is a firm believer in the power of networking. When he separated from his previous employer in June 2018, he didn't wait to start leveraging his connections.
"My new job was to find my next job," he says. "Each and every day, I went to every networking mixer and meeting organization I could find."
Geist hit the ground running, but after months of searching, he hadn't made much progress. Eventually, he began attending events hosted by ACG Cincinnati, where organizers invited him to take part in their Executive Career Transition Roundtable program.
Launched in 2017, the monthly series was created by ACG Cincinnati to help ACG members and senior executives like Geist find their next role, which often can be more challenging than a traditional job search.
According to the Bureau of Labor Statistics, the unemployment figure for senior-level professionals was 1.7% in October 2019, nearly half the national average. Yet with fewer openings, finding an executive-level position can take time.
"A rule of thumb is it takes one month for every $10,000 of a person's salary before they find their next job," says ACG Cincinnati Executive Director Marcie Taylor. "[Which] is not a quick search, particularly if [executives] want to stay in Cincinnati."
The invitation-only roundtable series helps recently displaced executives find their next position and develop new skills. During a two-hour session each month, participants spend the first half discussing a particular topic and the second half networking.
One of the most well-received topics covered by the program was social media and how to leverage online platforms during a job search. A meeting last fall featured social media consultant Kendra Ramirez, who presented on best practices for LinkedIn.
"You have to run with the right crowd and be in the right pack to get the right opportunity. That's what acg and the executive roundtable really did for me."

Garth Geist
Enterprise Sourcing Manager, Kroger
Taylor developed the program with support from three ACG members: Joe Laugherty, a partner at management consultancy Vaco; Jeff Wuenker, a strategic career adviser for The Bauke Group, a training and coaching firm; and Jay Rush, a business development executive at Clark Schaefer Hackett, a CPA and advisory firm.
The first meeting drew fewer than five people, but a month later, there were more than 25. "Word kind of spread from there," Rush says.
Today, the three members continue to play a large part in organizing and supporting the program. "They really do the heavy lifting," Taylor says.
Most of the program's participants have 20 to 30 years of experience, according to Taylor, and the prospect of having to look for work can be daunting. Providing support for them is a crucial aspect of the roundtable series.
"This is a time when the most confident men and women are dealt a body blow," Taylor says. "You become very loyal to a group that has taken the time to help you as you are looking for your next opportunity."
Running with the Right Crowd
When Geist attended his first roundtable meeting in September 2018, he was impressed by the caliber of participants. While there, he struck up a conversation with organizer Joe Laugherty. Laugherty put Geist in touch with contacts that eventually led him to Cincinnati-based supermarket chain Kroger.
In December 2018, Geist was hired by Kroger and continues to work in enterprise sourcing for the retailer.
He credits ACG Cincinnati's program with helping him find his current role.
"You have to run with the right crowd and be in the right pack to get the right opportunity," Geist says. "That's what ACG and the Executive Roundtable really did for me."
Geist is still in touch with people he met during the monthly events, and he has directed others to the program as a tool for their career planning.
"That's where I'd say the real value in the Executive Roundtable is. There are resources out there you can tap into if you're just willing to roll up your sleeves and do your part," Geist says.
This story originally appeared in the January/February 2020 print edition of Middle Market Growth magazine. Read the full issue in the archive.

Benjamin Glick is ACG Global's marketing and communications associate.