A Peerless Network
For more than three years, ACG Philadelphia has hosted PEER, where portfolio company leaders gather to discuss working with private equity owners.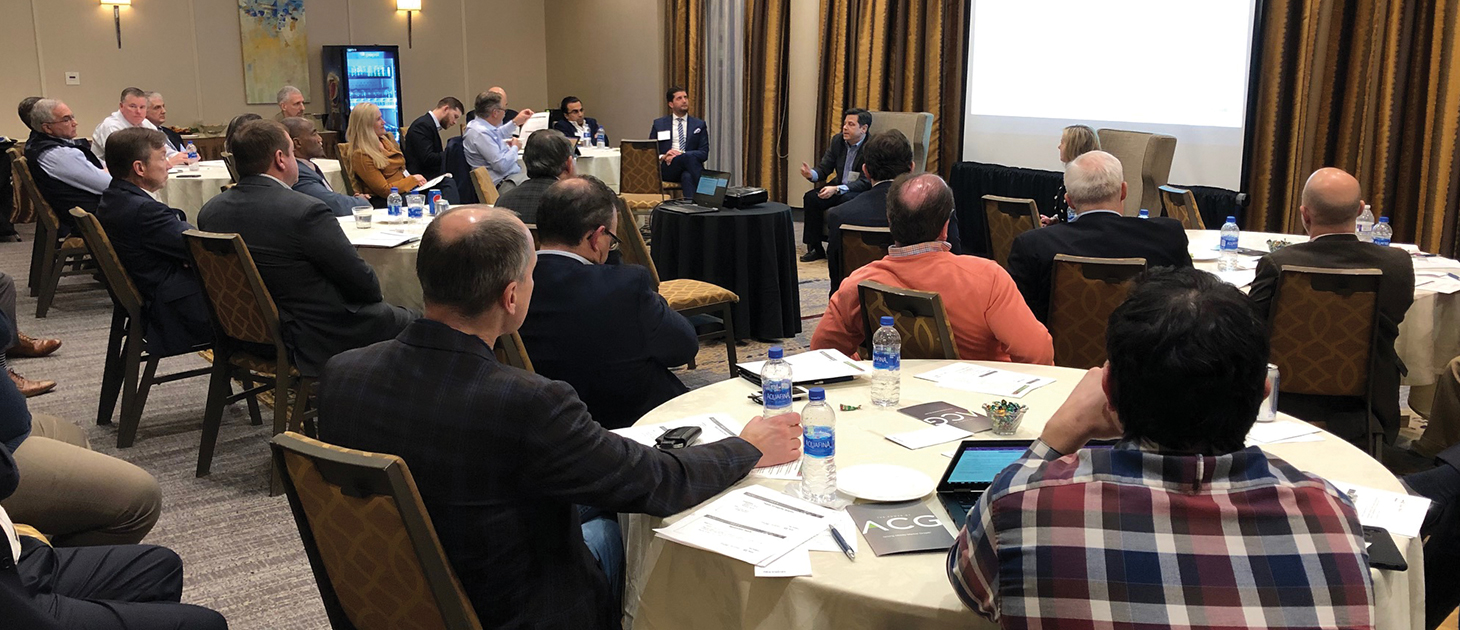 This story originally appeared in the March/April 2020 print edition of Middle Market Growth magazine. Read the full issue in the archive.
Leading a company backed by private equity comes with its own nuances, something more executives are realizing as the number of U.S. private equity-backed companies continues to grow. Many are looking for guidance as they navigate relationships with outside investors.
For more than three years, ACG Philadelphia has hosted its Private Equity-backed Executives' Roundtable, or PEER, where leaders from local portfolio companies gather to discuss working with private equity owners and share best practices.
"Those CEOs and CFOs are looking for resources and an understanding of the private equity ecosystem. And what better place to get it than ACG?" says Stephanie McAlaine, ACG Philadelphia's executive director.
According to a 2019 McKinsey report, the number of U.S. companies with backing from private equity firms doubled between 2006 and 2017, from an estimated 4,000 to 8,000—and that number continues to increase.
ACG Philadelphia launched its program in 2017 after market research revealed there could be as many as 1,000 executives of private equity-backed companies in the Philadelphia region.
McAlaine and a dedicated committee gathered a group of portfolio company executives and asked them about the issues they face. "We couldn't stop them from talking," McAlaine says. "It was so clear that they had so much to learn from one another."
Today, about 150 executives participate in PEER programs throughout the year. The group meets four to five times annually to discuss topics such as managing a board of directors, planning for a future exit, improving talent management and optimizing relationships with private equity partners.
A typical meeting brings together executives with varying levels of exposure to private equity. Some are brand new to private equity ownership, while others have worked at multiple portfolio companies. PEER gives them a venue to exchange best practices and tested solutions and helps prepare them for what's ahead.
Ellen Purdy, CFO for Office Practicum, a software provider serving pediatric behavioral medical practices, has found PEER to be a valuable sounding board. "The roundtables are all very interactive. We've learned a lot from each other," says Purdy, who serves on the PEER steering committee and on ACG Global's board of directors. "The relationships that formed during our meetings and afterward are as much a part of the experience as the actual roundtable discussions that we have on the topic," she says.
The more PEER events that executives attend, the more likely they are to take advantage of the other programs the chapter has to offer, and some have signed up as members of ACG Philadelphia. "They see the value in the network," Purdy says. "They help support the whole ecosystem of the middle-market growth community in the chapter area that they're in."
PEER events have begun to draw leaders from companies that don't yet have private equity backing and are considering bringing on an equity investor. "This is a great window for them to see the opportunities and challenges of outside capital," McAlaine says.

Benjamin Glick is Middle Market Growth's associate editor.