It's been nearly a year since the U.S. began escalating tariffs and other import restrictions on goods entering the country, creating uncertainty for business leaders with international supply chains.
The authorization of tariffs on Chinese imports in March 2018 set off the first of many interventions by the U.S. government to address unfair trade practices and imbalances with foreign countries.
These actions mark a departure from decades of free trade and a move to so-called "managed trade," according to Dan Ujczo, cross-border practice group chair at law firm Dickinson Wright, who led a panel discussion at the inaugural Cross-Border Connections conference in Detroit on March 5. The event was organized by three ACG chapters from Detroit, Toronto and Western Michigan.
Attitudes over trade have changed dramatically over the last 30 years, Ujczo explained. Since the end of the Cold War, goods and capital have passed more easily between countries as they reduced or eliminated tariffs and expanded free trade networks with agreements like NAFTA and the Treaty of Lisbon, the basis for the European Union.
However, the election of Donald Trump reversed this trend, Ujczo said. President Trump, who campaigned on renegotiating the country's trade partnerships to address imbalances, withdrew the United States from the Trans-Pacific Partnership, which would have bound the country and 11 other nations in a duty-free arrangement. At a time when the U.K. is preparing to withdraw from the EU and isolationist sentiment is on the rise, the global trade environment is changing quickly as business leaders struggle to adapt.
Steel and Aluminum Tariffs
Since the start of the Trump presidency, the U.S. has become involved in two major trade disputes: The much-publicized feud with China and the growing friction with its North American neighbors.
Both instances involve duties targeting steel and aluminum. The first round of tariffs began in March 2018 when the Trump Administration authorized a 25 percent tariff on steel and a 10 percent tariff on aluminum. A few months later, the administration imposed the same penalties on steel and aluminum imports from Canada and Mexico.
While the barriers have helped some industries by reducing foreign competition, the higher costs have been a burden for companies that rely on those inputs to make their products, such as Aetna Bearing Company, a Detroit-based manufacturer of ball bearings and other components.
"Basic macroeconomic principles tell us that as the price of a product goes up, demand for the product goes down, and that begins to work its way back through the supply chain until it affects manufacturing top-line and bottom-line performance," said Kal Beidas, Aetna's president. "The tariffs aren't beneficial for U.S. middle-market manufacturing."
Ujczo said there's evidence that the costs offset by the tariffs have penetrated most of the supply chain. He cited a paper published by the Centre for Economic Policy Research that showed tariffs are costing the U.S.—mostly businesses—$1.4 billion per month. "And the president still seems to believe that it's the foreign countries that are paying those tariffs and filling our coffers when it's all of us that are paying for it," Ujczo said.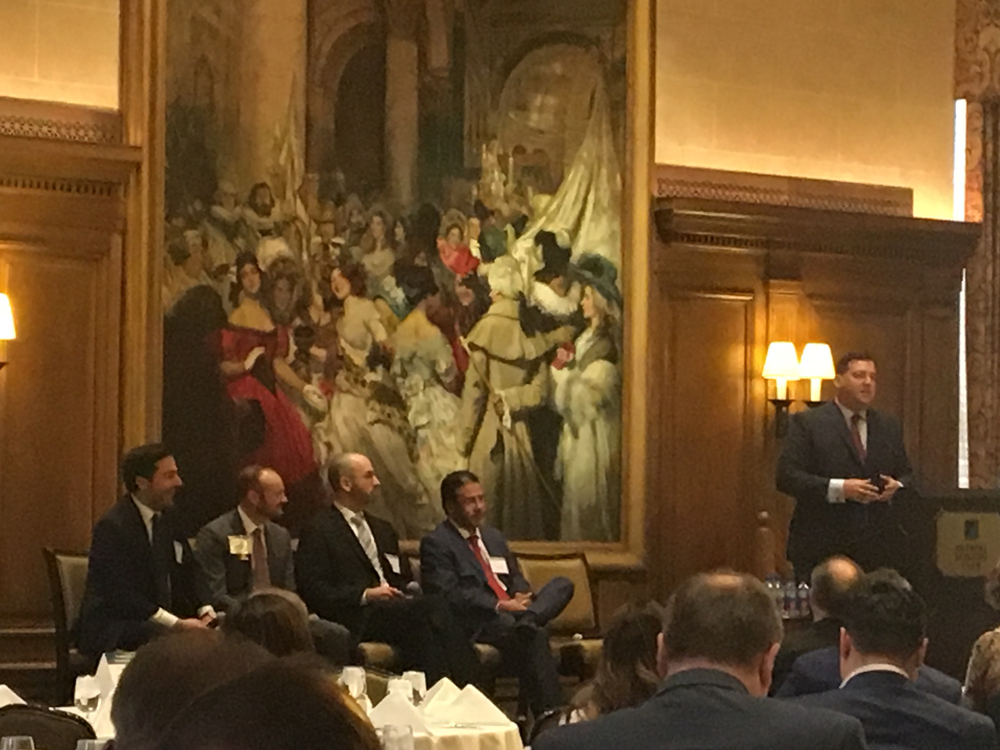 "THE TARIFFS AREN'T BENEFICIAL FOR U.S. MIDDLE-MARKET MANUFACTURING."
KAL BEIDAS
President, Aetna Bearing Company
Those cost increases also impact the lenders that companies rely on to finance business expenses, said David Olsen, regional president and principal officer of PNC Bank Canada. One company his firm worked with required nearly $8 million to finance the increased cost of steel. Preliminary findings from an American Chamber of Commerce survey indicate tariffs are tying up capital. "It's a very real thing," Olsen said.
Tariffs may also have the potential to prolong an economic downturn, which many economists say is looming.
One of the worst remedies for a recession is erecting trade barriers, according to Alex Kotsopoulos, vice president and national government, health care and education industry leader for RSM Canada. "Given where the macroeconomy is going, certainly trade disputes with China, steel tariffs and isolationist economic policies do have the potential to significantly make the recession or the downturn worse than what it ought to be."
The USMCA
Despite protests on the tariffs, Mexico and Canada agreed to requests by the U.S. to renegotiate NAFTA, which culminated in a new trade pact called the U.S.-Mexico-Canada Agreement.
For Kotsopoulos, there is much to like about the deal. He praised its forward-looking stance on digital trade and provisions set up for international infrastructure projects. "In a nutshell, there's a lot of good in the USMCA and a lot that needed to be changed, and a lot I think we should be encouraged about," he said.
"TRADE DISPUTES WITH CHINA, STEEL TARIFFS AND ISOLATIONIST ECONOMIC POLICIES DO HAVE THE POTENTIAL TO SIGNIFICANTLY MAKE THE RECESSION OR THE DOWNTURN WORSE THAN WHAT IT OUGHT TO BE."
ALEX KOTSOPOULOS
National Government, Health Care and Education Industry Leader, RSM Canada
While all parties have signed the USMCA, the treaty has not yet been ratified. Even if all countries ratify the new agreement, it doesn't necessarily mean tariffs on Mexico and Canada will go away. Canada is pressuring Washington to lift the tariffs by ratifying the agreement in mid-March. Mexico is still considering the timing of its ratification. According to Sergio Lora Gomez, CEO of IQOM, a Mexico City-based trade consulting group, the country's newly elected president is committed to the USMCA, but the government will likely take a "wait and see" approach to gauge the United States' reaction to the new deal.
"I think there's a debate in Mexico, that we should ratify the USMCA before the U.S. does because that's a very clear signal to the markets of where we're headed," he said.
Congress will review a series of reports, including an economic impact study from the International Trade Commission due on April 19. If Congress doesn't like the deal, it won't ratify it; Trump has threatened to scrap NAFTA if USMCA isn't approved.
The Future of Managed Trade
Despite the uncertainty they've caused, the tariffs have created some winners. "Let's face it, it isn't bad for Mexico because they're competing with China," Ujczo said.
While there are some economic opportunities in the short and mid-term, Gomez said the long-term effects of tariffs are mostly negative. "I don't see this having a happy ending if we continue on this trend for a long time."
One check on managed trade may come through retaliation by other countries. Shortly after the U.S. imposed tariffs on Canada, Mexico and the European Union last year, those countries and trading organizations instituted their own penalties against the U.S. "As long as we have [Mexico and Canada] in retaliation, then I think we have a chance for these tariffs to be lifted," Gomez said.
Another line of defense for free trade could come from pressure on lawmakers as their constituents face rising costs on everyday products, Ujczo said. Until then, he doesn't expect to see action from Congress. "There's no free trade caucus yet," he says. "It's actually going in the other direction."

Benjamin Glick is ACG Global's marketing and communications associate.