The Future of Work and the Emergence of New Operational Cultures
A growing number of companies are realizing that their business resilience will require integrated strategies around human capital management, DEI initiatives and employee experience.
This article is sponsored by S&P Global Market Intelligence. This story originally appeared in the Fall 2021 print edition of the Middle Market Growth Future of Work Special Report. Read the full report in the archive.
With hybrid work models gaining traction for the long haul, middle-market businesses are reevaluating their technology solutions to support employees and strengthen team culture, regardless of work style. Chris Marsh, principal research analyst at S&P Global Market Intelligence, discusses how companies are approaching this watershed moment and looking forward to the next phase of digital transformation.
The pandemic-induced shift to a more hybrid model of in-office and remote working will likely be looked back on as marking a watershed in how businesses support their employees. According to S&P's "Voice of the Enterprise (VotE): Workforce Productivity & Collaboration, Technology Ecosystems 2020" survey, 61% of businesses have both expanded their existing remote work coverage and introduced new remote work coverage across their workforce. The data in Figure 1 shows that employees are generally in favor of this shift.
The past 18 months have also been a pivotal time for diversity, equity and inclusion (DEI) issues in the workplace. Half of survey respondents in S&P's "VotE: Digital Pulse, Diversity & Inclusion 2021" survey report that their organization has expanded its commitment to DEI during 2020. The pandemic and social justice movements, in combination, have cast more of a spotlight on workplace issues at a time when they were already garnering increased, and serious, attention from business and technology leaders alike.
In the few years directly preceding 2020, IT and HR departments were focusing more of their attention on improving the workforce's productivity, forging new ways to collaborate and more actively looking to drive employees' engagement, not as tactical goals, but rather as transformation priorities. Given the ever-increasing central role technology plays in the workplace, a lot of the focus has been on how technologies impede or support these focus areas.
The Digital Workplace Is Under the Spotlight
In particular, businesses have begun to take more seriously the negative operational impacts from the combination of rigid legacy applications on the one hand and a growing sprawl of newer but siloed applications on the other. The shift to remote work has in some ways aggravated the key pre-pandemic technology challenges of app fragmentation, scattered knowledge and the lack of democratized and accessible ways to bring more automation into employees' daily workflows.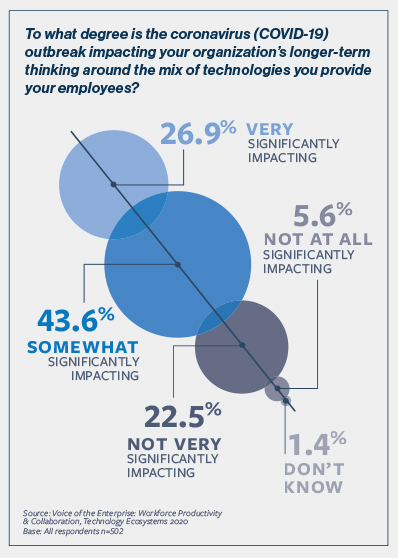 Partly in response, 71% of tech buyers are reformulating their longer-term digital workplace strategies, according to S&P's "VotE: Workforce Productivity & Collaboration, Technology Ecosystems 2020" survey.
Unsurprisingly, digital workplace tools have been a priority area for spend, with net spend up across most application categories—video conferencing, remote work peripherals and team collaboration tools have received the biggest bump. At the same time, there's more experimentation with other types of tools. We're seeing work management tools, workflow automation and digital whiteboarding as key areas.
COVID-related elevated spend on digital workplace technologies, as an overall group, is also second only to spend on information security solutions. It is also just ahead of mobile devices and associated connectivity solutions, with much of the spend on those two areas tied to a secure and better-supported shift to more remote working.
Technology decision-makers are also stepping back and asking what, exactly, are their strategic tools and how can they get more value out of them, including from integrating those strategic tools with one another more effectively. That rethinking about tool choices is being driven by a growing consensus around several ideas.
A Consensus for Post- Pandemic Change
One of the stark realizations that came early on in the lockdowns last year was that when we took away traditional practices and assumptions, the Band-Aid of face-to-face interaction and the use of niche SaaS tools to plug gaps, many companies saw how poorly information flowed across their business. So now more strategic thinking is going into imagining how work is designed and managed.
The second realization has been that for productivity, engagement and innovation reasons, more empowerment and trust around how work is designed needs to be pushed into teams at the edge of the workforce, and not gatekept by scarce developer resources or teams of technical specialists.
The third is that technology strategies can no longer be about solving what are perceived to be functional challenges with technology solutions. Progressive technologists are focusing on individual engagement, team building, team alignment and operational agility, and working back from those things to determine what technologies are needed.
A fourth realization has been that, in many cases, leadership needs to step up—technology decision-makers are looking for stronger guidance from their company leadership around how the workforce should operate.
Finally, the risk of not acting in these ways is becoming clearer. Our research shows that the more resilient organizations have a cluster of commonalities— they are more likely to be digitally mature and data-driven organizations that have removed much of the day-today friction in work, allowing them to focus on higher order business outcomes such as team culture, operational agility, talent retention and innovation.
New Operational Cultures
Addressing these long-standing challenges in the particularly unique context of the past 18 months is no easy feat, and businesses struggle to frame their approach. The following two ways can be useful for businesses to move on from thinking about the tactical choices and quick fixes many are still making to focusing on making these higher order changes.
The first is what we call the three A's: agility, autonomy and alignment, and specifically trying to strike the balance at the intersection of these three things. Creating more operational agility by investing in tools and practices that give employees more autonomy around how they design and execute their work, while ensuring they keep aligned with one another, with strategic goals, and with governance, compliance and other requirements. It's the sweet spot of the balance of these three things that the more progressive organizations realize they need to work toward. How can each of these elevate and not impede the other?
The second way to think about this is another mnemonic: the three C's (context, convenience and control), which comes from 451 Research's "VotE: Customer Experience & Commerce" research where it's used as a way to describe modern digital consumer experiences. These are also becoming the hallmarks of workplace experiences—employees are coming to expect more contextually personal digital workplace experiences, ones that are also more seamless and convenient, and around which they have more control.
If businesses anchor their workplace strategies around these pillars and manage to find the sweet spot at the intersection of these different ideas, they'll be on the right track to support the needs of modern, dynamic working.
I've touched on it a few times already, but an integral part of these more dynamic digital workplace strategies needs to be better availability of democratized workflow automation tools. After many years of lackluster performance, it is now more realistic for businesses to implement low- and no-code technologies at scale, and it's important they look to do this.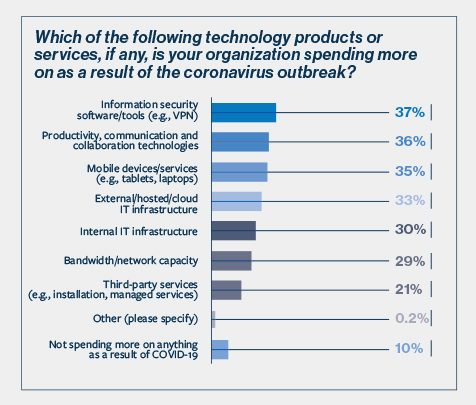 The change in circumstances this past year especially has rendered many workflows and workplace practices much less effective, and the default back to highly technical solutions gate-kept by a central team of process specialists or developers can't be the answer. Seventy-six percent of technology decision-makers believe their business department's processes and workflows need to change in order for their organization to effectively adjust in the post-pandemic world.
There should be no surprises then that among their top focus areas to support employees is looking at tools that allow them to more quickly and easily build and adapt their business processes, workflows and project designs.
A New Approach for Team Collaboration
As we've seen, the transition to a hybrid work model brings a whole new set of challenges that require a new approach.
Agile collaboration needs to be at the heart of this new way of working—allowing a distributed workforce to securely access the key data, applications and resources they need and work together to achieve shared goals so that they can respond quickly to their specific market and customers' requirements.
Data sharing remains a problem for many organizations given the ongoing use of consumer OTT messaging apps in the workplace and the extent of the information some of those apps are entitled to access on their users. This particularly impacts frontline and mobile workers and remote workers, who are more likely to use their mobile devices and SMS or OTT apps that are mobile-optimized, even if their employer already provides UCaaS mobility features. Enterprise applications also have different approaches to data collection—some allowing for data collection and some not. These nuances can be relevant for organizations in verticals with strict regulatory requirements, or use cases dealing with highly sensitive information.
Mobility will be a key component in the hybrid workplace—ubiquitous access to content and applications, regardless of their location or the device or network. This was a critical factor for business continuity during the COVID-19 lockdown and with the digitization of the frontline workforce—which by nature tends to be mobile-first or mobile-only—will continue to be a key trend in coming years.
Security and compliance are also becoming increasingly relevant for modern communications and collaboration due to the evolution of security standards such as GDPR and the California Consumer Privacy Act, due to the rising importance of having mobile solutions and the need to support more diverse work modalities in the hybrid model. The shift to a hybrid work model is blurring the line between niche secure communication apps and horizontal team collaboration and unified communications applications when it comes to things like encryption.
Admin controls are evolving beyond just features like remote provisioning and wiping to needing to do things like enforce security and compliance specifically in mobile-only or mobile-first applications.
Conclusion
Digital transformations, social justice movements and black swan events like the coronavirus pandemic provide a very challenging environment for businesses. A growing number are realizing that their business resilience needs to be based on a whole organization approach that links business goals such as risk management, workforce productivity and financial performance to more integrated strategies around human capital management; diversity, equity and inclusion; and employee experience. The digital workplace will be at the heart of this, mediating the relationship between employees and the goals they share across their organization.