Technology Game-Changers Will Make or Break Businesses of Tomorrow
Technology shifts how the middle market conducts business.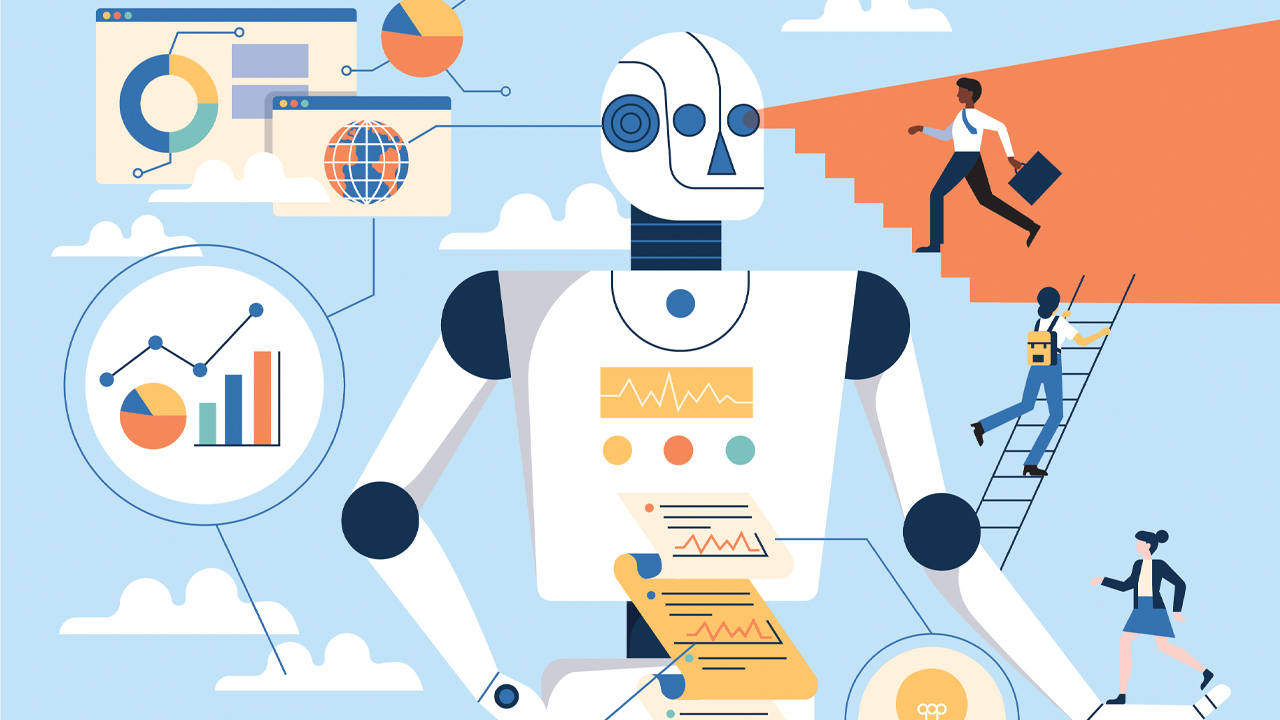 When historians look back on the start of the artificial intelligence technological revolution, they will likely point to 2010 as a major milestone year.
In February of that year, Apple launched Siri, an AI virtual assistant, which revolutionized the way people interact with technology.
Just 10 years later, video conferencing, cloud technologies and customer service chatbots are the norm.
Today, business leaders are using more robotic process automation (RPA), which is software that's programmed for basic and repetitive tasks. Intelligent automation (IA) goes a step further by combining RPA with artificial intelligence for greater automation of business processes.
Sometimes people overcomplicate the issue of technology, and I think they forget that it's just another solution to an age-old problem.

Shelby Austin

CEO, Arteria AI
This transformation is moving at rocket speed, according to Peter Miscovich, managing director of strategy and innovation at JLL and author of the book "The Workplace You Need Now: Shaping Spaces for the Future of Work."
Major shifts in business technology are not 20 years off, he says. Rather, they're more like five years away for some sectors and 10 years for most. Miscovich says it's likely that between 2030 and 2040, businesses will be surrounded by an intelligent business environment that's embedded in almost every aspect of business.
The rapid move toward a highly technological workspace is echoed by ACG members in a Future of Work survey where more than 100 middle-market professionals were asked about the role of technology.
Sixty-seven percent of those surveyed said that more companies would need to implement additional technology solutions beyond what the pandemic required if remote work becomes truly permanent. Fifty-eight percent said they plan to accelerate technology implementation post-pandemic.
The office of tomorrow will require major changes to the way employees work because front-end and back-end processes will be significantly affected by the automation of tasks.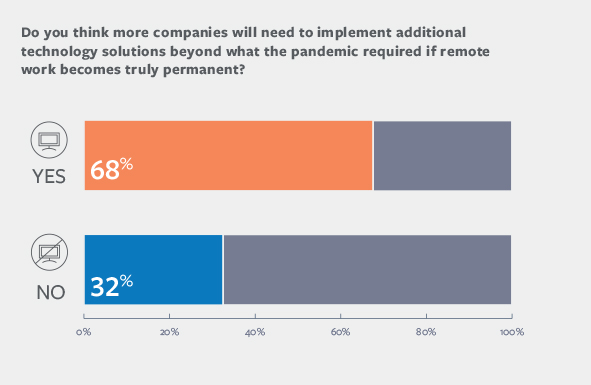 From a middle-market vantage point, organizations that make these strategic investments in intelligent automation will gain operational efficiencies, enhance the customer experience and digitally engage new prospects.
But it's not always easy to know what path to take with so many choices in a rapidly evolving environment.
"Sometimes people overcomplicate the issue of technology, and I think they forget that it's just another solution to an age-old problem," says Shelby Austin, CEO of Toronto-based Arteria AI, a technology company that uses artificial intelligence for the drafting, negotiation and analysis of contracts. "Technology is streamlining operations by being another tool in your toolbox to maximize revenue, minimize risk, enhance efficiency or delight customers, and it's not more complicated than that."
The Office of Tomorrow
Although the work-from-home trend had been gaining steam prior to 2020, the pandemic pushed that timeline forward by many years.
According to a Barclays report, "The Flexible Future: Reshaping How We Live and Work," the pandemic propelled businesses to adopt more technology, resulting in opportunities for more employee diversity, greater work-life balance and a larger talent pool from which to hire. The report also predicts that flexible work arrangements, smaller office settings and online spending will increase.
If you look at all of the career forecasts, data science is where the industry is going.

Neil Butten

Managing Director UK, Fulcrum Global Technologies
The report, which surveyed about 4,300 office-based workers and 1,500 senior decision-makers across six countries, indicates that 46% of surveyed employers cited flexibility for employees and employers as a reason why they support remote work. About 41% support it due to reduced commuting time. About 34% pointed to better retention of employees, while 32% said it was a cost savings. About 30% cited increased productivity as a reason for support.
Only a quarter of respondents said they wouldn't encourage remote work after the pandemic is no longer a factor.
Another repercussion will be that basic data processing-type jobs and more junior positions in data services and analytics will be automated out of the supply chain, says Neil Butten, managing director UK at Fulcrum Global Technologies, a Chicago-based software company that provides technology solutions for professional services firms. But other types of jobs will be highly sought after, he says.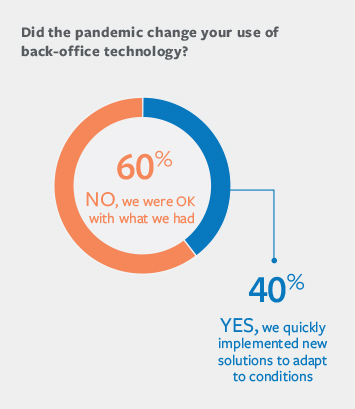 "If you look at all of the career forecasts, data science is where the industry is going," Butten says.
Miscovich says that for Fortune 500 companies in financial services, it's predicted that AI and the next generation of intelligent automation will reduce existing headcount by 30% to 40% at most organizations. The remaining 60% or 70% will need to be upskilled to work with these technologies.
"If you are trying to build your personal brand and develop relationships with mentors and colleagues and people who will be important to you, it's harder to do that when you are not in person," he says. "I have to get back on the road to tend to relationships, but I was able to maintain many relationships through Zoom because I have had them for 30 years. That's certainly harder to do when you are newer to the business."
Rapid changes in technology in the office of tomorrow will require continually upskilling or reskilling employees, says Brad Haller, a partner in mergers and acquisitions at Chicago-based West Monroe Partners, a business and technology consulting firm.
A McKinsey & Company report, "Defining the Skills Citizens Will Need in the Future World of Work," recommends establishing AI training programs, introducing a skill-based certificate system and ensuring that lifelong education is affordable.
While many employees may want to work from home, it's unlikely that most offices will be strictly remote, according to Miscovich.
"We will probably need a hybrid of both," he says. "Being in the office is a good thing and being flexible is a good thing."
The Barclays report notes that offices would become places that are most used for social interactions where employees are trained rather than places where task-based activities are undertaken. The report also predicts that office space across the country would drop by 10% to 20%.
Plus, remote work helps businesses cut costs.
"It removes attrition," Haller says. "Let's say it takes $100,000 to find and onboard an employee. If you are able to move your attrition rate from 20% to 15%, that is a huge amount of value. That is value to the bottom line. It's not productive to be spending on turnover. Work from home is a huge retention tool."
While AI may be superior at reducing errors, it will likely never evolve in our lifetime to a point where it will overtake most human functions.
"It can help spot a potential trend, but can't figure out a trend," Butten says.
Haller adds that business technologies would never replace positions like medical providers or airplane pilots because those jobs require complex variable analysis commonly referred to as gut feelings. AI can't display judgment learned from personal experiences and won't understand the nuances of many human experiences, he says.
Miscovich agrees, noting that while AI will evolve, it won't reach a point where most human functions are replaced in the near future.
"General intelligence may never be obtained," he says. "Everyone thought AI and autonomous vehicles would be here already. Driving a car is so complex that it's not simple for AI-enabled autonomous vehicles to drive around a city. We do have autonomous trucks that drive in straight long-distance corridors, and AI does well there, but where you have complexity, it doesn't work as well."
Evolving Customer Service and Back-office Paperwork
Today, many private equity firms are investing in customer experience technology that can identify who their best customers are, using that information to prioritize their customer service.
For instance, first-time buyers would be deprioritized over other customers who buy regularly since it's easier to retain loyal customers, Haller explains.
In another example, if repeat customers didn't receive their products on time and are unhappy as a result, customer service technology could identify that type of customer. Then, the company would be flagged to pay extra attention to those customers, he says.
Ninety percent of Gen Z would rather speak to an AI-enabled robot than a person for financial advice, this is a shift.

Peter Miscovich

Managing Director of Strategy and Innovation, JLL
Another benefit is identifying customers who may be dissatisfied based on interaction with chatbots. If certain customers continually request to talk to a person when interacting with chatbots, business technology will track that and mitigate potential issues. Some problems aren't best handled by AI, and a person needs to step in.
"People do want to talk to humans, and they have more confidence in that, but you can apply both strategies," Haller says. "Allow the humans to manage the exceptions."
Customer service experience technology is certainly growing, especially in sectors like banking, where customers are talking to AI-enabled voice-activated robots that can respond with more empathy than a person.
While some older customers may still prefer to talk to people, younger customers raised with more technology will likely prefer it.
"Ninety percent of Gen Z would rather speak to an AI-enabled robot than a person for financial advice; this is a shift," Miscovich says.
The back office will also be affected significantly by business technology—even more than it already has been. As automation takes over repetitive tasks, it will cut down on paperwork and reduce errors.
Another important facet is the speed of data access. For example, for financial benchmarking, if a company isn't able to access a particular insight about a key client in a couple of hours, it's time to invest in technology that will do that, Butten says.
But it's not just the speed of access that matters; it's also the speed of data assessment by people who are reading automated reports. That's why AI data visualization is another key component, so that reports are quickly and easily understood.
"Gone are the days of monolithic spreadsheets and thousand-page reports," Butten says. "It's much more about visualization and readily consumable data."
Business technology will continue to evolve to help spot potential problems. For instance, Butten says machine learning has been used to identify potential risks in contracts. So instead of lawyers weeding through contracts, machine learning tools flag problematic portions for review.
Another growing trend revolves around storing back-office documents in the cloud. Doing so limits infrastructure and support costs, Haller says.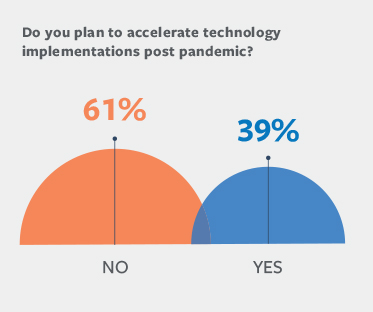 When to Invest in Technology
With so many choices and business technology advancements, it's not always easy for companies to know when to invest and where to put their dollars.
Butten says there are signs to keep an eye on. For example, if a company struggles to get reporting out the door or can't close the month-end in anything less than five days, it's time to invest in technology. Additionally, if a company has many people involved in basic transactional processes, that's another sign it's time to change.
Haller advises that investing in technology tools that generate revenue is more valuable than those that create efficiencies. Technology that allows companies to interact with customers, sell in new markets or retain customers is a better bet than technology that saves a few hours of employee time, he says.
Robotic process automation and intelligent automation should at least be on companies' radar if they aren't already, Miscovich says. He adds that it's critical for companies to do their homework about new technologies and what their competition has already adopted.
Arteria AI's Shelby Austin adds that change can be daunting for employees who may worry about their futures as technology reinvents the nature of their jobs. Because of that, it's vital for business leaders to get buy-in, so everyone is committed to following through with the technology implementation. She suggests business leaders find change champions who will work with them for a successful deployment.
Also, she says what's essential in making those decisions is figuring out the business problems that companies are trying to solve and whether or not technology will help solve those issues.
In the end, it comes down to taking calculated risks.
"You have to be prepared to get it a little bit wrong sometimes, but you have to do something in order to win," Austin says. "There has been a lot of research about whether you should be a first adopter and early follower, and I think those are good strategic choices and thoughtful choices, but if you refuse to engage at all, we know it will not end well."
---
Between May 28th and June 24th ACG surveyed more than 120 ACG members about work and technology.