Middle Market Growth is coming in print! Be on the lookout for the first mailed print edition of ACG's official publication, which will now be sent quarterly as an exclusive benefit to all ACG members. Archived editions of Middle Market Growth will continue to be offered through the magazine's companion website, middlemarketgrowth.org.
ON THE COVER //
AWP: Stopping Traffic with Technology
Area Wide Protective is simplifying the business of keeping roads safe with systems that screen and deploy flaggers to construction zones quickly and efficiently. Fresh capital from The Riverside Company is helping to expand the company's U.S. footprint amid increasing demand for infrastructure improvements.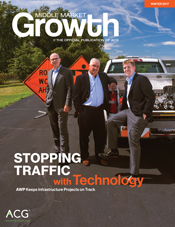 INSIDE THE ISSUE //
Sovereign Wealth Funds Spell Opportunity for Private Equity
Sovereign wealth funds—the giants set up by governments around the world for a range of projects—are upping their investment in private equity funds, including those focused on the middle market. Find out the best strategies to get on their radar.
Policy Points
Amber Landis, ACG Global's vice president of public policy, offers a roundup on progress in Washington, D.C., and a preview of the upcoming Middle-Market Public Policy Summit.
MidPoints by John Gabbert
PitchBook's John Gabbert takes a closer look at public-private partnerships between investors and the federal government that will jumpstart growth in U.S. infrastructure.
A Qualified Opinion
Jimmy Hawkins, president of commercial builder Leon Williams Contractors, offers practical strategies for midsize companies considering expanding their current facilities or moving into new offices.
---
GET INVOLVED //
Have a story idea? Please contact MMG Editor Deborah Cohen at dcohen@acg.org.
To learn more about advertising and sponsored content opportunities, please contact John Cahill at jcahill@acg.org.
Like a story? Share an article easily through email or your social media networks. Also, join us on Twitter @ACG_MMG.