PE Weekly: Dealmakers Target Manufacturing and Industrials
Acquisitions and exits announced in energy, machinery, pharmaceuticals and more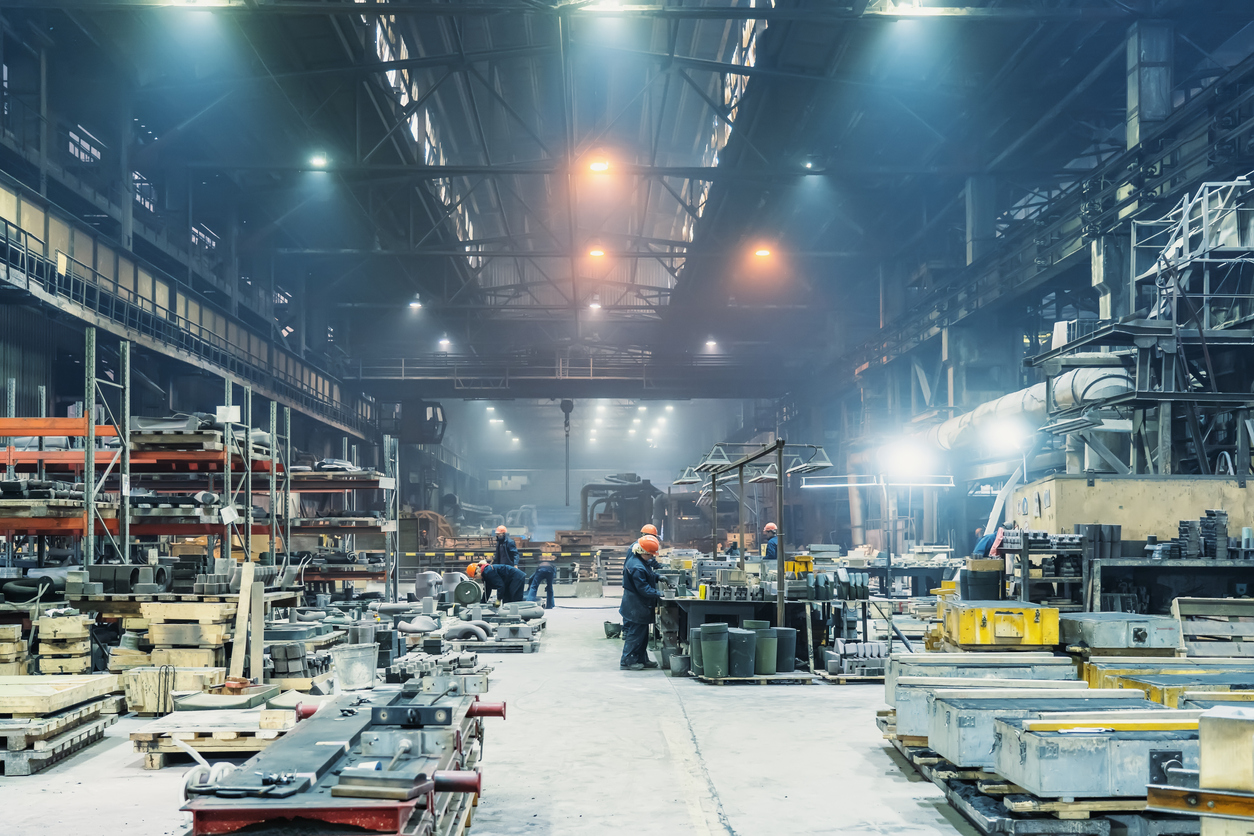 This week, M&A activity spread across a variety of industries, including healthcare and energy. But it was the industrials and manufacturing spaces that took the spotlight with new acquisitions and exits announced by Platte River, Praesidian Capital and others. We cover the latest transaction announcements, plus news from ACG's 101 Corridor Chapter, in our roundup below.
Manufacturing and Industrials
Platte River's Belt Power Acquires Dunham Robber & Belting
Belt Power, a distributor of belting and components for conveyor systems, and a portfolio company of middle-market private equity firm Platte River Equity, has announced its acquisition of Dunham Rubber & Belting Corporation. A recent press release said Dunham's belting operations service a variety of end-markets, including food processing, pharmaceuticals and more. Its takeover creates a new platform that will support Belt Power's expanded geographic footprint, strengthen fabrication capabilities and grow its technical sales operations, the announcement noted.
Praesidian Exits Ocean State Innovations
Middle-market private equity firm Praesidian Capital has announced the exit of its equity investment in Ocean State Innovations, a textile solutions provider, months after exiting its debt investment in the business. A recent press release said organic growth and strategic acquisitions supported Ocean State's growth since Praesidian first invested in the company in 2015. "The company is well capitalized and positioned for continued growth," said Praesidian founding partner Jason Drattell in a statement.
Capstreet Exits Allied Reliability
Lower middle-market private equity firm Capstreet has announced the successful exit of Allied Reliability, a business that provides reliability and predictive maintenance products and services for the manufacturing and processing markets. Pennzoil-Quaker State Company, a subsidiary of Shell, will acquire the assets. During its time as a Capstreet portfolio company, Allied Reliability expanded via organic growth and acquisitions. Capstreet first acquired T.F. Hudgins, then merged it with Allied Reliability to develop an end-to-end industrial equipment reliability solutions provider. The company made three subsequent add-on acquisitions. In a statement, Capstreet partner Adrian Guerra described the exit to Shell as "a good outcome for all parties."
Healthcare
The Vistria Group, GHO Acquire Alcami
Some dealmakers targeted the pharmaceutical manufacturing space specifically. Investment firm The Vistria Group and healthcare investment advisor Global Healthcare Opportunities (GHO Capital Partners) have announced their completed acquisition of pharmaceutical contract development and manufacturing organization Alcami Corporation. The acquisition was made with funds from private equity firms Madison Dearborn partners and Ampersand Capital Partners. GHO Capital and The Vistria Group have acquired 50/50 controlling interest in the business, while Ampersand and Alcami Management have reinvested equity as part of the transaction.
Northlane's SAI Acquires Fulcrum Research
The healthcare space also saw the acquisition of Fulcrum Research Group by SAI MedPartners, a portfolio company of Northlane Capital Partners. SAI offers consulting services to the pharmaceutical, biotechnology and medical device industries. In a statement, Fulcrum managing partner Erik Coats described the SAI as "an ideal partner for the next stage of Fulcrum's growth."
Energy
GenNx360's GenServe Acquires Illini Power Products
GenServe, a GenNx360 Capital Partners portfolio company that provides scheduled and emergency power generator maintenance and sales services, has made its ninth add-on acquisition. The business acquired Illini Power Products and its sister company, Gen-Power, both operating in the Chicago generator market servicing municipal and commercial end customers. In a statement, GenServe CEO Fred Smagorinsky said the acquisition "marks another major geographic extension for GenServe" as part of its broader buy-and-build strategy of expansion.
Allied's CES Power Acquires Global Power Systems
In another energy deal, mobile power generation, distribution and temperature control equipment provider CES Power has announced its acquisition of Global Power Systems, another power generator. CES Power is a portfolio company of industrial-focused private equity firm Allied Industrial Partners. Global Power Systems specializes in servicing the film and television industry, and will help CES Power expand its footprint in the Southeast region "and solidify our position as the preferred national provider in the studio power and HVAC space," said CES Power CEO Greg Landa. In another statement, AIP cofounders and managing partners Bradford Rossi and Philip Wright said the deal marks the latest example of the firm's buy-and-build model.
Misc.
Trinity Hunt's Aperture Acquires The Sage Group
Offering consulting in another vertical, construction, The Sage Group was acquired by Aperture, a portfolio company of Trinity Hunt Partners, a recent press release said. Both companies specialize in construction disputes, with Sage offering claim preparation, damage analysis, cost overrun evaluation, delays, construction defects and more. Aperture, meanwhile, offers forensic engineering and litigation dispute support across workplace safety, accident reconstruction, and construction claims.
Gemspring's Amplix Acquires Net7, Skyline Exhibits Acquires Skyline New York
In the technology space, Gemspring Capital portfolio company Amplix announced its acquisition of Net7 Solutions. Both companies are technology advisory service providers. In a statement, Amplix CEO Joe DeStefano said the addition of Net7 "will enhance the Amplix platform and help to further differentiate the lifecycle experience and data capabilities we provide."
Gespring Capital supported another acquisition announced this week in the niche vertical of trade show exhibitions. Gemspring's Skyline Exhibits announced the acquisition of its authorized dealer, Skyline New York, a deal that Skyline New York owner Bob Watson described as "a springboard for us to reach new heights for our clients."
ACG Chapter News
ACG 101 Corridor Celebrates Stars of the 101
ACG's 101 Corridor chapter highlighted its 7th Annual Stars of the 101 awards held last November, which included sponsor presentations from financial institution Union Bank and global talent solutions and business consulting firm Vaco.
The event spotlights top performers in the region, which includes Los Angeles, Ventura and San Louis Obispo counties. This year, ACG 101 Corridor highlighted Casa Pacifica, a nonprofit organization providing teen and family resources to support victims of abuse and neglect, substance abuse, homelessness, and other mental health and behavioral issues.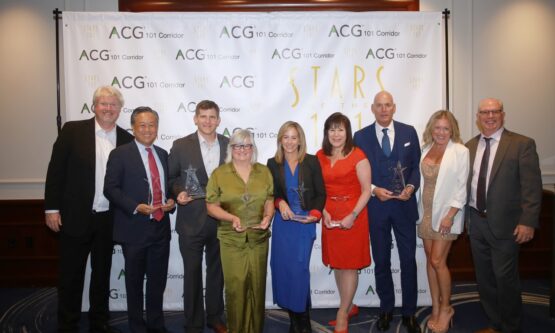 In a statement, Casa Pacifica CEO Shawna Morris said, "It was a wonderful event highlighting the best of our community."
Award winners this year include:
LA Rams – Champions of the Year
Sage Publishing – Industry Icon Award
Alsana – Social Impact Award
B. Riley Financial – Deal of the Year Award
Raw Sugar – Rising Star Award
Patagonia – Global Stewardship Award