'Revenge Travel' Breeds Opportunity in Hospitality Sector
Travel is back with a vengeance as many begin to put the pandemic in the past, and well-planned deals could reap the benefits.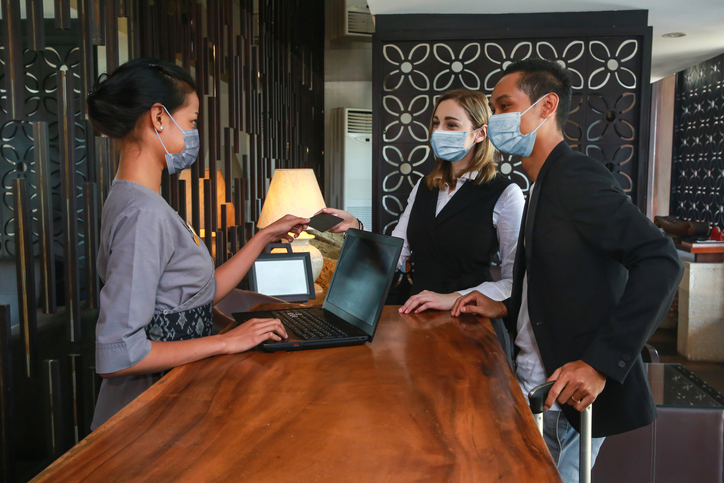 After more than a year of quarantines and lockdowns, travelers are making up for lost time, creating an uptick in demand for hospitality service providers. Industry watchers have dubbed this phenomenon "revenge traveling."
In October 2020, Denver-based private equity firm Lion Equity Partners acquired TY Group-Harbor Linen, a Miami-based company that supplies a wide variety of textile products to hospitality and health care clients. CEO Chris Nelson says many of TY-Harbor's hotel clients have occupancy levels they haven't seen since before the pandemic due to a phenomenon the industry is calling "revenge traveling," and it's providing uplift for a struggling industry.
"As guests start to stay in the properties, hotels are getting some revenue back," he says. "And as [hotels] start to get those heads in beds, we see them buying more products. The even better news is that they are starting to restock."
This edition of Next Target considers the near-term growth expected in the hospitality industry, as well as what lies beyond.
Supplies for the Home Away from Home
Few industries suffered more during the pandemic than hospitality venues—and companies that provide services and supplies to the sector were no different.
Blackford Capital, a PE firm based in Grand Rapids, Michigan, acquired Snowhite Textiles, an interior design and furnishings supplier company focused on the hospitality space, in March 2017. In the fall of 2019, the firm merged Vertically Integrated Products (VIP) with Snowhite Textiles, just in time for the coronavirus, which began spreading globally only a few months later. The combined firm carried the VIP name.
VIP's design and procurement work ranges from small renovations to multimillion-dollar contracts for new construction projects with hospitality clients that include Wyndham Hotels & Resorts, Hilton, Marriott, IHG and Choice Hotels. Most of the company's revenue comes from supplying furniture, fixtures and equipment. "For every design dollar that we get, we'll have $77 of procurement work," says Martin Stein, managing director and founder at Blackford.
VIP was kept afloat during the pandemic by already-committed design and procurement projects, but the company's backlog of work eventually ran out as hospitality venues stemmed capital expenditure and construction activity went into hibernation.
TY-Harbor also faced a dearth in demand for its product lineup as hospitality venues cut costs when travel restrictions were put in place. "Last year was horrible," remembers Nelson.
The company was sustained by its line of textile products for hospitals, but that didn't make up for the losses from its hospitality clients, which have included Carnival Cruise Lines and Jimmy Buffett's Margaritaville.
TY-Harbor was owned by retailer Bed, Bath and Beyond at the time. It was left with a full inventory and few places for it to go. What's more, the company couldn't pivot its product line to the consumer market due to incompatible cost structures and because commercial-grade linen requires cleaning equipment most consumers don't have, according to Nelson.
Nowhere to Go but Up
Despite immense challenges faced by VIP and TY-Harbor during the pandemic, both companies managed to turn their fortunes around.
During the fall of 2020, Blackford began looking ahead to the post-pandemic conditions of the hospitality industry, sensing growth potential in travel and leisure as vaccines began rolling out.
Taking a bet that the travel and hospitality industry was on the verge of recovery, Stein says Blackford had to scale up to take full advantage of it. In March, Blackford acquired Boston Trade Interior Solutions, and merged the company with VIP.
The bet paid off. Stein says the combined entity, now called Boston Trade, is booking more design work than ever, growing between 300%-400%. And procurement work is expected to follow in a similar trajectory.
"We cleared in May more design revenues than we had in our highest year previously. And that is the best indicator for future revenues for sure," Stein says.
For TY-Harbor, the demand for its products eventually returned, and like others in the industry, they were soon selling products faster than they could replenish stockpiles from overseas.
"It has really been like the perfect storm," says Nelson. "The boat is going up and down and we, alongside of our customers, are surfing it the best we can."
TY-Harbor's resiliency during the pandemic is what made the company an attractive asset to Lion Equity Partners, a Denver-based PE firm, which acquired it from Bed, Bath and Beyond in October 2020.
Opportunity Remains After 'Revenge Travel'
Both Stein and Nelson credit the sudden recovery of hospitality to the 'revenge travel' trend observed early in 2021.
Despite its rapid onset in the spring of 2021, the recovery of the hospitality space is no temporary phenomenon. Business travel currently lags behind leisure travel, so the steady return of business travel could pair well with longer-term commitments in the space.
There's additional room for growth as hotels update their spaces to meet expectations in a post-COVID world. Consumers are looking for spaces that are more conducive to remote work and that feel cleaner and fresher. By way of example, Greg Kadens, CEO of Boston Trade, says some hotels are considering replacing carpet with easy to clean hard flooring like luxury vinyl plank.
He expects a slowdown in new construction to affect the hospitality industry for the next three to five years, but there won't be a shortage of work for his company.
"Without a lot of new inventory coming into the market, hoteliers are going to be super focused on creating the best product they can to attract people," he says. "Clients are going to be a lot more discerning about the hotels they patronize because they want nice spaces and clean rooms."
All in all, future outlook on the hospitality industry remains positive among investors.
"We remain bullish on the hospitality sector and have already seen encouraging trends from the industry and our business performance," says Aaron Polack, the head of business development at Lion Equity.
Blackford's Stein is similarly optimistic about the firm's commitment to hospitality services.
"You can sometimes find out what you and the company and the business model are made of when you are going through hard times, and that's exactly what [Boston Trade] did," Stein says. "From our standpoint as an investor and a capital partner, we're definitely interested in contributing more to this space and this company with this team."
Grata Search Analysis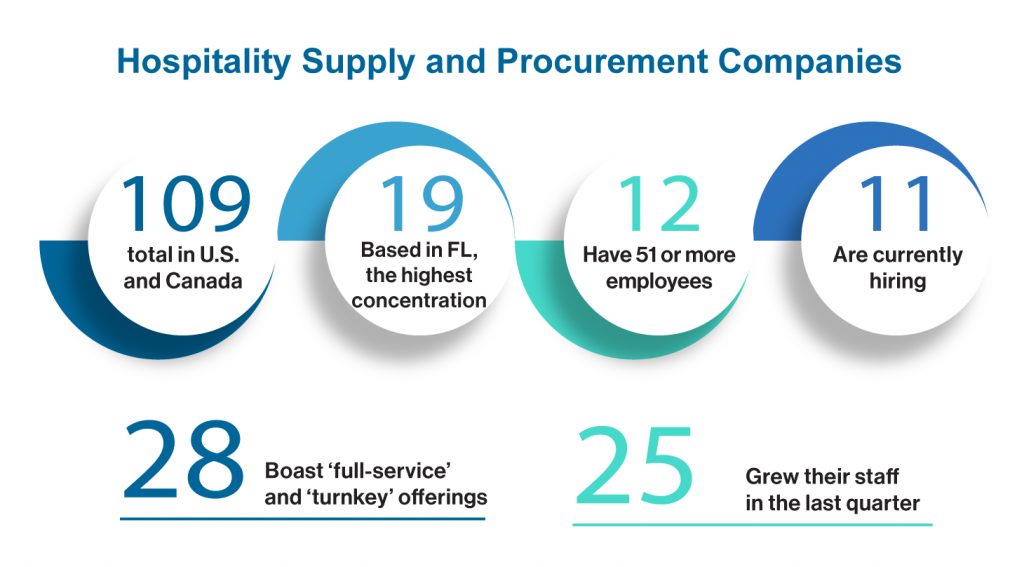 We used the Grata search platform to explore companies that are adjacent enough to the hotel industry to be affected by travel trends, but not severely impacted by the current volatility in real estate and construction.
The results center around procurement companies that label their services as FF&E (furniture, fixtures, and equipment) and OS&E (operations, supply and equipment). We also layered in companies like TY-Harbor that concentrate on supplying textiles.
Benjamin Glick is Middle Market Growth's associate editor.