The Case for Investing in Early Childhood Education
A look at the recovery of the childcare market post-pandemic.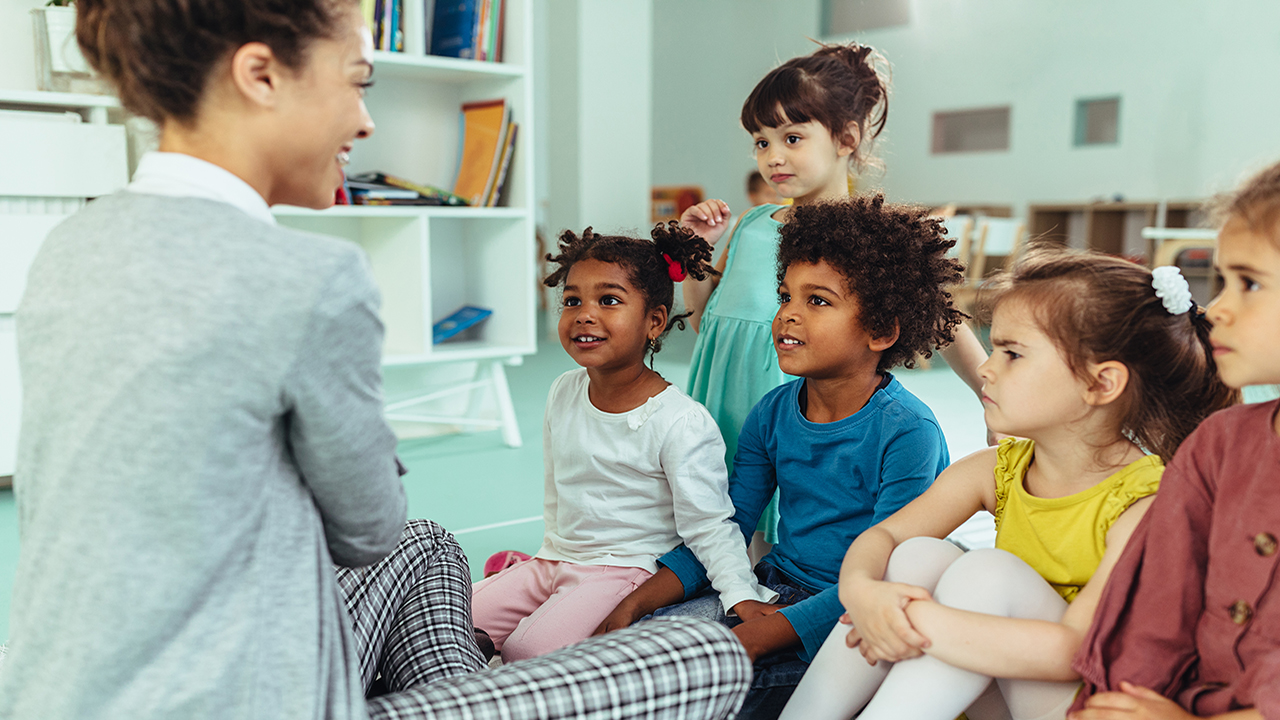 As the world rebuilds post-pandemic, education is a top priority for individuals and policymakers. There's a growing sense of urgency as leaders consider the potentially detrimental and long-lasting effects of widespread school closures. Groups like the World Bank have pointed to challenges in K-12 education, but these problems extend to the higher ed level and beyond. Private investment has a critical role alongside—or despite—regulators to address these challenges.
"I think there's a really interesting game to be played in terms of finding solutions that make education better and less expensive and at the same time generate a good return to investors," said John Katzman, a long-time entrepreneur and investor in the education sector. "It's important to me that the private sector is involved, but they are involved in the right way."
In this and the following two editions of Next Target, we explore some of the right ways private equity can get involved in solving challenges in education, from preschool to post-bachelor's education, and in the burgeoning "EdTech" sector.
The series presents insights from PE professionals, educators, policy experts and entrepreneurs, then uses the Grata search platform to investigate the potential niches they discuss.
To kick off this series, we'll look at early childhood education.
Education
Does the Case for Investing in Preschools Still Stand?
Mark Gartner is a father of two young children; he's also head of investment development at Clearlight Partners, a private equity firm. Gartner drew inspiration from his own life to develop an investment thesis around private preschools.
"Generally speaking, a well-managed mature school can generate $2-3MM of annual revenue with 20-30% EBITDA margins. If you assume a build-out cost of $500k-1MM, then there is good rationale to grow via a greenfield, or de novo, strategy," Gartner writes.
His confidence in this market was virtually unshakeable as he developed it early last year—then the pandemic happened. By August, 20% of childcare workers were out of a job, and 80% of childcare providers expected to close permanently. The federal government has since bolstered the industry, and unemployment rates are ticking down—indicators that bode well for a strong recovery for the childcare industry.
Procare Solutions provides business management software to childcare companies. They've polled their 30,000 users to track how the industry is responding to the pandemic. According to their March report:
60% of centers closed after March 2020
76% of those centers have now reopened
Centers are operating at 58% of their pre-pandemic capacity, the highest point since bottoming out at 13% last April.
Procare's user data suggests the childcare industry is recovering, especially in states that are experiencing a population boom. Idaho, for instance, is at 94% of centers reopened at 75% capacity. This is in line with what Derek Cummings—head of the Creation Village school in Florida—is seeing in his community:
"Here in Florida, because unemployment is so low, the market is back. Our demand and waitlists are growing each day. We have a high volume of interest, and I think the market is definitely back from what some of the centers we know of are saying."
Cummings goes on to explain why he's bullish about the future of the industry:
"I do believe that there is a strong movement within policy, whether it be from a state level or federal level, to support people going back to work and having a place for their child. … I think the market is going to continue to grow and strengthen. I also believe that you will see a lot more corporate partnerships working with centers themselves."
For investors who agree with Cummings' outlook and are ready to investigate the market, Gartner gives detailed advice about what characteristics to look for in a target. Some of his criteria have been used to filter within the Grata search platform, giving a sense of how many potential targets exist in the North American market.
The baseline search found 533 companies with two or more locations.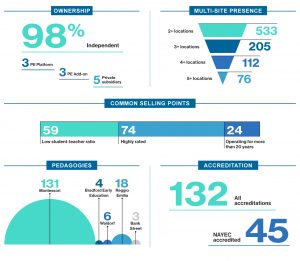 Trend Alert: What's Next in Early Childhood Education
While there's enough evidence to be hopeful about the near future of the childcare market, there's still enough incertainly to wonder how the market may evolve over the next decade.
Derek Cummings, head of schools of Creation Village, sees one synergistic model emerging that doesn't rely on government funding. He describes partnerships where employers can offer a benefit that helps keep their workforce engaged and productive, while the childcare provider benefits from a sustainable feeder system.
While very large employers may already have similar offerings, Cummings says the middle market is where opportunity lies:
"Think about a corporate park that has a lot of these mid-tier companies. If, as a childcare company you can close to one of these corporate parks and form partnerships, you don't have to do marketing. Now you're long-term' now you're engrained in the community. Now you're seen as a key benefit, not an auxiliary service. That's a huge shift for most of the childcare industry."
John Katzman, a long-time investor and entrepreneur in the education space is seeing another model unfold that could be ripe for private equity in a few years. Watch the video to learn more.

Candace Adorka is a content editor for Next Target and Middle Market Growth.