MMG Workplace Award Winner: AMS Fulfillment
Ever since logistics provider AMS Fulfillment became a B-Corp in 2017, the company has eagerly pursued a culture of inclusive workplace development.
This story originally appeared in the Spring 2021 print edition of the Middle Market Growth Awards Special Report. Read the full report in the archive.
---
Workforce development is something that comes naturally to Ken Wiseman. He graduated with a bachelor's degree in early childhood development and began a master's degree in special education. Although Wiseman switched to business and earned an MBA, he never forgot his initial passion.
"It's in my DNA to work with folks that have come to the world with challenges," says Wiseman, who now serves as the chief workforce development officer at AMS Fulfillment.
Based in Valencia, California, AMS is an outsourced logistics provider that offers order management, warehouse and inventory management, reverse logistics and other value-added, complex fulfillment services to consumer products companies primarily in the beauty and cosmetics, apparel, footwear and accessories sectors.
In 2017, AMS became certified as a B-Corp and is legally accountable for meeting high standards of social and environmental performance. Only about 3,500 companies meet the standard globally, according to B Lab, the classification's certifying body. Other B-Corps include recognizable brands like Ben & Jerry's and Patagonia.
"AMS keeps its community on its mind by dedicating energy, effort and financial resources toward developing numerous programs for potential and current employees, supporting, charitable organizations and employee opportunities," says Wiseman.
As a B-Corp, AMS receives funding from county, state and federal agencies, which the company uses to support its efforts to provide extensive training to employees from underserved communities.
The company has more than 400 employees spread across its seven locations throughout the U.S. A large portion of its talent pool includes employees who were formerly incarcerated, individuals with physical and cognitive disabilities, youth from at-risk communities and others struggling to maintain employment.
Essentially, we exist almost as a not-for-profit, even though we're a for-profit company.

Ken Wiseman

Chief Workplace Development Officer, AMS Fulfillment
To reach these communities, AMS has partnered with almost a dozen agencies, including Pleasantview Industries, a nonprofit that provides training and support to consumers with developmental disabilities, and Los Angeles County's Workforce Development Department, to help youth and adults with criminal backgrounds, disabilities and other challenges to employment.
"Essentially, we exist almost as a not-for-profit, even though we're a for-profit company," Wiseman says. "It opens doors for us to be considered more like an agency in terms of what we do for the area of workforce development."
In 2019, Wiseman, also a co-founder of AMS, stepped down as CEO to focus exclusively on the company's workforce development efforts.
When a company has as many obligations to local and federal government entities as AMS does, it may be interpreted as a liability, but Fort Point Capital saw value in the company's B-Corp status.
"We were immediately impressed by the strength of its management team and firm culture," says Christina Pai, partner of Fort Point Capital, a Boston-based private equity firm that acquired AMS in 2019. "Clients and sales prospects are intrigued, inspired and attracted by AMS's cultural programs, including its B-Corp status. This has driven excellent new client revenue, attracting many socially and environmentally conscious businesses."
According to Pai, AMS's executive team, including Wiseman and current CEO Jay Catlin, had developed a service offering that ingrained the company within its customer base. The company is the sole fulfillment provider for 95% of its clients, providing complex technology and customer service support, IT outsourcing, customized software integrations, freight management, reverse logistics and more.
"Additionally, its focus on attractive, recession-resistant end markets, including beauty/cosmetics, and its embedded growth potential made for an attractive investment opportunity," Pai says.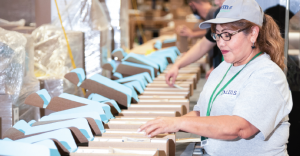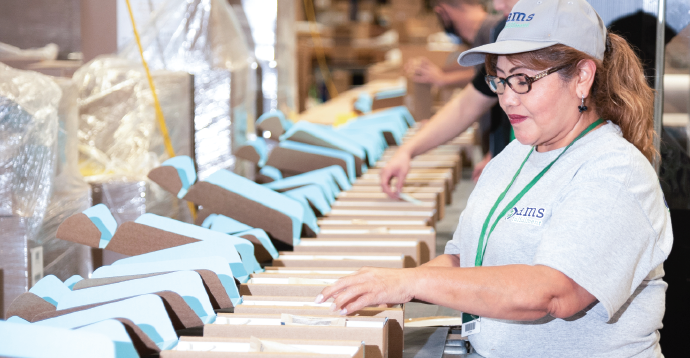 A Commitment to Employees
Fort Point has been supportive of investing in AMS employees to help build the company's workplace culture. Throughout the past few years, the firm continued supporting AMS's B-Corp efforts, diversity and inclusion initiatives, and its work with local hiring organizations.
AMS prides itself on fostering a diverse and inclusive workforce through partnerships forged with county, state and federal agencies that have provided funding to support AMS to employ and provide training for its staff.
AMS hired 150 people in 2020, and approximately 45% of those hires were referrals from its community partners.
Once onboarded, AMS supports its employees with continuing education opportunities. In 2016, the company established a 2,500-square-foot computer and classroom learning center.
After a brief closure due to the coronavirus outbreak in 2020, AMS reopened the learning facility in June. Since then, the company has logged nearly 1,600 hours of employee training. Workplace safety, leadership training, resume writing and tutorials in Microsoft Excel were just a few of the courses offered.
If that seems excessive, Pai says it's worth the cost. While some employees use their newly minted skills to find better job opportunities elsewhere, the training programs have helped keep turnover rates low. In 2020, AMS had a turnover rate of around 20%—about half of the fulfillment industry's average, according to Pai.
Whenever a leadership position needs to be filled, AMS looks to its own employees first and conducts education and training for promising applicants. "The company provides training intended to help remind AMS's leaders to be more aware of forms of bias and drive home the importance of modeling inclusive behavior," Wiseman says.
Fort Point also supports the continued career advancement of the company's diverse leadership positions, and is focused on bringing additional diverse viewpoints into the boardroom. AMS has a significant number of directors, vice presidents and C-suite executives who are either women or from underrepresented minority groups.
During the COVID-19 pandemic, Fort Point supported the AMS team further by encouraging substantial investment in virus safety equipment as well as culture enhancement initiatives, such as morale-boosting lunches and compensation bonuses for all employees.
Diversity, inclusivity and employee engagement efforts have driven strong employee morale and retention and, in turn, financial performance, contributing to a more than 30% increase in revenue over the last year.
Fort Point says it will continue supporting AMS's workplace and culture initiatives, which it plans to expand to the East Coast with its 2020 acquisition of EchoData, a fulfillment and distribution company based in New Holland, Pennsylvania. (Now called AMS East.)
The company's continued expansion means more work to grow its employee development efforts, which is good news for Wiseman. "It feels like I'm sort of returning to my roots," he says.