MMG Workplace Award Finalist: The PromptCare Companies
Thanks to proactive planning, The PromptCare Companies not only remained steady but experienced its finest hour in supplying material support for its employees and care for its patients.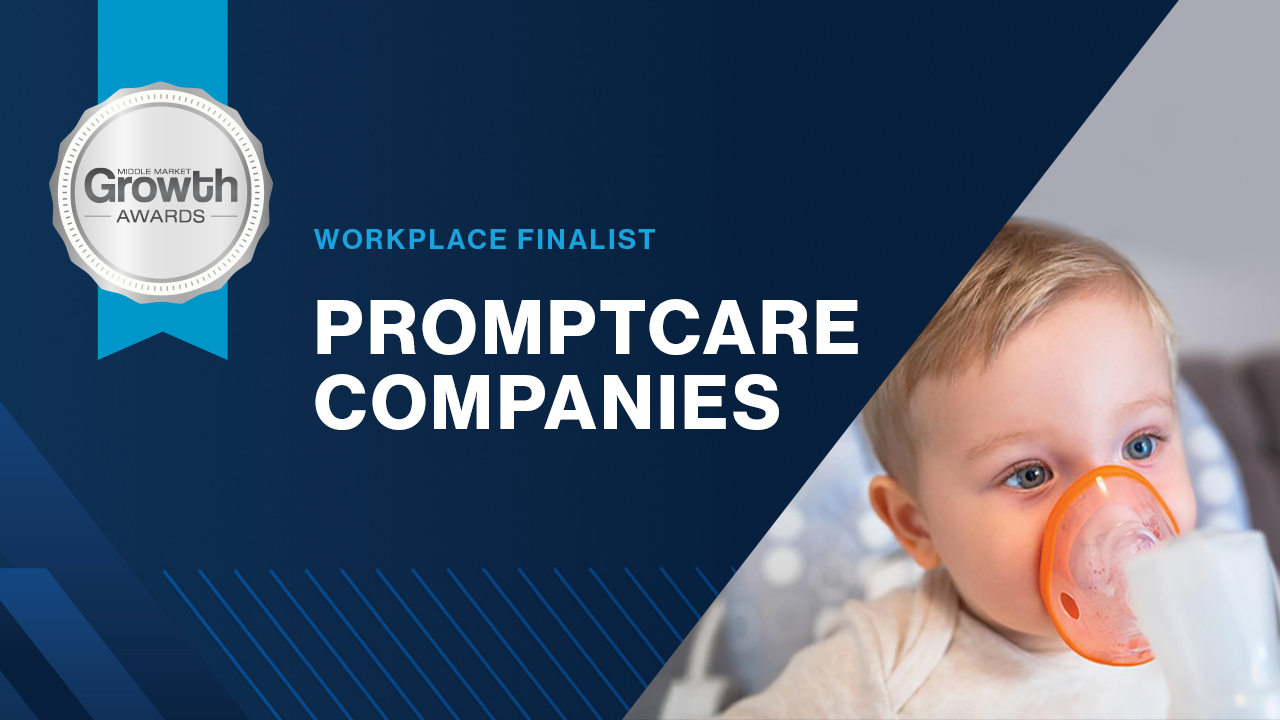 This story originally appeared in the Spring 2021 print edition of the Middle Market Growth Awards Special Report. Read the full report in the archive.
---
The COVID-19 pandemic hit health care services hard in 2020, including service providers of patients suffering from chronic conditions that require respiratory assistance—a lethal co-morbidity to the virus. But thanks to some proactive planning, one company not only remained steady but experienced its finest hour in supplying material support for its employees and care for its patients.
Established in 1985 and based in New Providence, New Jersey, The PromptCare Companies, Inc. is a provider of specialty infusion and respiratory services that treat more than 12,000 patients in 16 states across the Northeastern, Mid-Atlantic, and Southeastern U.S.
PromptCare is a preferred partner of large hospital systems, physicians, and payors in managing complex medical conditions, such as ALS, chronic lung conditions and a number of nutritional and autoimmune diseases.
While COVID-19 was unexpected for most companies nationwide, PromptCare had proactively built a crisis plan and was prepared to respond quickly, which COO Joe Poliseo attributes to lessons learned in previous emergencies.
"We lived through Hurricane Sandy that knocked out power for two weeks when we were a smaller and much less capable company than we are now," he says.
In the opening acts of the pandemic, Poliseo says the company's management team quickly snapped into action, moving approximately 80% of its workforce across its 28 locations to home settings almost immediately. Employees who couldn't work remotely—like pharmacists and logistical personnel—were able to work in a safe and isolated environment. PromptCare also managed to supply protective equipment to frontline workers, including nurses and respiratory therapists, whose work in patients' homes put them at the highest risk of exposure to the virus.
The company has always been proud of its service-oriented culture, which had an unexpected chance to shine this year, according to Scott Plumridge managing director of The Halifax Group, a Washington, D.C.-based private equity firm that acquired PromptCare in 2017.
"The management team was quick to marshal appropriate PPE and resources for field employees at the peak of the crisis," Plumridge says. "Staff was immediately switched to a work-from-home model when possible, and the company implemented staggered start times for those who had to be onsite to allow for appropriate social distancing."
PromptCare was a fast adopter of secure technology platforms, using them for patient check-ins, after-hours troubleshooting and other non-emergency services.
"Staff at all levels, including nurses, technicians and corporate staff, showed remarkable flexibility and an inclination to pursue the greater good," says PromptCare President and CEO Tom Voorhees. "They worked exceptionally hard to quickly get people out of hospitals and into their homes for care, freeing up critical hospital ventilators and other resources to treat COVID-19 patients."
To date, PromptCare's staff attentiveness and resourcefulness has meant that the company has not lost or turned down a single patient during the pandemic, Voorhees says. "The COVID-19 pandemic and the resulting challenges have allowed PromptCare to have its finest hour, serving both its patients and the broader community in a critical way."