MMG Workplace Award Finalist: AutoQuotes LLC
As part of its five-year plan, AutoQuotes, a provider of logistics technology, began a cultural transformation that propelled it to the level of many large companies in employee engagement.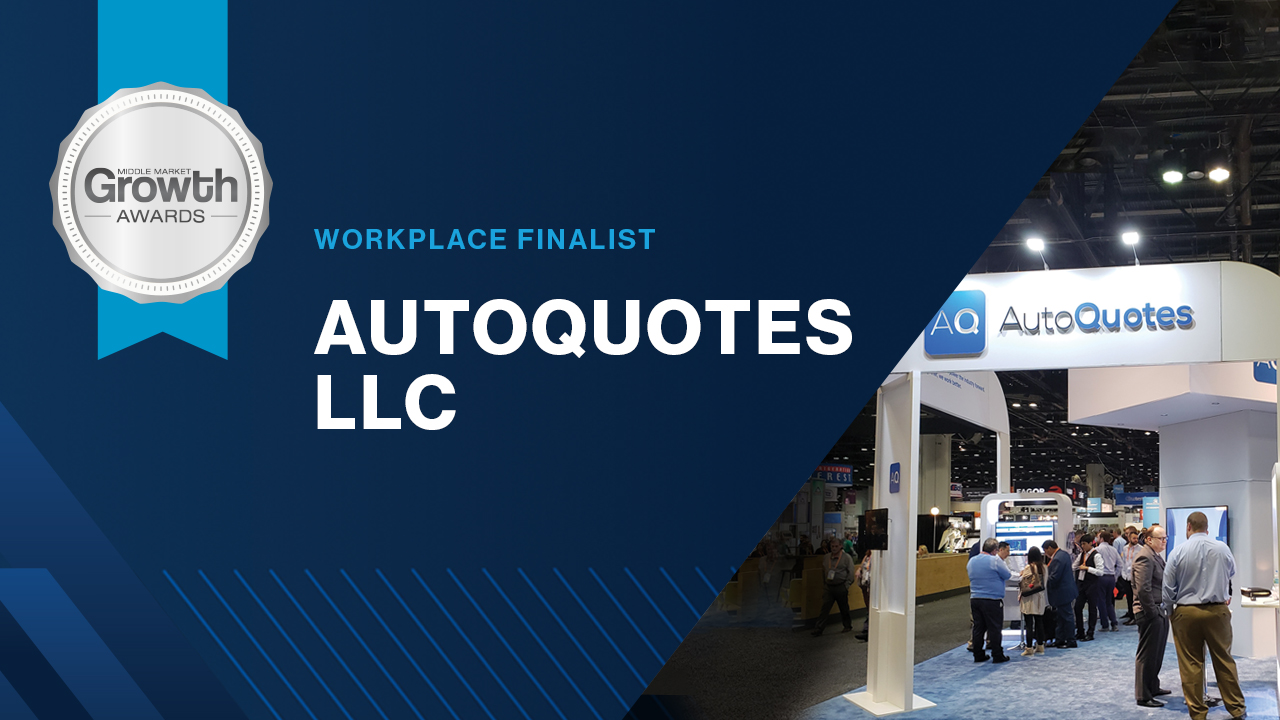 This story originally appeared in the Spring 2021 print edition of the Middle Market Growth Awards Special Report. Read the full report in the archive.
---
After transitioning from its founding family, AutoQuotes, LLC fostered a talent development initiative from the bottom up with the help of its private equity owner.
Headquartered in Jacksonville, Florida, AutoQuotes is a leading provider of technology solutions that enable sales of products for manufacturers and their distribution channels. Its software-as-a-service platform helps clients with design applications, visual configuration, guided selling, product information management, and data and integration products. The company serves customers throughout the Americas and Europe, through its other U.S. offices in Atlanta and Minneapolis, and its U.K. office in Birmingham.
Luminate Capital Partners, a private equity firm based in San Francisco, acquired AutoQuotes from its founding family in late 2018 and installed a new CEO and leadership team the following year. Immediately, the new team embarked on a robust cultural transformation initiative aimed at employee engagement, ownership of outcomes and talent development.
The team crafted a set of goals for the next five years. The goals included helping employees discover their "passion and purpose," and setting the tone for management to make decisions more independently, according to AutoQuotes CEO Jim Contardi.
"Because the broader team had never been entrusted with decisions or asked for their input, the process started out slowly, with excitement for some and trepidation for others," he says.
However, Contardi remembers a palpable sense of engagement during each quarterly planning cycle. "We had moved from a protective family culture with a sense of entitlement to a high-performing team culture with a sense of drive," he says.
By the end of the third quarter of 2020, external hires made up more than one-third of AutoQuotes' leadership team.
"This was driven in part by careful talent development," Contardi says.
As part of its five-year plan, AutoQuotes formed a "Culture Advocates Team," or CAT, to own the responsibility of nurturing this new culture and continuing its development. CAT organized the company's quarterly planning process and weekly stand-up meetings, as well as periodic social activities and philanthropic engagements.
The results were measurable. Early on, AutoQuotes' leadership team began tracking its Employee Net Promoter Score, or eNPS, a metric designed to gauge the percentage of employees likely to recommend the company as a place to work.
Through AutoQuotes' quarterly employee engagement surveys, the company found that before the initiative had begun, its eNPS was 3. But in its most recent survey, that score had risen to 63—a ranking similar to that of Apple and Hubspot.
The business impact of the cultural transformation initiative has been significant, even in a highly disruptive year.
According to Contardi, AutoQuotes' end market—a large portion of which is in commercial food service operations— was negatively impacted by the COVID-19 pandemic. Still, AutoQuotes grew new bookings and net new annual contract value for Q2 and Q3 on a year-over-year basis. That, in turn, drove growth in both revenue and EBITDA.