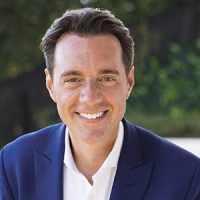 Martin Okner
Chairman, ACG Global Board of Directors and President and COO, dpHue
It's an exciting time to operate a midsize business for many reasons, not least of which is the rapid pace of technological change impacting organizations across industries.
It's an honor to assume the role of chairman of the ACG Global Board of Directors when so much innovation is happening within the middle market. I will step into the role on Sept. 1 following my predecessor, Angela MacPhee, and I look forward to the year ahead and the new initiatives underway at ACG.
I've seen the impact of technology firsthand working within the beauty industry, where I've spent the last 15 years of my career. Around 2012, digital transformation took the $800 billion industry by surprise and changed the entire marketing, distribution and supplier landscape within just three years.
This issue of Middle Market Growth explores a specific subset of technology—fintech—and how it's impacting middle-market companies and financial services. Fintech is often associated with business-to-consumer transactions, yet behind the scenes, it's transforming B2B functions and creating new opportunities for investors.
Fintech is also altering longstanding business models for banks, insurers and other financial services firms. With disruption comes both opportunity and uncertainty—and it makes ACG's community more valuable than ever. From panel discussions at chapter events to conversations with peers during networking receptions, ACG members have access to the expertise and relationships needed to navigate digital transformation.
ACG has long been a go-to source for expert intelligence, and we're expanding those offerings this fall with our inaugural Strategic Acquirer Summit, which will bring together corporate development professionals in Dallas on Nov. 4-5 for panel sessions, networking and more.
Another major priority for ACG is to advance middle-market issues in Washington, D.C. In June, more than 40 ACG members participated in our Middle-Market Fly-In to discuss the issues facing their businesses and clients with congressional staffers. It was inspiring to see so many ACG members participating in the democratic process, and it reflects the momentum building in Washington in support of middle-market issues ahead of the 2020 elections.
I'm honored to serve as your chairman at a time when the business landscape is evolving rapidly in the face of technological innovation and policy changes, and I can assure you that ACG will remain on the forefront of these developments to help channel their impact toward driving middle-market growth.
This letter originally appeared in the September/October 2019 issue of Middle Market Growth.