This story originally appeared in the September/October 2020 print edition of Middle Market Growth magazine. Read the full issue in the archive.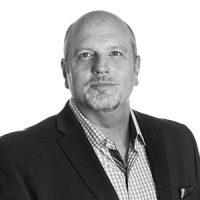 Tom Bohn, CAE, MBA
President and CEO, ACG Global
This year has called into question much of what we thought we knew.
The future of entire industries once considered stable, like travel and hospitality, is now uncertain. The stock market revealed itself to be untethered from the real economy. And who could have predicted 2020's hottest fashion trend would be the face mask?
At least one piece of pre-COVID wisdom has proven true: Necessity is the mother of invention.
After ACG was forced to cancel its InterGrowth conference in April, we knew we needed another way for our members to connect. With that goal in mind, we developed a custom software called ACG Access that allows users to request and confirm meetings, and host them within a secure platform. We introduced ACG Access in June during the inaugural virtual ACG Member Summit, and attendees accepted more than 5,500 meeting requests throughout the threeday event.
The summit also featured opportunities to network in a virtual conference space. Attendees traveled to different floors and joined open spots at networking tables to make new contacts and catch-up with existing relationships. They also heard from experts and peers during the summit's panel discussions and on-demand programming. You'll find more about that content in this issue's ACG@Work section.
For me, the enthusiastic participation in the summit speaks to something I suspected: There's power in connectivity, whether it's in person or within a virtual meeting room. ACG and its chapters will continue to host events using ACG Access, to help our members develop the relationships they need to do business in today's market.
To paraphrase a quote from this issue's cover story, the pandemic has shown just how important it is for organizations to be diversified and resilient, and it would be foolish not to take that lesson to heart. COVID-19 has prompted ACG to get creative in our offerings. In addition to ACG Access, we'll soon launch a new certification program for M&A professionals. Watch your inbox for more details.
Like most organizations today, ACG is learning and adapting in the current moment. Expect to see even more disruption to spur our continued innovation.