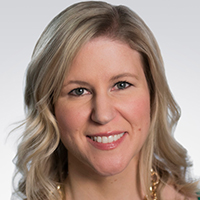 Angela MacPhee
Chairman, ACG Global Board of Directors
Partner, Baker Tilly
Human capital and talent management—the theme of this issue—are central to every organization. Financial considerations and access to capital play an important role in building great businesses, but they will only help a company get so far in the absence of strong relationships and skilled leaders and employees.
I can attest that having the right people is key to the success of an organization and its growth. Having recently led our firm through a combination with Baker Tilly, I have also seen firsthand how the right team becomes a huge contributor to the success of a deal.
ACG's board of directors is similarly tasked with ensuring ACG Global remains a strong organization with a clear strategic direction. Reflecting on where we've been and where we're headed is a purposeful pause that ACG practices every three to five years. We are currently in the process of refining organizational goals together with our strategic planning committee, and I'm pleased to report the exercise affirmed our mission to drive middle-market growth.
We know this to be true: Our value is in our people. Our voice is respected. And our future is here in North America as well as abroad.
ACG will remain focused on fostering a global network of middle- market M&A professionals and providing insights into the trends affecting deal flow. ACG and Source Media, LLC, recently agreed to discontinue complimentary member subscriptions to Mergers and Acquisitions®. ACG affirmed its commitment to our official publication, Middle Market Growth®, our exclusive channel to communicate with members and to report on middle-market dealmaking activity.
The middle market is a fascinating and vibrant place, whose economic contributions often go unacknowledged in the media and policymaking circles. Yet we know private capital is critical to the financial success of midsize companies and their ability to create jobs. That's possible thanks to every member of ACG and the network we've built together. ACG is an organization that depends on the contributions of volunteers in the industry—please consider joining a committee or the board of directors at your local ACG chapter.
In this issue, you'll find insights into how to build a great team within your own firm or a portfolio company, just as we're continually working to strengthen ACG. We are grateful to have you as a member and we look forward to continuing to be a place where you can build relationships and access resources to thrive in this industry.
This letter originally appeared in the March/April 2019 issue of Middle Market Growth.