MMG Innovation Award Finalist: Luck Stone
In 2020, Luck Stone launched JobSight, a digital platform that made its crushed stone, sand and gravel available around the clock.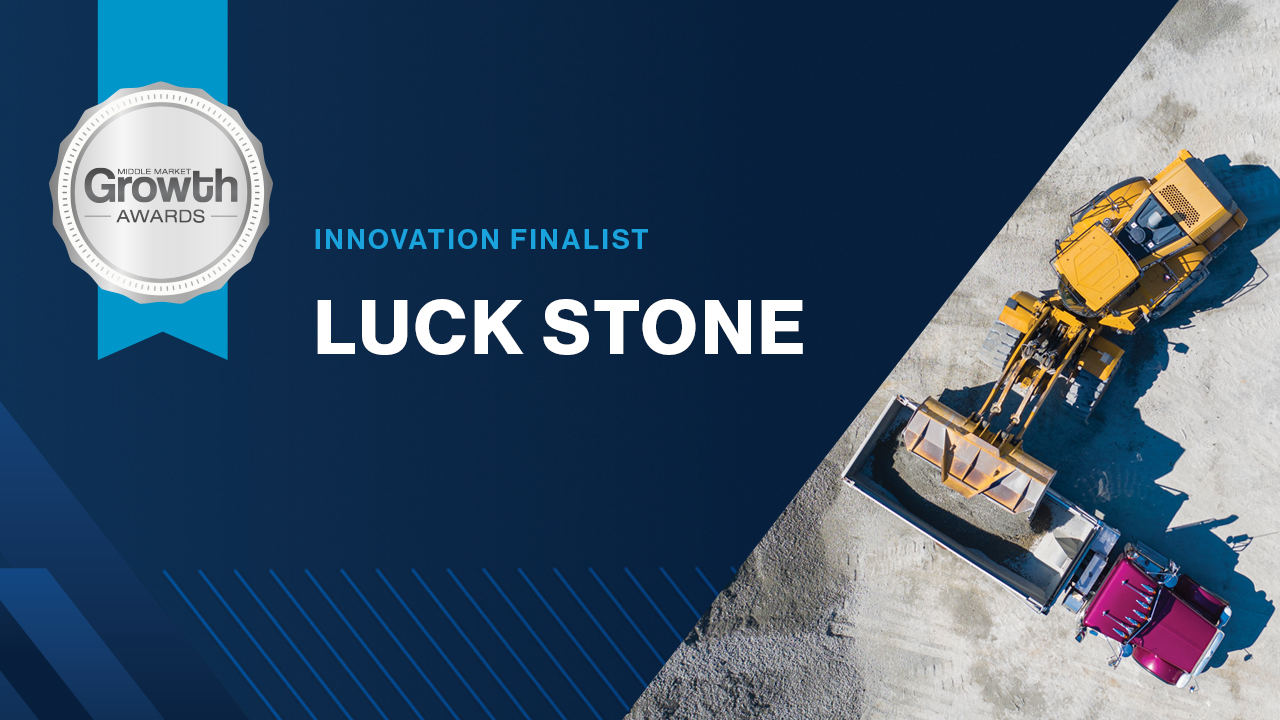 This story originally appeared in the Spring 2021 print edition of the Middle Market Growth Awards Special Report. Read the full report in the archive.
---
Building and rehabilitating roads, bridges and buildings is a difficult job, and customers of Luck Stone often work at all hours.
Knowing that it could help customers become more efficient, Luck Stone in 2020 launched JobSight, a new digital platform that means, in effect, that the doors of the largest family-owned producer of crushed stone, sand and gravel in the U.S. are always open.
Even in the middle of the night or from their cell phone, at a job site or on their home computer, customers can visit the platform to place orders and schedule deliveries.
"JobSight enables customers to easily engage with Luck Stone on any of their preferred devices," says Ryan Emmons, Luck Stone's vice president of information technology. "It quickly and conveniently connects them to our company, our products and our digital offerings."
Luck Stone, which was founded in 1923 and is headquartered in Richmond, Virginia, provides materials and services for roads, bridges and buildings throughout the Mid-Atlantic and Southeast.
The project to develop JobSight originated in 2019 as a collaboration between the company's Information Technology and Customer Experience teams.
With the COVID-19 pandemic placing unprecedented challenges on the nation's supply chain in 2020, John Pullen, chief growth officer for the company, says developing a digital platform that would be easy to use, accessible and would help customers thrive in a challenging business environment became even more important. Luck Stone surveyed its customers to find out what services they needed to run their businesses more effectively.
"Customers across our industry and geographic footprint told us that they would like the ability to place orders while working overnight, or frankly any time during a 24-hour period," says Billy Chenault, Luck Stone's vice president of customer experience. "In the past, they always had to wait until normal business hours."
Listening to customers' needs informed the platform's design in other ways, too.
"We built an online platform that also increases accuracy, reliability and speed in ordering crushed stone, sand and gravel," Emmons says. "Ultimately, this tool facilitates a more efficient process for all industry partners with less downtime and is available when customers are ready to move forward on their projects."
It took about a year for the in-house team, along with outside IT contractors who provided input, to develop the website—a cutting-edge offering within the industry.
"JobSight allows us to extend ourselves as trusted business partners providing high-quality aggregate materials for building and construction projects of all sizes via an online channel. We are dedicated to making the process easy and reliable so that projects can be completed on time and on budget," adds Chenault.
The company ensured the platform would meet customers' needs by pilot testing it with a few of them.
Andrew Cox, assistant project manager at Faulconer Construction Company in Charlottesville, Virginia, says the platform has reduced the hassle of accepting deliveries at a busy job site.
"Luck Stone's mobile ordering platform made it easy to specify exactly where stone was needed on our job site, which was critical because the site had significant access limitations," he says.
The company has helped another client estimate costs more accurately.
"The tool is an invaluable asset for us in job costing," says Jim Tracy, purchasing manager at William A. Hazel Inc., a site development and road construction business in Chantilly, Virginia. "We can access all of our tickets, download and separate them in Excel as needed, and see our daily activity in real time. There are other tools in the marketplace, but they are more cumbersome relative to Luck Stone's digital platform."
To date, customers have placed more than 4,600 orders through JobSight, resulting in the sale of more than 531,000 tons of material.
The company plans to upgrade the platform further to continue to meet customers' needs.