MMG Growth Engine Award Finalist: DSI Logistics
The pandemic's stay-at-home restrictions certainly helped DSI Logistics propel revenues in 2020, but a broad diversification strategy also drove growth.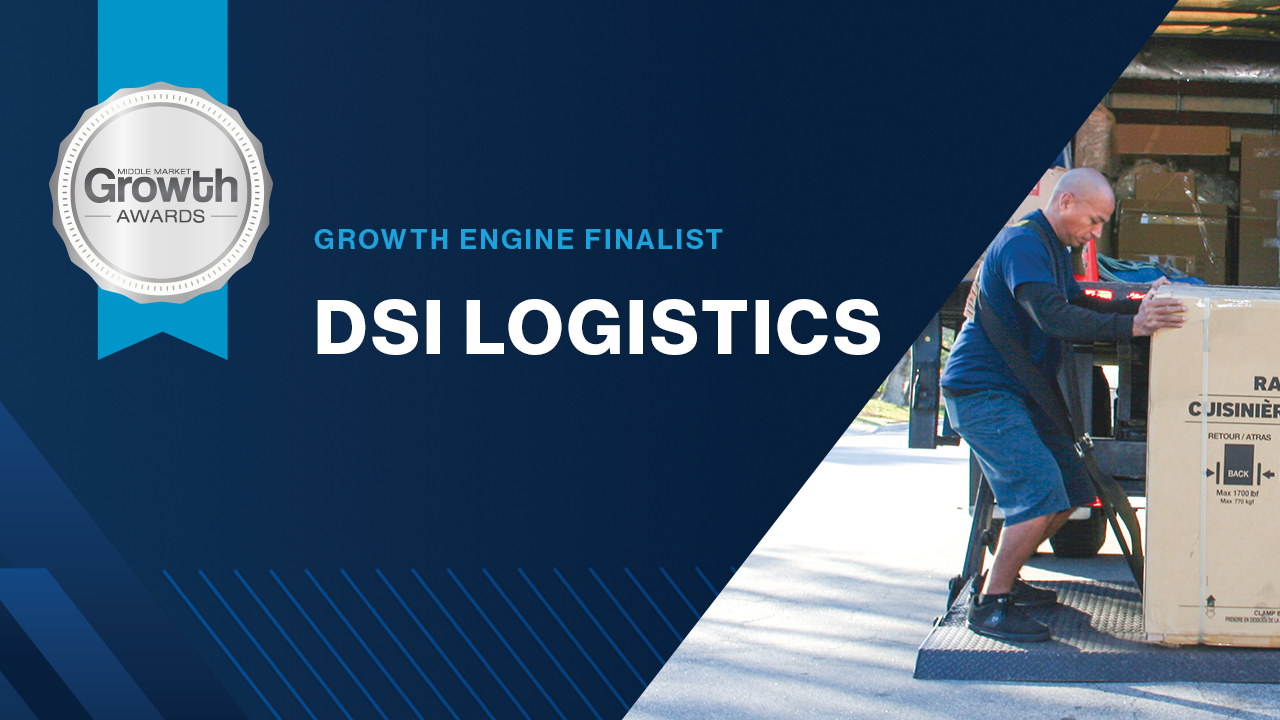 This story originally appeared in the Spring 2021 print edition of the Middle Market Growth Awards Special Report. Read the full report in the archive.
---
As the pandemic's stay-at-home restrictions compelled consumers to purchase items like new sofas and flat-screen TVs, demand increased for the services of third-party logistics firm DSI Logistics LLC. Headquartered in Brea, California, DSI specializes in "white glove" home delivery—meaning, the delivery and installation of large, bulky items like furniture, electronics and appliances.
By October 2020, the company's revenue reached $148 million, a year-over-year increase of 38%. That growth wasn't just fueled by pandemic-related buying sprees. A strong focus on increasing customer diversification and growing wallet-share with existing customers such as Lowe's, Best Buy and Williams Sonoma also helped drive revenue. "We estimate that final-mile deliveries of big and bulky products have been growing at approximately 12% per year, so DSI's over 20% annual revenue growth rate over multiple years is outpacing both the market and its peers," says Keven Shanahan, a partner at Argosy Private Equity, a firm based outside of Philadelphia and one of DSI's investors.
After acquiring DSI in January 2019, Argosy and Headhaul Capital Partners, a PE firm based in Greenwich, Connecticut, helped build an operational foundation to support the company. "They were extremely helpful and influential in our growth," says Jim Forman, DSI's CEO. "Since their investment, we have added a COO, CFO and a chief compliance officer to strengthen our team." In addition, Argosy and Headhaul encouraged DSI to upgrade its IT infrastructure, which included a new call center solution, new accounting software and a complete shift to cloud computing.
"The most impressive aspect of DSI's strong growth over the last two years is that management was able to accomplish this—which included entering 15 new states and markets— while still maintaining the high level of customer service that our clients have come to expect," says Seth Wilson, Headhaul Capital's managing partner.
Our biggest challenge was executing on substantial growth in the middle of the Covid pandemic.

Jim Forman

CEO, DSI Logistics
Because DSI's service involves entering consumers' homes, the company had to quickly implement additional precautions in 2020. "Our biggest challenge was executing on substantial growth in the middle of the COVID pandemic," Forman says. "We needed to dramatically increase our safety procedures to make sure both our teams and customers were out of harm's way. In addition to supplying the teams with sufficient PPE, a lot of our focus was on educating both the installers and the homeowner on appropriate ways to interact while the teams were in the house."
With national operations covering 29 states and 40 markets, DSI is paving the way for future growth. The company is expanding its core logistics offerings with two recently launched services. "We are now managing cross-dock operations for one of our customers, which we believe should enable us to move deeper into our customers' supply chains," Forman says. "In addition, we have also launched a complex installation service where we are delivering and installing multiple appliances in one visit to provide homeowners and contractors a one-stop solution."