Application deadline extended to Dec. 15, 2020
The Middle Market Growth Awards recognize exceptional middle-market companies across four categories. A fifth category honors rising young professionals working in the middle market.
Finalists and winners will be selected by a panel of expert judges selected by the Middle Market Growth team, based on the editorial criteria set for each award.
Finalists in each category will be featured in a special edition of Middle Market Growth published in Spring 2021. Winners will be recognized at the Association for Corporate Growth's InterGrowth conference at the Fontainebleau in Miami, April 26-28, 2021.
CATEGORIES
Application forms for each category are available below*: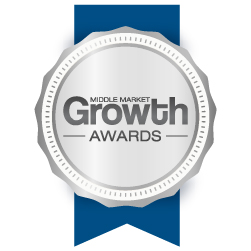 MMG Growth Engine Award 
An organization that has demonstrated remarkable growth over the past year, either through M&A, organic growth, new locations, and/or the addition or expansion of product and service lines. Apply here.
MMG Job Creator Award 
An organization that can demonstrate significant job creation over the past year, or that can demonstrate creative and effective strategies for retaining jobs during the COVID-19 crisis. Apply here.
MMG Innovation Award 
Brought to you by Cambridge Global Payments
An organization that can demonstrate a newly introduced or expanded offering over the past year that represents a notable innovation within its industry. This could include a new product, a service performed in a new or innovative way, or a product or service delivered at an unprecedented scale, for example. Apply here.
MMG Workplace Award 
Brought to you by Insperity
An organization that can demonstrate a vibrant corporate culture, through strong employee retention and engagement, innovative benefits, or a compelling recruitment proposition for prospective hires. Apply here.
MMG Young Professionals Awards 
Up to 10 professionals with fewer than 15 years of experience will be awarded for their accomplishments working within a middle-market operating company, or in an investor or advisory capacity working directly with middle-market businesses or on M&A activities. Apply here.
*Information provided on the application forms must be able to be shared publicly. Applicants should ensure all information is accurate and in compliance with any regulations they are subject to. Applications will be evaluated on activities, metrics and milestones achieved over the past 12 months.
HOW TO APPLY
Organizations and young professionals interested in applying for a Middle Market Growth Award should fill out an application in the relevant category, available via the links above.
WHO SHOULD APPLY
For the corporate categories, the applicant should be a middle-market business with $10 million to $1 billion of revenue, headquartered in the United States or Canada.
Investors, advisers and other partners are encouraged to apply on behalf of a middle-market client. All details provided on the application form will be verified with the company prior to judging.
For the Young Professionals awards, the applicant should work within or alongside middle-market companies and have fewer than 15 years of experience in the industry.
Key Dates
October 1, 2020
Award applications open
December 15, 2020*
*Deadline has been extended from November 30
Applications close at 11:59 Central Time
December 2020
Applications are reviewed by an esteemed panel of industry leaders
January 2021
Finalists are contacted and interviewed for a profile in Middle Market Growth
February 2021
Winners are notified
April 2021
Special print edition of Middle Market Growth is mailed
April 26-28, 2021
Winners are recognized at ACG's InterGrowth conference
MORE INFORMATION
For questions or to learn more, contact Katie Mulligan, editor in chief of Middle Market Growth, at kmulligan@acg.org.