You've been attending ACG events and coffee meetings and are developing relationships with other professional advisers in your community. At some point, you get a call from another member who suggests you speak with one of their clients.
If you agree that you can never get enough of these calls, why is it that so many advisers approach these introductions like they happen all the time?
Business Development Myths
When you decided to pursue a career in accounting, banking, consulting, insurance, law, private equity, real estate or wealth management (aka "a professional adviser"), your motivation most likely had nothing to do with wanting to become a salesperson. If you've had any sales training at all, it was probably informal and influenced—positively or negatively—by someone else's beliefs. You may also believe one or both of the following statements: A lead equals a qualified business opportunity, and your technical expertise will win an engagement.
What if neither were true?
An introduction from your fellow ACG members is the start, rather than the end, of a process. And today, middle-market business owners or C-suite leaders can self-source multiple, equally capable advisers. Your subject matter expertise may help you get the first meeting. But how do you conduct an effective discovery meeting that leads to an engagement letter, financing commitment, statement of work or broker of record letter?
HOW DO YOU CONDUCT AN EFFECTIVE DISCOVERY MEETING THAT LEADS TO AN ENGAGEMENT LETTER, FINANCING COMMITMENT, STATEMENT OF WORK OR BROKER OF RECORD LETTER?
Rainmaker Competencies
Managing partners, CEOs and division heads of professional advisory businesses generally believe that extraverted people with a big network make the best rainmakers. I recently tested this hypothesis.
With the help of Objective Management Group—which has built a database that spans 30 years, 1.9 million people and 200 industries—we conducted a study that compared the business development competencies of professional advisers with those of full-time salespeople. Here's what we found: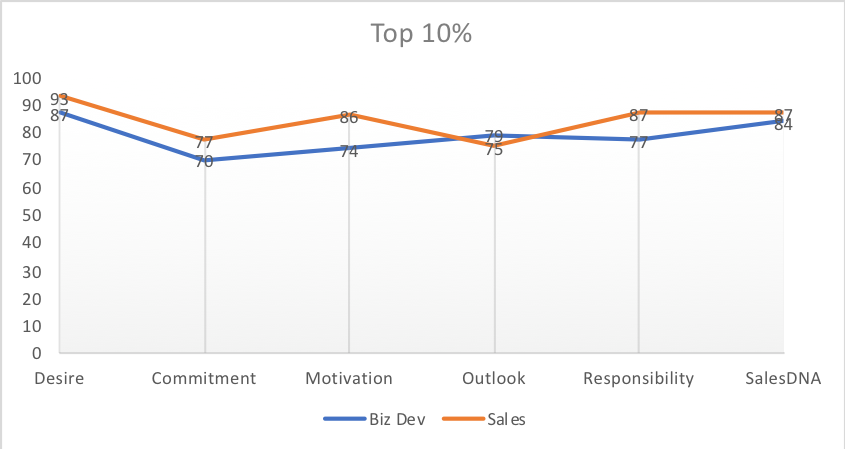 The data did not support the theory that personality type and network size translate into sales performance. In fact, top advisers' drive and belief system around business development (shown in the chart above) look a lot like those in top full-time salespeople.
So, what can you learn from rainmakers and top sales talent? To start, here are five business development practices that will help you convert an introduction into a win:
Earn the appointment. Gaining an introduction from another ACG member is a good start, but you know from experience that this is no guarantee that your call or email will be returned. To put the odds on your side, give some thought to how you can convey enough credibility and relevance in a 30-60 second phone call, voicemail or brief email that will earn a returned call and appointment.
Play the long game. While there will be times that you can successfully close a new engagement on your first call or meeting, that tends to be the exception. Consider the point of view of a middle-market business owner or C-suite leader: While they may have taken the meeting as a favor to one of their current advisers, it's going to take some time to trust you enough to introduce you to others in their decision-making process and to commit significant business to your firm. Prepare for the following cycle: introduction, opportunity, qualified opportunity (closeable and attractive), proposal, closed business. The timeline gets tighter as you get more effective. Approaching that first meeting with the mindset that you're a long way from an engagement is about right.
Beware of false summits. In climbing, a false summit is a plateau that is short of the actual summit. When you're conducting discovery (that is, questioning and listening), the expert in you is going to want to show your quickness, knowledge and experience as soon as the first opportunity presents itself. Slowing down and staying curious will ensure you see the whole picture—as they see it and as they say it. Skilled rainmakers are far less talkative than you might think, and they bring a healthy dose of humility to their discovery meetings.
Aim for unequal talk time. A discovery meeting is about, well, discovery. It is not a lecture or presentation or pitch. If a business owner wants to learn more about your subject area, he's smart enough to Google it. That's not why he took the meeting. If you imagine a pie chart of the conversation, especially during a discovery meeting, aim for the slice of your talk time to be about a quarter of the pie. Talking too much projects arrogance, and it crowds out your ability to learn and ultimately to differentiate yourself from other, equally capable advisers.
Touch home plate. In baseball, passing home plate without touching it misses the chance to score. If you want to be sure you leave the meeting or call knowing where you stand with the CEO, ask her. Ending a meeting with empty thanks, no commitment and unclear next steps opens the door for other advisers. There is a chasm between "always be closing" and "never be closing." This is not about being pushy, "sales-y" or aggressive; it is about being direct and clear so you can follow up appropriately.
As a well-credentialed professional adviser, conducting an effective discovery meeting probably seems simple enough. The challenge is in the execution. Using the five best practices above may go against your instincts to show and tell. If your goal is to have effective discovery meetings that lead to booked business, these techniques will allow you to make the most of an ACG introduction: by gaining the meeting; fully understanding your prospect's challenges and where they are in their thinking and decision process; and leaving the meeting with clear feedback, commitments and next steps.

Michael Dalis is managing partner of DRIVE Sales Consulting, LLC, a firm focused on supporting professional advisers and their B2B clients to accelerate revenue growth through a more effective sales organization. His approach is based on his 25 years as a managing director and salesperson in institutional asset management, 10 years as a sales performance consultant, and author of "Sell Like a Team: The Blueprint for Building Teams that Win Big at High Stakes Meetings" (McGraw-Hill, 2017). Michael is a member of ACG's Orange County chapter.