Mastering the Leadership Puzzle
The task of leading and inspiring others can seem daunting at first, but with strategy, focus and determination, great leadership can be achieved.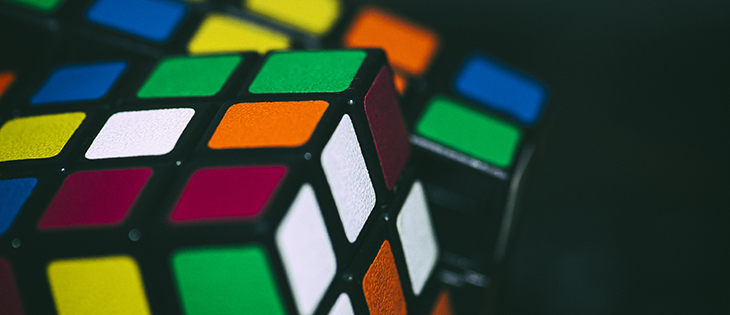 Generations of children have grown up playing with the Rubik's Cube—a puzzle that seems impossible during early attempts. But by applying strategy, focus and determination as kids, they learned they could solve it. Once they figured out how the puzzle worked, every time they picked it up again, it got easier and they were able to line up the cube's colored rows even more quickly.
For those new to leadership, the task of leading and inspiring others can seem as daunting as that first encounter with a Rubik's Cube. Even experienced leaders may continue to be frustrated with the responsibility and struggle to master it.
Missing the Mark
Why is leadership and managing others challenging for so many? Some people seem born leaders, but most who end up in leadership roles simply loved what they did, worked exceptionally hard, excelled in their field, and ultimately found themselves on top. Research has shown that only 10 percent of people are naturally great leaders. When those individuals are put into leadership roles, they easily engage team members and customers, retain top performers, sustain a culture of high productivity, and generate greater profit.
For the other 90 percent, leadership is a Rubik's Cube-like conundrum that must be solved if the goal is to achieve similar outcomes. Unfortunately, the data suggests that today's leaders have significantly more work to do. Gallup's 2017 "State of the American Workplace" report found that the U.S. employee engagement rate is still only 33 percent, a dismal figure that means that two-thirds of employees are not giving leaders their best effort.
Some people seem born leaders, but most who end up in leadership roles simply loved what they did, worked exceptionally hard, excelled in their field, and ultimately found themselves on top.
Gallup estimates that actively disengaged employees cost the U.S. between $483 billion and $605 billion in lost productivity annually. Leaders across industries and company sizes are massively underperforming and not delivering their maximum potential profit.
What Do the Best Bosses Do Differently? 
To learn more about what makes a leader exceptional, Optimum Advisors recently conducted an anonymous survey. Here's what the survey's 218 respondents said their best bosses did to earn the highest praise, and three actions that stood out:
Invested Time and Effort in Employee Development: Thirty-seven percent of respondents said that their best bosses actively helped them develop in their careers, encouraged them to take on new challenges, mentored them, and taught them new skills. A Gallup meta-analysis of the relationship between strengths-based employee development and business outcomes confirmed that this type of development not only drives greater engagement but higher profit.
Supported the Employee: Nearly one-third of respondents cited bosses who were patient, empathetic, flexible and supportive. These attributes are indicative of a leader with emotional intelligence—one who is self-aware and manages his or her emotions, astutely reads others' emotions, and uses that awareness to successfully manage relationships and interactions with others.
Trusted the Employee and Provided Autonomy: Twenty-four percent of respondents said that their best bosses were those who believed in them and their abilities, trusted them with important tasks, and granted them autonomy. Research has shown that employees who feel trusted have greater confidence, exert effort beyond expectations, and perform at a higher level.
People also perform better when they are intrinsically motivated. Recall Dwight Eisenhower's quote: "Leadership is the art of getting someone else to do something you want done because he wants to do it."
Employees generally feel a sense of autonomy when they are given the "what" and the "why" of a goal, but not the "how." When they are responsible for the "how," they feel empowered to make decisions, which drives initiative, greater effort and superior performance.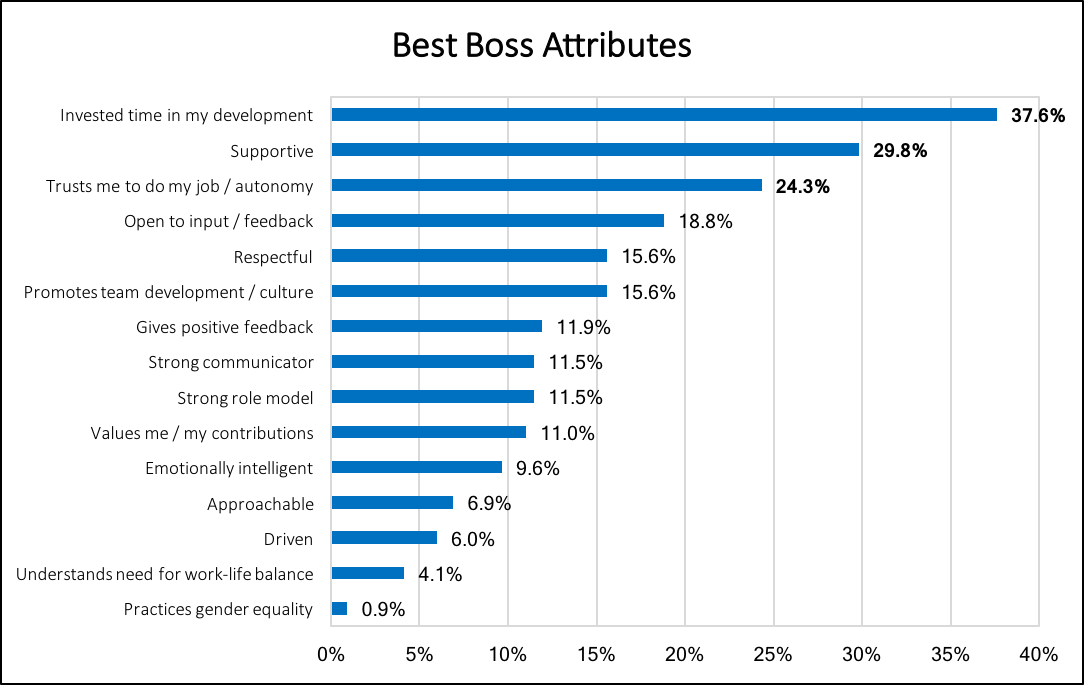 Every year Fortune, Glassdoor and others publish lists of the best places to work, highlighting notable examples of companies that have mastered the leadership puzzle and are reaping the rewards. But the central question remains: Do happy employees really translate into greater profit? One investment firm actually bet on it and won, with its related fund outperforming the S&P Index.
Looking to the middle market for an example of how great leadership translates to measurable success, I recently interviewed Matthew Schecter, president and chief executive officer of The Lockwood Group, a Stamford, Connecticut-based medical communications agency.
When I asked about his approach to leadership as CEO of Lockwood, Schecter said that he believes his staff "likely is doing the best work of their life," a testament to the leadership values and principles that drive his actions as a leader. They include:
Understanding what drives people and giving it to them
Creating an environment in which employees can be successful on their own terms. Notably, 85 percent of the workforce is made up of women and two-thirds of Lockwood employees work remotely
Trusting and empowering people
Providing tools and training for career advancement
Allowing employees to fail by treating mistakes as learning opportunities
Fostering communication and transparency
Promoting a culture where "complacency is the enemy," which drives leadership to ask employees, "What can we do better?"
Responding to employee input with action
Exceptional leaders understand that engaged and inspired employees are the key to great success.
From Schecter's perspective, Lockwood's corporate values have a tangible impact on the business. The company uses them as a recruiting tool, as well as to help it make hiring decisions, drive how the team delivers for its clients, and prevent employee turnover.
His leadership approach led the Hartford Business Journal recently to recognize Lockwood as one of the top two best places to work in Connecticut. Is it a coincidence that the company was also named one of the 5,000 fastest growing private companies in 2017 by Inc.? Probably not.
Time for a Plan
With billions of dollars lost each year and millions of miserable and unmotivated employees in the workforce, solving the leadership Rubik's Cube has never been more important. Exceptional leaders understand that engaged and inspired employees are the key to great success. The mounting evidence makes one thing clear: Everyone wins with a "people first" strategy of leadership, including customers, employees and investors.
The lucky 10 percent are naturally gifted leaders, and others have already nailed successful leadership. But the data suggests that much of the leadership universe desperately needs a plan.
For that group, one strategy is to develop their individual leadership talent with training and coaching. An alternate approach is for leaders to hire the right team and delegate if they have no interest in managing people, or if they recognize they just don't have the skills.
In the end, the leadership puzzle really is solvable, but it takes strategy, focus and determination. Sound familiar?

Elise Chowdhry is the managing principal of Optimum Advisors LLC, an organizational consulting firm focused exclusively on helping middle-market firms and companies hire and optimize human capital, align organizations, solve business challenges and drive growth. Learn more at optimumadvisors.com.