The Future Is Flexible
Knotel is revolutionizing office space leasing, offering flexible options and customized design features for companies as they grow and evolve.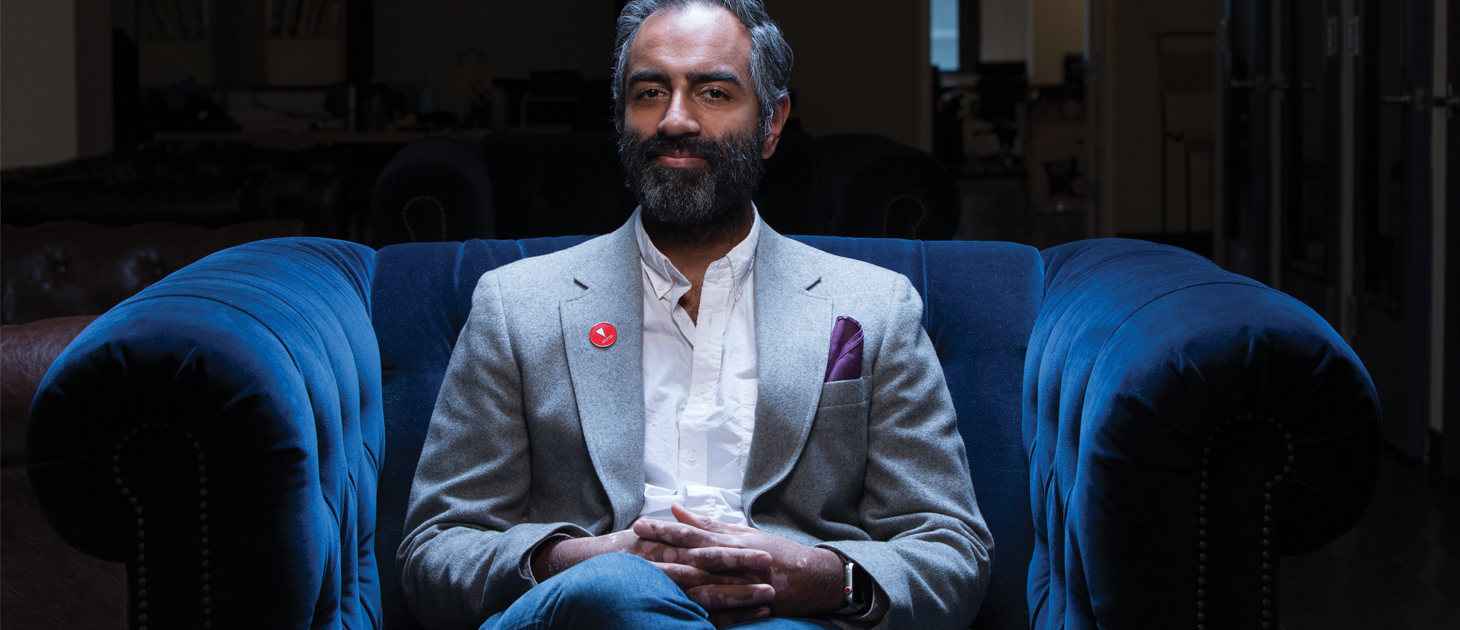 As a serial entrepreneur, Amol Sarva has plenty of experience helping companies expand. That also means he's seen his share of moving trucks and hefty rent checks.
"Virtually every company that I've built over the years has had to navigate the problem of just where to be located," Sarva says. He designed his businesses for growth, which meant moving nearly every year—sometimes to a bigger space, sometimes a smaller one.
The main headache wasn't the logistics but the cost. That was the case after Sarva co-founded Virgin Mobile USA. "We'd move every six to 12 months, and we would raise money, and then a big chunk of the money we had raised from our investors would always end up going directly into paying landlords a bunch of money … and not get invested in any of the good stuff we were planning on inventing and doing," he says. "That's pretty annoying."
KNOTEL
Business: Flexible full-service workspaces for growing companies
Founder & CEO: Serial entrepreneur Amol Sarva
Clients: 200 and growing, including BentoBox and The Body Shop
Scope: Sites in New York and San Francisco; Boston, Chicago, London, Shanghai and Tokyo in the works
He knew other business owners shared that sentiment. They didn't want to pay for space they didn't need. And they wanted to focus on improving their businesses, not waste resources choosing, designing and maintaining their headquarters.
With that challenge in mind, Sarva co-founded Knotel, a provider of flexible office space. Knotel does more than give companies the option of month-to-month terms (although most clients choose terms of a year or more). It helps design and furnish offices that reflect each company's culture and preferences, and it handles the essential details of office maintenance. That role inspired Knotel's tagline: "Headquarters as a service."
That service fills a need for Knotel's nearly 200 clients. Among them is Krystle Mobayeni, CEO of restaurant website develop­ment firm BentoBox, which has found value outsourc­ing services to Knotel.
"It has been very benefi­cial for us as a company to bypass spending time find­ing property and instead focus on building a great company," she says.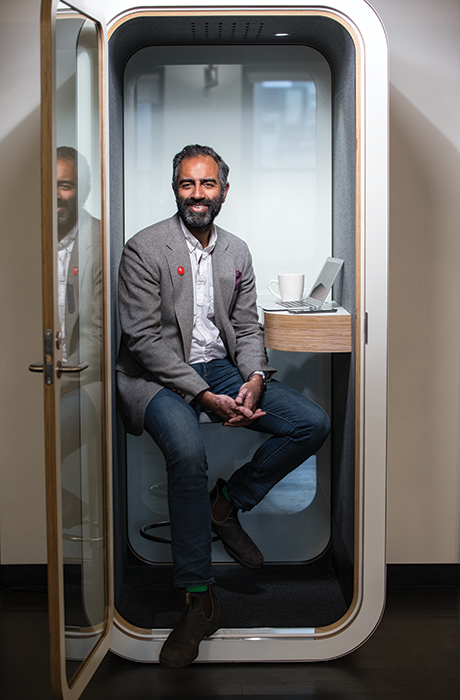 TO EACH HIS OWN
Sarva, who has founded startups including Peek, Halo Neuroscience and Knotable, recognized that companies need flex­ibility as they grow, but he questioned whether shared workspaces held the answer, despite the buzz. "If you listen to the co-working compa­nies, they certainly seem to think that. They think that in the near future everybody will have a beard and ride a bicycle and have tattoos and work in a co-working desk somewhere," he says.
He wanted Knotel to serve businesses that had more than just a handful of employees, and ones that valued space with a personalized aes­thetic, unlike a co-working office that couldn't be customized.
"WeWork built a product for freelancers and small teams. It relies on identical cells and high density," says Jonathan Goldberg, Knotel's chief operating officer. "It's great for short-term stays, but it's not for mature businesses that require more customization."
With Knotel, no two offices look the same, he says. "There's a categorical difference in design, infrastructure and operations that makes one a home and the other a way station."
BEYOND TECH
In 2016, a year after Sarva co-founded the company, Knotel's clients had an average of 20 employees. By the end of 2017, that number rose to 200, due to the headcount growth of existing clients and new clients with larger staffs. The company has also seen a big shift in the indus­tries it serves. "In January 2016, we were 100 percent composed of venture-backed technol­ogy companies," says Sarva, who is also Knotel's CEO. "Now we are overwhelmingly not that." Almost 80 percent of Knotel's clients are in non-tech fields, such as finance, media, advertising, fashion, retail and nonprofit, including many that qualify as midsize companies.
When Knotel started in 2015, it had one 10,000-square-foot leased spot in Manhattan. Twelve months later, it had 100,000 square feet throughout New York City. By the end of 2017, its real estate portfolio reached more than 500,000 square feet, including two San Fran­cisco locations added in September 2017.
Knotel's portfolio includes a mix of leases ("We try to do as long as we can—around 20 years," Sarva says), sublets, owned spaces and locations that have management agreements—a contract common in the hotel industry in which a property manager pays a percentage of revenue and profits to the property owner.
For Knotel's management agreements, the company provides landlords with a percent­age of revenue. Roughly 25 percent of Knotel's properties have this type of arrangement, and that number is growing, says Eugene Lee, global head of real estate and business development for the company.
"Management agreements are an important component of our expansion strategy. They align our interests with owners who are interested in attracting the large, fast-growing companies Knotel serves," he says. "Because real estate is cyclical, flexibility is important, but manage­ment agreements also enable owners to generate higher income for themselves."
"WeWork built a product for freelancers and small teams. It relies on identical cells and high density. It's great for short-term stays, but it's not for mature businesses that require more customization."
JONATHAN GOLDBERG
Chief Operating Officer, Knotel
DISRUPTING A COMMODITY
By February 2017, Knotel had raised $25 million in Series A funding. One of its investors was Pankaj Jain, a partner at 500 Startups. "When­ever you get veteran entrepreneurs taking on an antiquated industry, interesting things happen," Jain says. "Knotel is disrupting a commodity that everyone uses: an office. Traditional leases are unsuitable for modern companies given their inflexibility, and co-working really only works for small teams."
He says many tech observers believe it's unre­alistic to tackle real estate, that it's too slow to change, too cyclical, too cash-intensive. But Knotel makes the process more efficient, in part, by redefining how spaces are designed and built.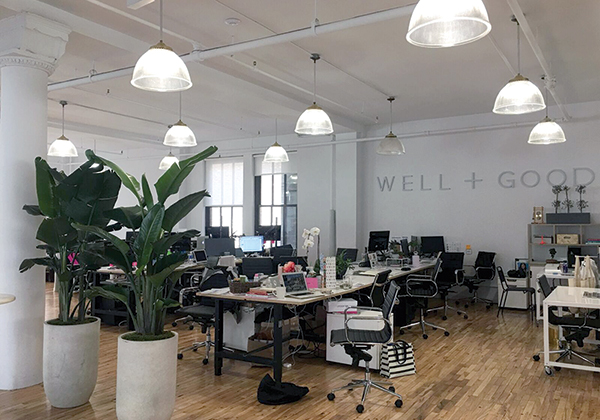 "Companies rely on multiple stakeholders to build their space—contractors, engineers, architects, designers, IT specialists—which can take months and hundreds of dollars per square foot," says Knotel COO Goldberg. Because Knotel has those workers on staff, it can design, build and furnish an office for a client in just a few weeks at a fraction of the cost, he says.
The Body Shop is one example. The cosmetics and skin care retailer moved its North American headquarters into a 20,000-square-foot Kno­tel space in 2017. "They figured out what they wanted to do in five weeks, and we got it set and perfect and ready to open in four weeks," Sarva says. "If you contrast it with the traditional real estate cycle—12 to 18 months of search and cus­tomization and build-out and all that—the other process is a huge headache for the top man­agement on down. And they want a build that matches their mental image of innovation."
They also want the space flexibility that Knotel allows. If the company needs more space or less, it can move to another Knotel location that doesn't change employees' commute.
Leases force companies to put real estate goals above business goals, Goldberg says. "They spend lots of time and money just to get an office and then more headcount to operate it. When the space inevitably becomes too small or too big, they start the process again."
OUTSIDE THE BOX
Growing companies want to invest strategi­cally in growing their businesses, not in office management. That was the case at Well&Good, a content provider whose website focuses on lifestyle and wellness topics. The company was based in a WeWork space in Manhattan's Finan­cial District for about two years before moving to its Knotel headquarters in the Flatiron Dis­trict, a more convenient location for meetings with the company's partners and clients. Kno­tel's pricing was lower than WeWork's, but that's not the only reason for the switch, says Jessica Muse, Well&Good's chief operating officer. "We wanted something that was still managed, like what we had at WeWork, but space that felt a lit­tle bit more like our own, where we could infuse our own culture."
The previous office had WeWork branding and suites that didn't foster collaboration among teams. At the new office, Knotel helped design a workspace that reflected Well&Good's brand and culture.
"We are a wellness company, so that was the vibe we were going for—very airy, lots of plants, lots of light," Muse says. "If you walked into our office, no one ever would know it's a Knotel office. Everyone thinks it's entirely owned or leased."
Knotel's design team searched online for decor ideas and presented them to the client for approval, allowing Well&Good to focus on its core business, rather than being distracted by "design duty," Muse says.
Well&Good likes the flexibility of only paying for the space it needs. When it first moved into the office, it had about 20 employees and occu­pied half a floor. By December 2017, that number had increased to 47 and the company occupied the entire floor.
Knotel has enabled Well&Good to hand off the tedious but essential tasks that keep office life running smoothly. Each Knotel property has a general manager to handle those responsibili­ties—whether it's refilling milk in the kitchen or making sure the internet connection works.
"I'm COO, so for me to not have to call up the internet vendor when the internet goes down and spending who knows how long trouble­shooting, that's very valuable," Muse says. And when the company had an event that required rearranging furniture, it called Knotel to send people up to help move couches and tables. "It really frees up the senior people's time, not being bogged down with those issues," she adds.
"It has been very beneficial for us as a company to bypass spending time finding property and instead focus on building a great company."
KRYSTLE MOBAYENI
CEO, BentoBox
BentoBox CEO Krystle Mobayeni had similar concerns about flexibility. Before the company moved to its Knotel office in SoHo in January 2017, it was headquartered in a space it sub­leased from a large tech company. That didn't allow much opportunity for customization, plus it needed a larger space for the hiring it planned to do for 2017. (Headcount tripled that year, to 45 employees from 15.)
BentoBox considered getting its own commer­cial lease, or subleasing again from a larger com­pany, before a broker mentioned Knotel.
"We ultimately decided that our time would be better spent growing BentoBox rather than searching for and furnishing an office," Mobay­eni says. "We liked Knotel's concept of 'head­quarters as a service.'"
Traditional co-working spaces can feel compartmentalized and unfriendly, she notes.
"Given that we are a hospitality-focused com­pany, it is important that our office be a com­fortable and inviting space." To reflect that, Knotel helped design a living room-style seating area with a couch and a bar, a customized design that wasn't possible in the office BentoBox sub­leased previously.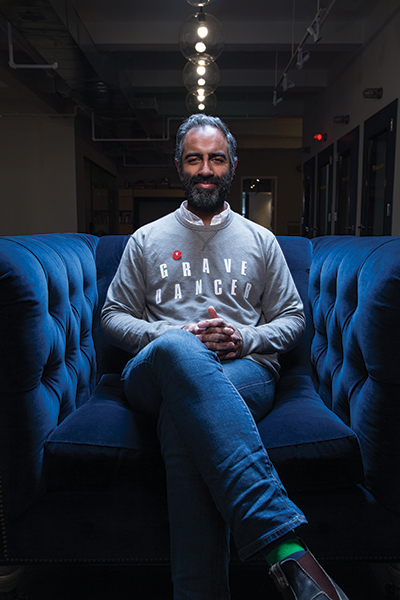 Mobayeni also appreciates having access to other Knotel properties. Using Knotel's app, she can reserve meeting rooms in Knotel spaces that aren't occupied by other companies. "Having multiple home bases around the city to take a phone call or have a meeting is really conve­nient," she says. "Working with Knotel offers us the flexibility to expand without any long-term commitment or fear of outgrowing our space."
THE SIZE OF THREE MANHATTANS
The initial driver of demand for co-working and flexible space was freelancers and startups look­ing for alternatives to working from home or in coffee shops, says Scott Homa, director of U.S. office research at JLL, a Chicago-based commer­cial real estate services firm. "The subsequent wave of corporate demand has been driven largely by a general need for more flexibility and agil­ity—shorter lease terms, faster move-in, variable length of commitment—as well as reducing initial out-of-pocket expenses," he says.
Homa expects demand to continue, based on JLL's research. As JLL defines it, flexible space has at least one of the following elements: The space is co-located with other companies; it is subleased; or it has short-duration lease terms that could be month-to-month but are less than 36 months.
Flexible space accounts for less than 5 percent of the U.S. office market, but it has grown rapidly, Homa says, tripling its share of large-block leasing activity (leases of at least 20,000 square feet) in just two years. "We project 30 percent of the office market could be defined as flexible space by 2030," he says. "That's as much as 1.2 billion square feet of office space, or the size of three Manhattans."
"One of the striking things is how little explanation it takes for CEOs … Midsize companies are just like, 'Oh, of course. Why would we do anything else?'"
AMOL SARVA
Co-Founder and CEO, Knotel
EXPANDING OPTIONS
Sarva has watched Knotel grow at an accelerated pace, although he didn't necessarily expect that outcome two years ago. "This is not an idea that anyone thought was inevitable," he says.
But the numbers underscore a business need. Knotel's revenue and square footage increased tenfold in December 2017 compared with the previous year. It added more square feet during six weeks in November and December 2017 than it did in the 15 months from January 2016 to March 2017.
In the Manhattan market for space of less than 12,000 square feet, Knotel leased almost half of what property landlords made available in 2017.
During the past couple of years, aspects of the New York City real estate market have surprised Sarva. "We thought Brooklyn would be more popular than it is," he says. "(There's) a lot of interesting stuff over there, but CEOs don't want to put their company in Brooklyn, not yet. We opened two locations there, and we haven't opened any more."
Another eye-opener: Having locations on the same block is a good thing. "One Knotel next to another makes them both stronger," he says.
The company isn't profitable yet, by design, he says. "We're going to invest to grow a lot. We could stop. Then we'd just be a profitable small business, but we are building a vast global enterprise, and that will require opening a lot of Knotels all around the world for years and years and years."
Sarva came up with the company name—he liked the nod to "knowledge" and used a similar conceit for another firm he founded, Knotable. "Knotel is a place where knowledge comes to stay," he says. "It moves in, not just for the night."
The company plans to have properties in London, Boston, Chicago, Tokyo and Shanghai within the next five years. As Knotel expands, that means more options for clients, Sarva says. "They may want to move their headquarters to be bigger and take another floor next door. They might want to open a satellite somewhere else in town so their engineers can have a separate lab to work from."
Over the years, Sarva has seen companies whose "last lifeline might have been the $1 million or $2 million of security deposits, or prepayments of rent, or build-out expenses that they had sunk into their office." He adds: "They took a space that was three times bigger than they needed, planning on all kinds of future growth."
Above all, company owners want flexibility that will make their business stronger.
That helps explain why, of all the companies Sarva has founded, Knotel requires the least vigorous sales pitch.
"One of the striking things is how little explanation it takes for CEOs," he says. "They've had the same experience that I had in building my various companies. Midsize companies are just like, 'Oh, of course. Why would we do anything else?' I'll meet entrepreneurs who've been running multiple businesses over the years, and they're just like, 'I can't believe this hasn't happened sooner.'"
This story originally appeared in the March/April 2018 print edition of Middle Market Growth magazine. Read the full issue in the archive.

S.A. Swanson is a business writer based in the Chicago area. She frequently covers technology.