The theme of leadership took center stage last week at ACG's InterGrowth conference, which featured a keynote address from former GE Chairman and CEO Jeff Immelt and a panel session spotlighting the importance of gender diversity on corporate boards.
Immelt, who took the helm of GE on Sept. 7, 2001, spoke before an audience in San Diego about the challenges of leading the company through two turbulent periods in the last decade.
"Airplanes were now weapons," Immelt said, recalling the months following the 9/11 terror attacks. At the time, the future of the commercial aviation industry—a core business unit of GE—appeared uncertain.
Today GE holds 75 percent of the market for jet engines, according to Immelt, up from 50 percent in 2001. He attributes that increase, in part, to critical decisions made in the days following the attacks.
Crisis struck again with the global recession, which prompted GE to dismantle its lending unit, GE Capital, and refocus its efforts on its industrial businesses.
"It was the wrong model at the wrong time," Immelt told Jay Jester, managing director at Audax Group, who moderated the keynote session. "We had to build and invest in a high-tech industrial global company."
He commented further on his tenure at GE and responded to the decline in the company's share price during a podcast interview with Middle Market Growth.
"Nobody likes where the share price is, myself included," said Immelt, who stepped down from GE last fall and now serves as partner at venture capital firm New Enterprise Associates. "I bought $8 million of stock the last year I was CEO. I did that with the knowledge that as the team executes, we're going to have a good company going forward."
"It was the wrong model at the wrong time. We had to build and invest in a high-tech industrial global company."
JEFF IMMELT
Former Chairman and CEO, GE
Good Business Sense
Companies stand to benefit financially when women hold leadership positions, according to a panel session that addressed gender diversity and how to increase investment in companies led by women.
"We're not here to say that investing in women is the socially responsible thing to do. It makes good business sense," said the panel's moderator, Bronwyn Bailey, vice president of research and investor relations for AIC.
Data shows a positive correlation between women in leadership roles and the financial performance of businesses. Jo Ann Corkran, managing director at angel investing platform Golden Seeds LLC, cited a study by Emory University that shows that a company with one or more women on its founding team is considerably more likely to achieve positive revenue over the same period than companies with male founders.
Her fellow panelist, Patricia Lizarraga, a managing partner with Hypatia Capital Group, recommended that women, who control 50 percent of U.S. disposable assets, invest in funds committed to increasing the number of female board members at public companies.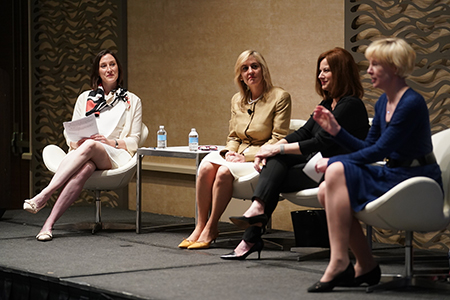 The most recent fund raised by panelist Trish Costello's firm, Portfolia, is targeting women's health care, an area that the male-dominated investment community shies away from, she said. "If we want companies matching our needs and making money off of them, we need to get involved."
The three-day InterGrowth conference featured panel sessions on a range of topics, along with networking events such as ACG Capital Connection and ACG DealSource. The final day of the conference featured a meet and greet with U.S. Rep. Scott Peters, who represents California's 52nd district, including parts of San Diego.

Kathryn Mulligan is an editor at Middle Market Growth.