Innovation Leads the Way
BKD CPAs & Advisors employs seasoned-veterans in the private equity market who are constantly looking for ways to address the unmet needs of their clients.
This content is sponsored by BKD CPAs & Advisors. This story originally appeared in the Spring 2021 print edition of Middle Market Growth magazine. Read the full issue in the archive.
Over the last decade, the private equity industry has grown substantially and become increasingly competitive. That has driven up prices for good assets and made it hard for investors to sell portfolio companies at a profit, prompting private equity firms to rethink their value creation process and, in turn, lean into different strategies that may give them an advantage.
The professionals at BKD CPAs & Advisors, a tax and advisory firm with a presence in 40 different practice units, have been closely watching this evolution. The firm, headquartered in Springfield, Missouri, employs seasoned veterans in the private equity market who are constantly looking for ways to address the unmet needs of their clients.
To that end, BKD launched its innovation department three years ago to offer clients analytical insights about how to better use their resources and grow their businesses. Today, the innovation team is a nationally established group whose 11 members serve the entire firm.
"Principled innovation has always been one of the cornerstones of our culture of Unmatched Client Service®," says John Kmetz, BKD's national private equity practice leader and member of BKD's Growth and Innovation Governance Committee. "We had a lot of ad hoc efforts helping our clients address their challenges. Establishing an entire department dedicated to furthering innovation brought that all together and lets us be really intentional in thinking about our clients' future needs."
Dustin Bobbitt, innovation program manager at BKD, adds, "We realized we could do a more definitive job of helping our clients solve problems. There are some complex, in-depth problems that are unique to our clients, and we wanted to figure out ways to help be part of the solution as our clients look to transact."
The innovation team typically identifies a problem through client conversations and then works to find the best solutions. "It's sort of like a science experiment. We listen, then take everything apart and put it back together again, and make sure we built it better than it was before," says Bobbitt.
Here's a look at some of the most popular tools that BKD's innovation team has developed since its inception.
Cybersecurity Framework Assessment Tool (CFAT) & Red Team Simulations
Understanding the cyberthreats facing a company is becoming increasingly important. More data records were compromised in 2020 than in the past 15 years combined, in what is described as a mounting "data breach crisis," according to a recent study from technology analysis firm Canalys. In addition, over the past 12 months, 31 billion data records have been compromised. This is up 171% from the previous year and constitutes well over half of the 55 billion data records that have been compromised in total since 2005, according to Canalys.
There are some complex, in-depth problems that are unique to our clients and we wanted to figure out ways to help be part of the solution as our clients look to transact.

Dustin Bobbitt
Innovation Program Manager, BKD
Cases of ransomware—a specific type of attack that encrypts servers and data to block access to a computer system until a sum of money is paid—have been on the rise. The number of reported incidents is up 60% compared with 2019.
As BKD watched cyberthreats become an increasingly large problem, the firm knew early on that assessing this risk would be critical to its clients. In 2020, BKD's innovation department launched a web-based service to help clients assess inherent and residual cybersecurity risks to their organizations. The assessment tool, known as BKD CFAT, helps users evaluate risks by leveraging guidance from nationally recognized organizations and government entities, such as the National Institute of Standards and Technology. The tool assists users with documenting how current controls are implemented. BKD then helps clients determine what they can do to protect themselves better. "We are dedicated to helping with cybersecurity because it's become so important, especially today," says Bobbitt.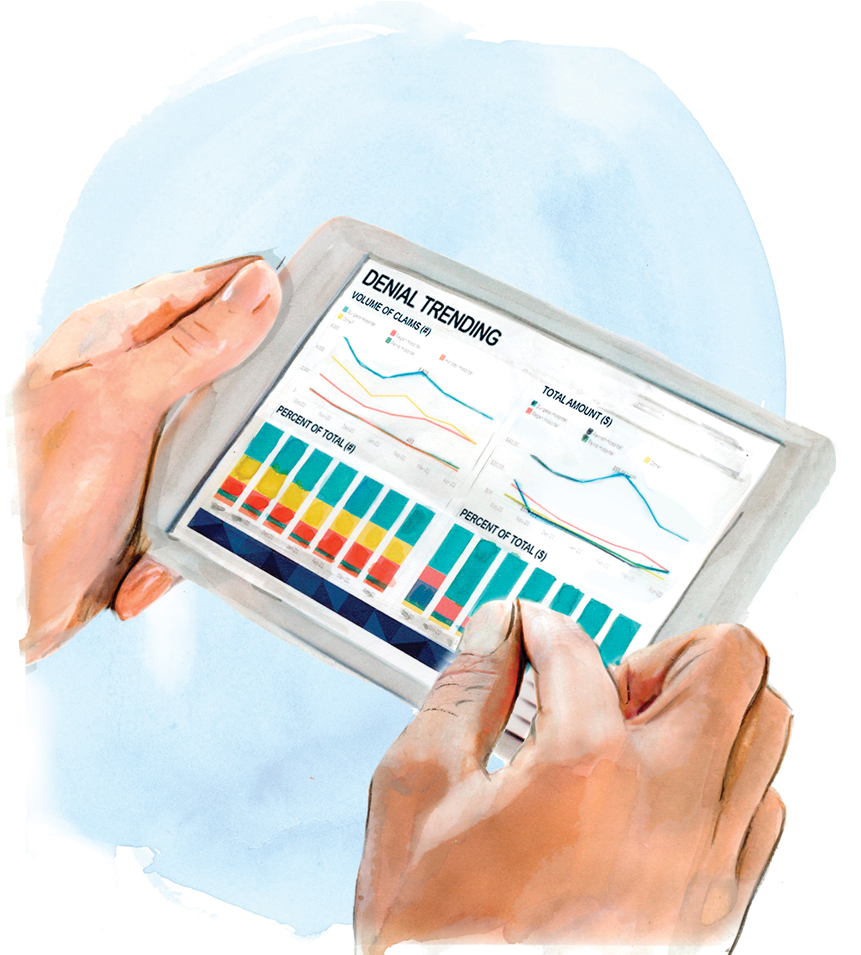 BKD Red Team emulates attacks on clients to expose their weaknesses and identify areas where they are vulnerable to cyberthreats. "The practice is meant to help strengthen awareness and ultimately result in finding digital attack solutions that are unique to each client," Bobbitt says. "Cyberattacks have become more complex and businesses need to protect themselves. We are forward-thinking about where the risks are, and we help our clients find those risks before it's too late."
Health Care Denials Management Tool
At the end of 2020, BKD launched its new Denials Management tool, designed to help clients uncover the root causes of insurance claim denials and monitor performance trends over time. The tool provides a consolidated resource for claim denials, as well as real-time insights for users.
"The question is: Why are the denials happening? We are trying to minimize the denials by creating awareness as to why they are happening in the first place," says Daniel Clark, managing director of BKD's Health Care Performance Advisory Services division. "Targeting prevention of claim denials, as opposed to refiling and appealing claims, reduces denial rates and costly rework while improving patient satisfaction."
The tool has proved popular with clients, especially today, given that health care organizations are under extreme pressure to identify and assess areas where money is being left on the table. With a rapid installation time and low maintenance, this tool is ideal for organizations that need to quickly identify opportunities for revenue capture.
"The tool helps users make sure the coding and claims are all done correctly and are ready for reimbursement," says Bobbitt. "There is a lot of risk in claim denial and a lot of the denials come from user filing errors. This tool helps mitigate these errors. Health care systems need to operate under the most streamlined processes possible, and the Denials Management tool allows them to do that."
BKD LeaseVision
Adhering to regulatory compliance and considerations can be time-consuming and challenging. It can create uncertainty about what next steps look like as an organization seeks to continually adapt to shifting demands.
Using artificial intelligence technology, BKD has developed another innovative tool to help clients with the implementation of GASB 87 or FASB Accounting Standards Codification (ASC) 842 on lease accounting. The LeaseVision tool helps clients navigate the accounting rules and compliance issues related to these standards.
The AI-powered software begins by extracting key lease terms, allowing for easy review of the lease. Then, the BKD team provides a road map for implementing GASB's and FASB's lease standards. Lastly, the team helps clients develop lease amortization schedules. "The tool takes the manual processes out of the leasing process, which is important for companies that have a lot of leased space. It's efficient and effective," Bobbitt says.
Automation & Digital Transformation
Although "automation" and "digital transformation" are phrases that have been thrown around for quite some time, these trends have come to the forefront during the COVID-19 pandemic. Consumers have made it clear they crave a digital experience.
"Principled Innovation Has Always Been One of the Cornerstones of our Culture of Unmatched Client Service."

John Kmetz
National Private Equity Practice Leader, BKD
"Consumers want their information more streamlined, and they want efficient processes," says Bobbitt. BKD is looking to help clients with this need as it investigates potential solutions for helping clients digitize reports and financial statements and create archives without requiring a single keystroke.
The set of tools with transformative potential is a big one, but BKD isn't daunted. The firm is committed to continuing to explore emerging technology. "We are looking at drones, wearables, and how robotic processes can create automation," says Bobbitt. "All of these evolutions will lead our clients to change how they run their businesses, how they will hire, and how they will approach growth at their companies."
BKD employs mechanical engineers and a chemical engineer along with a diverse team of forward-thinking individuals, who are all working to understand how technology will impact businesses in the future.
"These technologies will affect every industry differently, but it will directly impact all our clients. We are working on figuring out how these innovations will impact—and more likely improve—business operations," says Bobbitt. "We understand that technology plays a role for our clients and that there will be a positive financial implication to using these technologies."