Fast 40 Awards Showcase Atlanta's Resilience
Ascendant tech sector and business diversity helped the region weather COVID-19.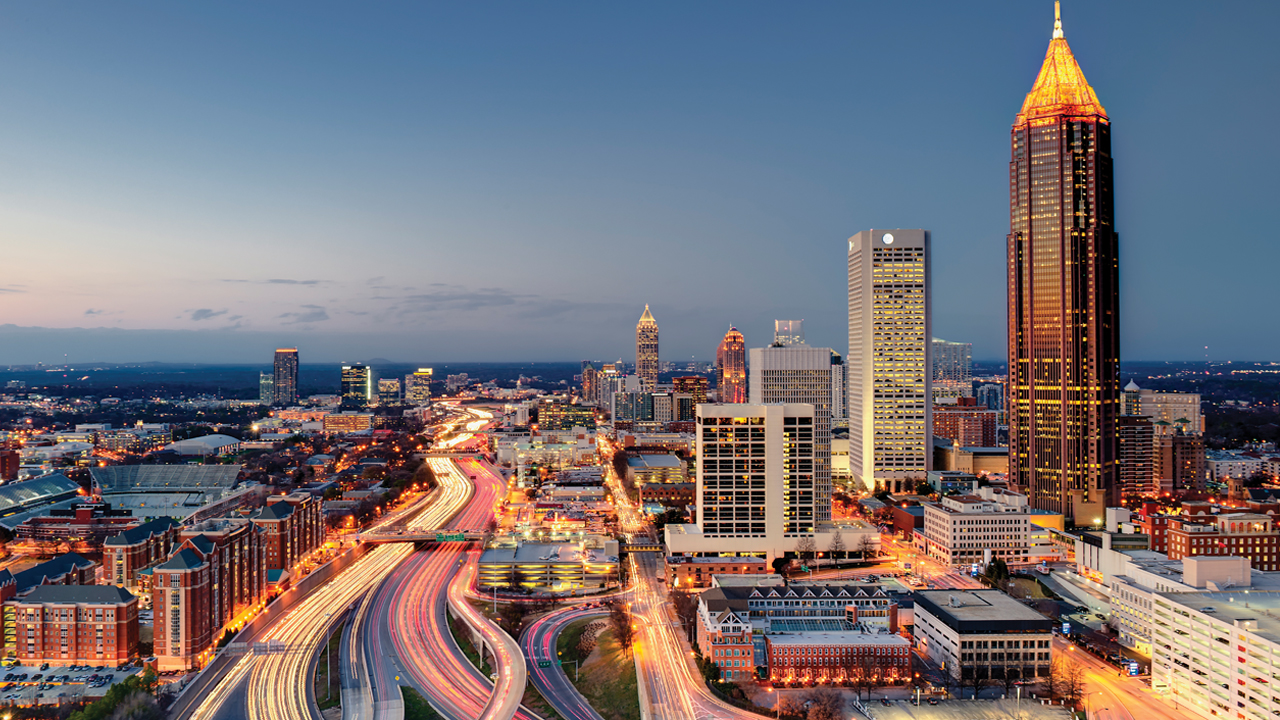 This article originally appeared in the Summer 2021 issue of Middle Market Growth. Find it in the MMG archive. 
Even in the middle of a global pandemic, Atlanta's middle-market companies continue to grow in an eclectic ecosystem dominated by the technology sector.
Those trends toward middle-market diversity and growing tech businesses are mirrored in the Georgia Fast 40, an annual award given out by the Atlanta National Chapter of the Association for Corporate Growth.
The Georgia Fast 40 recognizes the fastest-growing for-profit companies that are headquartered in Georgia. These companies created more than 6,600 new jobs and generated $2.4 billion of revenue growth over the last three years.
"The companies being honored this year demonstrate the strength and significance of the middle-market sector in Georgia," says Melanie Brandt, CEO of the Association for Corporate Growth's South Region and ACG Atlanta president and CEO.
To be eligible, the Fast 40 companies submitted three years of verifiable revenue and employment growth. The information was validated by national accounting firm Cherry Bekaert, which has an office in Atlanta. An ACG selection committee reviewed the applications and interviewed company leaders.
The companies are divided into two groups based on annual revenue. The lower tier generated between $15 million and $60 million, while the upper tier generated revenue that was more than $60 million up to $500 million. ACG Atlanta also added a third category this year, the higher middle-market tier, which recognizes fast-growing companies that generated between $500 million and $1 billion.
The highest-ranked upper middle-market companies in the top three spots were Parallel, a cannabis company, followed by Bitcoin Depot, a cryptocurrency ATM network, and Roadie, Inc., a package delivery service.
In the lower middle-market tier, Stord, Inc., a digital warehouse and distribution network, took the top spot while Grayshift, a provider of mobile device digital forensics, and Omega Bio-tek, Inc., a nucleic acid extraction and purification company, were in the second and third places, respectively.
Repay, a payment technology company, made its fourth appearance on the Fast 40 list since the award was introduced in 2008.
Because of COVID-19, the Atlanta chapter skipped the awards last year, Brandt says.
While the chapter moved forward with the award this year, it made some adjustments.
The Georgia Fast 40 awards are usually given to companies with sustained growth in the previous three years based on revenue and employment. But this year, the chapter changed the algorithm slightly to take into account the rough year in 2020.
Although 2020 proved to be a challenging year for the middle market, Atlanta's business-friendly environment helped companies get through it.
"In speaking with many CEOs, the supportive business environment and accessibility of capital are contributors to growth. By far, the biggest challenge is tightness of the labor market," says Michelle Galvani, chairperson of the Georgia Fast 40 awards and executive managing director with Wildmor Advisors. "We are proud to honor these companies and look forward to learning more insights online and at the celebration in June."
Technology Is Dominant in Atlanta
Once again, the technology sector dominated the Georgia Fast 40 as it has in past years. Of the companies honored in 2021, about a third were in the technology sector.
The companies being honored this year demonstrate the strength and significance of the middle-market sector in Georgia.

Melanie Brandt

CEO of the Association for Corporate Growth's South Region and ACG Atlanta President and CEO
These companies represent a diverse array of tech, including software, financial technology, health care technology, logistics, SaaS, information technology and services, internet services, tech fitness, and defense and security technology.
Like the Georgia Fast 40, Atlanta is known for its growing high-tech businesses.
The city has been dubbed the "Silicon Peach" and the "Silicon Valley of the Southeast," and for years the Atlanta area has been known as "transaction alley" for its financial tech companies. About 70% of all payment transactions are handled there.
Alpharetta, a suburb of Atlanta, regards itself as the "Technology City of the South," due to its nearly 700 technology companies, and it's home to the Technology Association of Georgia.
Marketing tech is a growing sector, with Atlanta-based MailChimp as one of the most well-known companies.
Last year, Business Facilities magazine ranked the city as the No. 1 fastest growing tech hub, noting that Microsoft had announced it would invest $75 million in a new facility this year. The magazine also named Atlanta fourth among its "Cyber Cities" and No. 6 for startup ecosystems.
"Technology is the biggest trend in Atlanta, and it's on a hot streak right now," says Luis Reyes, partner at Cherry Bekaert. "We've had a number of unicorns like SalesLoft and Calendly. Both of these Atlanta-based companies hit the $1 billion valuation mark."
But how did this southeastern city, historically a railroad hub, become one of the nation's tech strongholds?
Reyes says that the Atlanta metro area, which accounts for more than 6 million residents in a state of about 10 million, had been dominant in real estate and construction. But as the country became more focused on technology, Atlanta did, too.
Atlanta was particularly poised to take advantage of this sector due its top-notch university systems, Reyes says.
Just like Silicon Valley has benefited from its proximity to top educational institutions, such as Stanford University and University of California at Berkeley, Atlanta's tech industry has been buoyed by local colleges, such as Emory University, Georgia Tech, Georgia State University, Morehouse University and Spelman College.
Instead of leaving for the East and West Coasts, more of these graduates tended to stay in the area, especially those with a technical or engineering background who start their own companies.
"You had more home-grown talent staying and not having to go to Boston and Silicon Valley to build a company," Reyes says. "You had a microcosm of all these things happening over time where the city grew up and became international. It created the opportunity for entrepreneurs to come here and make their money. All these companies then need suppliers and support companies to be around, so it's given people a lot of opportunities."
Atlanta Attracts Diverse Middle-Market Sectors
While COVID changed a lot for many businesses, it hasn't affected how diverse Atlanta's middle market continues to be.
While some cities rely heavily on sectors such as hotels and restaurants, Atlanta's business ecosystem is a mix, says Steve Tye, ACG Atlanta board director and managing director at Croft & Bender.
This middle-market diversity trend is reflected in the Georgia Fast 40. This year, technology, health care and manufacturing represent the top three sectors with the highest number of companies on the list.
But the remaining businesses represent a wide variety of areas, including construction, financial services, cannabis, staffing, real estate, telecommunications, government contracting, consumer goods, pharmaceuticals, food manufacturing, life sciences, banking, electronic component distribution and general contracting.
"Atlanta is not particularly tied to just one industry over another," Tye says. "You have a variety of businesses in areas like logistics, technology and outsourced consulting businesses. It's a microcosm of the U.S."
Atlanta's diversity is due in part to Georgia's low taxes and business-friendly policies, which have attracted companies from across the country, he says.
Atlanta is not particularly tied to just one industry or another. You have a variety of business in areas like logistics, technology and outsourced consulting businesses. It's a microcosm of the U.S.

Steve Tye

ACG Atlanta Board Director and Managing Director, Croft & Bender
For instance, Atlanta is regularly named as one of the best places to start a business. Last month, WalletHub named Atlanta as the 11th-best city to start a business, based on the business environment, access to resources and business costs.
In 2019, Forbes listed Atlanta as one of the best places for business and careers.
As a result, Atlanta is home to some of the most well-known brands, such as Delta, Coca-Cola, Equifax, United Parcel Service and The Home Depot, so it's well represented among Fortune 500 companies.
As more companies have moved to Atlanta, so have people who want to take advantage of the job market, Tye says.
Since 2010, Atlanta's population has grown to about 506,000, up nearly 80,000, while the state has experienced a similar trend with an increase of 10.7 million, growing by more than 1 million residents, according to the U.S. Census Bureau.
The diverse business environment also has attracted highly educated workers. According to the U.S. Census Bureau, about 52% of Atlanta's workforce has a bachelor's degree, compared to the national average of nearly 30%.
"Unemployment in Georgia is low, and I think it helps when you have talented people coming from outside the region," Tye says. "It's the Southeast's capital and an international city in the Southeast. All those things benefit Atlanta in the middle market. Companies here attract talented and the best-of-breed people across the country."
Because Atlanta's middle market represents a variety of industries, the city has been able to manage the impact of COVID-19 better than others.
While some retail and hospitality businesses are still struggling, other companies are performing well and have been able to get back to work quicker, since Georgia didn't impose strict shutdown orders like some other states, Tye says.
Most of the middle-market companies are coming back, and most managers believe the worst is over, he adds.
"The middle market has turned a corner, and it's going to get better. I think 85% of companies are back, setting aside restaurant and hospitality," Tye says. "Overall in the market, we are seeing revenue growth. People are bullish about how businesses are performing, at least for the rest of this year."
Sue Ter Maat is the communications manager for the Association for Corporate Growth.